Bette Davis
Bette Davis was an American actress known as "The First Lady of the American Screen." Her career spanned six decades; few in the history of film rival her longevity and appeal. Early years Bette Davis was born Ruth Elizabeth Davis on April 5, 1908, in Lowell, Massachusetts. Bette's father left the family when she was 10 years old. Her mother had very little money, but she sent Bette and her sister, Barbara, to boarding school. When Bette graduated from Cushing Academy, she enrolled at John Murray Anderson's Dramatic School, where she became a star pupil.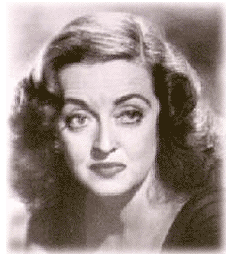 From stage to screen Davis's first professional stage performance was in the The Earth Between off Broadway in 1923. In 1929, she appeared in her first Broadway performance, Broken Dishes, and later the same year, she performed in Solid South. Davis was hired the next year by Universal Studios, but the management did not think she was going to be a star. In 1932, Universal allowed her to sign with Warner Brothers. Davis's first major role was in The Man Who Played God. Her role as Mildred Rogers in Of Human Bondage (1934), earned her critical acclaim, but she did not earn a nomination from the Academy of Motion Picture Arts and Sciences. That spurred in write-in votes from unhappy academy members.
Oscar material Davis won an Academy Award for Best Actress for her film, Dangerous in 1935, and in 1938 for Jezebel. She received academy nominations for the following five years in a row. With that fame, Davis was able to name her own roles — except for Gone with the Wind. Davis was elected as the ninth president of the Academy of Motion Picture Arts and Sciences. She was responsible for the name "Oscar," after her first husband, Harmon Oscar Nelson, but she only served from October to December 1941 when she resigned. Davis publicly declared herself too busy to fulfill her duties as president, but in private she angrily protested that the academy had wanted her to serve as a mere figurehead. By 1942, she was the highest-paid woman in America.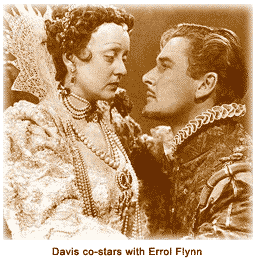 Bette put her film career on hold during World War II, to contribute to the war effort by helping to organize the Hollywood Canteen for soldiers passing through Los Angeles, California. She commented later, "There are few accomplishments in my life that I am sincerely proud of. The Hollywood Canteen is one of them." She was awarded the Distinguished Civilian Service Medal, the Defense Department's highest civilian award, for running the Hollywood Canteen in 1980. Following the war, Davis made a comeback with her role as Margo Channing in All About Eve in 1950, and received her eighth Academy Award nomination. That role contains a line that is indelibly associated with Davis: "Fasten your seatbelts, it's going to be a bumpy night." Davis's career was coaxed back to life again in 1962, with the macabre film Whatever Happened to Baby Jane?. She also received an academy nominations for that role. With her renewed acting career in gear, Davis signed up for another macabre film in 1964, starring in Dead Ringer, where she played identical twin sisters — one murders the other. Later that year, she starred in Hush, Hush, Sweet Charlotte, which also was of the scary melodrama genre. She made many movies during the late 1960s and through the 70s, including The Nanny in 1965, Burnt Offerings in 1976, Death on the Nile in 1978, and The Watcher in the Woods in 1980. She spent the remainder of her career on television, making movies. She won a Best Actress Emmy Award for her 1979 role in Strangers: The Story of a Mother and Daughter. Davis's final performance was the title role in Wicked Stepmother in 1989. She left the set before it was finished, then died shortly after the film was released. Marriages and children Davis was married four times. Her first was to Harmon Nelson in 1932; they were divorced in 1938. Her second husband was Arthur Farnsworth; they were married in 1940, and remained married until his death in 1943. Her third husband was William Grant Sherry. They were married in 1945 and had one child, Barbara Davis Sherry, named after Davis's sister. Bette and William remained married until 1950. Her fourth and final marriage was to fellow actor Gary Merrill in 1950. They adopted two children: Margot, who was institutionalized because of a brain injury, and Michael. The couple divorced in 1960. A death and legacy Bette Davis died on October 6, 1989, in Neuilly-sur-Seine, France, following a long battle with breast cancer, and several strokes. Davis was in France for the San Sebastian Film Festival, where she had received an award. Her remains were transferred to the United States and interred in Forest Lawn, Hollywood Hills Cemetery, in Los Angeles. Her tombstone is inscribed with "She did it the hard way." Davis's career totals more than 100 films. She was nominated for 11 Academy Awards, and won two. In 1977, she was the first woman to be honored with the American Film Institute's Lifetime Achievement Award.
Michael Merrill, Bette's son, and Kathryn Sermak, Bette's personal assistant and friend, were the executors of her estate. They created The Bette Davis Foundation in her memory, which provides financial assistance to promising young actors. Meryl Streep received the first Bette Davis Lifetime Achievement Award at Boston University in 1998.