Rosa Parks
Known throughout the world as the "Mother of the civil rights movement," Rosa Parks' courageous act on December 1, 1955, changed the course of American history.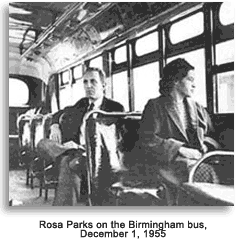 Early Life
Born February 4, 1913, in Tuskegee, Alabama, Rosa Louise McCauley was the eldest of two children born to James and Leona McCauley. In 1915, when her parents separated, Louise took Rosa and Sylvester, her younger brother, to live with family in Pine Level, Alabama. Following the separation, Rosa rarely heard from her father.
Being a teacher, Leona taught Rosa at home until 1924, when at the age of 11, she was sent to live with her aunt in Montgomery, Alabama, to continue her education. Rosa attended the Montgomery Industrial School for Girls, an all-black private school where Rosa performed janitorial work in exchange for tuition. She began high school at Booker T. Washington High, but was forced to drop out to help take care of her ailing mother and grandmother.
In 1932, Rosa met and married Raymond Parks, a local barber and civil rights activist. Raymond was a self-educated man with a desire to gain as much knowledge as he could. With his support, Rosa returned to school, and in 1934, received her high school diploma.
Fight for Civil Rights
Over the next 20 years, Raymond continued to work as a barber, while Parks worked as a seamstress and at other odd jobs. Both Parks and her husband were active members of the Montgomery Chapter of the National Association for the Advancement of Colored People (NAACP). In 1943, Parks was appointed secretary of the Montgomery NAACP and also served as its youth leader.
On December 1, 1955, Parks was arrested for refusing to give up her seat on a Montgomery city bus. News of her arrest spread quickly through the black population, and with the help of the Reverend Martin Luther King, Jr., the Montgomery Bus Boycott was launched. The boycott lasted for 382 days, when the courts ordered that the segregation of city bus services were unconstitutional.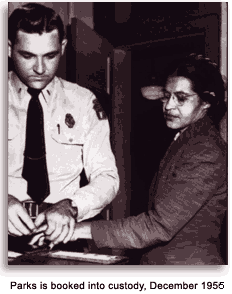 After losing their jobs in 1957, harassment and threats became so overwhelming that the Parks moved to Detroit. Parks continued her work as a seamstress while promoting civil rights through public speeches.
In 1965, Parks joined the staff of Congressman John Conyers of Detroit, one of few African-American politicians. Along with her reception and office duties, Parks also became involved in the struggle to obtain housing for the homeless. Parks worked with Conyers until her retirement in 1988.
After Raymond Parks died in 1977, Rosa continued her fight for equality by returning often to Montgomery to help support Dr. King with demonstrations and civil rights marches.
Later Life
In memory of her husband, Parks established the Rosa and Raymond Parks Institute for Self-Development in 1987. The Institute offers motivational support and career training to local teenagers. Summer programs also are offered to teach America's young about history and the civil rights movement. Throughout the years Parks has been presented many awards, but the most prestigious came in 1999 when President Bill Clinton awarded Parks the Presidential Medal of Freedom.
Parks died in 2005 in Detroit, Michigan and was the first woman to lie in honor in the Capitol Rotunda. Some states celebrate Rosa Parks Day, on her birthday, February 4, while others commemorate her on the day of her arrest, December 1.
---
For additional famous women, see
Important and Famous Women in America
.