Rock 'n Roll Hall of Fame and Museum
The Rock 'n Roll Hall of Fame and Museum was opened in September 1995, after 12 years in the making. The museum is located in Cleveland, Ohio on the shores of Lake Erie, within 500 miles of 43 percent of the country's population.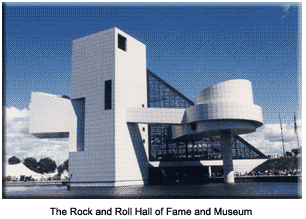 In 1983, Atlantic Records founder and chairman, Ahmet Ertegu, and attorney Suzan Evans, who became the executive director of the Hall of Fame Foundation, set out to establish an organization that would recognize the people who created the most popular music of the '50s and beyond. Ertegu approached various heads of record companies with his idea, spearheading the formation of the non-profit organization that would eventually become the foundation. The building was designed by world-renowned architect I.M. Pei. At a cost of $84 million, and an area of 150,000 square feet, the building is a striking composition of bold geometric forms and dramatically cantilevered spaces, anchored by a 162-foot-high tower. The permanent collection spans more than a century and includes items from early blues shouters to the most current teen idols. It contains musical instruments, scores, handwritten lyrics, recordings and equipment, stage clothes, and props. It represents nearly every major figure of rock 'n roll. Although the building was far from complete, the Hall of Fame began to induct members in 1986.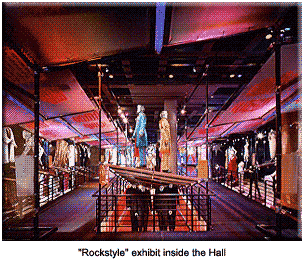 The first class to be inducted contained beloved names, some living, some who have passed:
Performers Chuck Berry, James Brown, Ray Charles, Sam Cooke, Fats Domino, Everly Brothers, Buddy Holly, Jerry Lee Lewis, Elvis Presley, and Little Richard.

Early influences Robert Johnson, Jimmie Rodgers, and Jimmy Yancey.
Lifetime Achiever John Hammond.
Non-performers Alan Freed and Sam Phillips.