Howard Hughes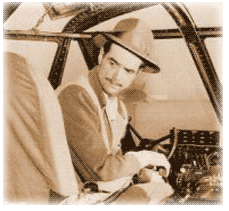 Howard Robard Hughes Jr. was arguably one of the most enigmatic personalities of 20th century America, if not the world. And, thanks to his father's invention that revolutionized the oil industry, Hughes had more than enough money to indulge his fancies and his fantasies. He is probably best remembered for building the world's largest airplane, the Spruce Goose. The early days — Howard Sr. Depending on which resource one uses, Hughes was born in 1905, either in Houston, or in Humble (silent "H"), an oil boomtown about 20 miles northeast of Houston. It was here that Howard Sr. developed an oil-drilling bit called a rock bit, or roller bit, which consisted of 166 steel-and-diamond teeth on wheels that turned as the drill stem was rotated. Under heavy pressure, the rotating teeth broke up rock into tiny fragments. The litmus test occurred at Goose Creek, Texas, an area Hughes had attempted to drill for himself, only to give up because the rock was so hard. Where no other drilling equipment had been able to penetrate the rock, Hughes's bit chewed through 14 feet of rock in only 11 hours. Hughes Sr. patented the bit in 1909, formed a partnership with Walter B. Sharp, creating the Sharp-Hughes Tool Company, then manufactured and leased out bits to drillers for as much as $30,000 per well. The Hughes family fortune was valued at about $900,000 when the senior Hughes died in 1924, leaving his 18-year-old son to carry on the business. Clown or prince Following his father's death, Howard Hughes the younger set out to make his own mark in the world. Hughes harbored an early yen for flying, mathematics, and all things mechanical — as a budding machinist and millwright, he "liberated" some spare parts from his father's steam engine to cobble together a viable motorcycle. After dropping out of Rice Institute (now Rice University) in Houston, Hughes became infatuated with the film industry and migrated to Los Angeles in 1925. After an initial failure, he hired Noah Dietrich and Lewis Mileston to team up on "Two Arabian Nights" in 1928 — now regarded as a Hollywood classic — and won an Academy Award. Hughes next directed and produced "Hell's Angels," an epic undertaking about World War I flyboys. He assembled the largest private air force in the world with 87 Sopwith Camels, Fokkers, and Spads, at a cost of more than $500,000 and another $400,000 to maintain and warehouse them. Because he was caught off guard by the development of "talking pictures," Hughes had to reshoot several scenes and replace the female lead, Norwegian star Greta Nissen, with a young hopeful with platinum blonde hair named "Jean Harlow," Hollywood's first "Blonde Bombshell." The film was a box-office smash, but never recovered its costs. Two other Hughes films, "The Front Page" (1931) and "Scarface" (1932), received critical acclaim, but his film "The Outlaw" (1941), starring buxom Jane Russell, pushed the erotic envelope of the day and was generally dismissed by the media. As one wag summarized, a Hughes movie is "rich in entertainment, low on philosophy and message, and packed with sex and action." Behind the camera and on the social front, Hughes was often seen with the leading ladies of the era — Ginger Rogers, Katharine Hepburn, Lana Turner, and Ava Gardner. Turner was said to have described Hughes as "likable enough but not especially stimulating." He would later marry, and divorce, actress Jane Peters.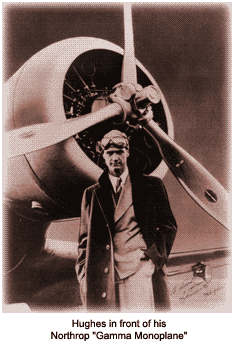 The aviator Hughes Aircraft Company was created in the early 1930s. The first airframe design was the H-1 racer, featuring retractable landing gear, fully enclosed cockpit, and a flush riveting process, all of which helped reduce drag and stabilize airflow, thus producing a safer, faster aircraft. In 1935, Hughes personally piloted the plane to a new world speed record of 352 mph. He then proceeded to break records on a cross-country flight, about seven and a half hours; and in 1938, he broke not only Charles A. Lindbergh's New York-to-Paris record, but the around-the-world record as well. Hughes and his four crewmen turned in a time of about four hours short of four days. In the middle of World War II, Henry J. Kaiser approached Hughes about building a series of oversized wooden seaplanes to alleviate some of the pressure from German U-boat attacks. Kaiser's attempts to deliver troops and supplies by ship were being frustrated by the Wolf Pack, and he thought large cargo planes, built of wood because of a metal shortage, would be a good solution. After a year, the idea was still sitting on the drawing board, so Kaiser quit the effort. Hughes, however, lumbered on. The H-4 Hercules, better known as the "Spruce Goose," carried eight engines on a wingspan of 320 feet, a length of 218 feet, six inches, and a height of 79 feet. The propellers were just over 17 feet long and it could hold 14,000 gallons of fuel. It finally made its one and only flight in November 1947, being airborne for about one minute, reaching a top speed of 80 mph and an altitude of 70 feet. The Spruce Goose was actually made of birch and now resides on display in an air museum in McMinnville, Oregon. The war years Hughes desired government contracts to build aircraft for the military, but his clandestine methods, and refusal to use standardized parts, cost him any chance of achieving those goals. He did, however, through the creation of Hughes Electronics, become the military's single largest supplier of weapons systems. The cornerstone of the technology used by the systems allowed pilots to use radar and computers to track down and destroy the enemy in any kind of weather. At about the same time, the early 1950s, Hughes began work on the F-98 Falcon, an unmanned interceptor missile. When it was deemed operational in 1955, it became the first air-to-air guided weapon in the U.S. Air Force. Beginning in 1961, Hughes created the Hughes Space and Communications Company. For the next 40 years, it was the dominant force in the satellite market. "Syncom," the world's first synchronous communications satellite, was boosted into service in 1963. As of 2005, the company boasted 40 per cent of the satellites in service worldwide. Other Hughes innovations in the satellite field included the first geosynchronous satellite, capable of picking up meteorological data. That was the ATS-1 and it was launched in 1966. In that year, the Surveyor 1 made the first soft landing on the moon.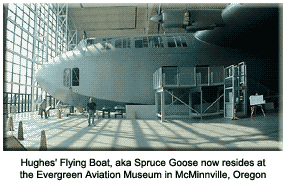 The final years Hughes's personal life was decidedly different from his successful business ventures. A crash of an experimental photo-reconnaissance plane (the XF-11), which he had piloted himself, left him with a drug dependency involving codeine and, later, Valium. He had suffered a mental breakdown in 1944 and a second in 1958. Headquartered at the Beverly Hills Hotel, he became reclusive and spent an inordinate amount of time sitting naked in a white leather chair in the middle of his living room (the "germ-free zone") in front of a movie screen, watching film after film. His favorite was "Ice Station Zebra." In 1966, Hughes sold his stock in Transworld Airlines (TWA) and moved his operations from Los Angeles to Las Vegas. He bought the Desert Inn Hotel, which he used as his headquarters, four other casinos, and a radio station, and resumed his secretive lifestyle. By 1972, Hughes' health was in serious question. Doctors thought his deteriorated condition was similar to prisoners held in Japanese prison camps during World War II. His aides dutifully transported him around the western hemisphere in search of medical help and easily available drugs. Hughes died in April 1976, on a private jet en route to a hospital in Houston. His identity had to be confirmed by fingerprints due to the emaciated state of his body, and he left an estate estimated at $2 billion.