Ginger Rogers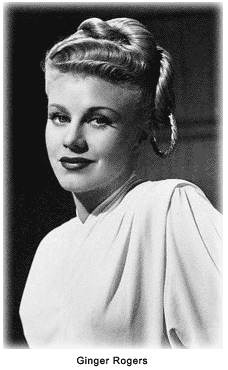 Ginger Rogers was an American actress and dancer. Her acting career spanned three decades, and she is best remembered as Fred Astaire's dance partner. Beginnings Ginger was born Virginia Katherine McMath on July 16, 1911, in Independence, Missouri. She was the daughter of Eddins McMath and Lela Owens McMath. Her parents separated shortly following her birth, and there was a fight for custody. Her father even went so far as to take Ginger without her mother's permission. Her mother eventually obtained custody of her, and her father died when she was 11 years old. Ginger and her mother moved into Lela's parents' home in Kansas City, Missouri. Ginger stayed with her grandparents for several years while her mother traveled to Hollywood to become a scriptwriter. Ginger's younger cousins could not pronounce Virginia, calling her "Ginga," which stayed with her. Ginger's mother married John Logan Rogers when Ginger was nine years old. Ginger borrowed his last name, but never took it legally. The family lived in Fort Worth, Texas. Her mother became a theater critic for a local paper. With her mother's interest in theater and Hollywood, Ginger would receive exposure to that world. When Ginger was 14, she won the Texas State Charleston* Championship. The prize was four weeks of appearances in four Texas cities on the Interstate Theater Circuit. Ginger appeared in vaudeville acts until she was 17 years old. She went to New York to appear in the Broadway production of Top Speed, and was encouraged to seek work in films. Following a screen test, Ginger was given a bit part in the 1930 film, A Night in a Dormitory. She worked in a few more films as a bit actress. Stardom hits In 1933, Rogers gained a role in Gold Diggers of 1933, which brought her public attention. However, her true stardom hit when she was teamed up with Fred Astaire in the films Flying Down to Rio (1933), Roberta (1935), and Top Hat, also in 1935.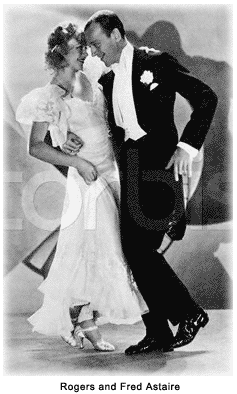 In 1939, Rogers appeared in such comedies as Bachelor Mother and 5th Avenue Girl. The same year, she appeared with Astaire again in The Story of Vernon and Irene Castle. In 1940 she starred in Kitty Foyle: The Natural History of a Woman, from which she won an Academy Award for Best Actress. The ranch Also in 1940, Rogers purchased a 1000-acre ranch near the Rogue river, just north of Medford, Oregon. She would live there with her mother for 50 years. The ranch was a dairy farm that supplied milk for the war effort during World War II. Rogers loved to fish the Rogue River. She sold the ranch in 1990, and moved to Medford. The work goes on Rogers continued to make movies through the 1940s into the early '50s, but not of the caliber of those before World War II. Rogers starred in the delightful comedy, Tom Dick and Harry (1941), in which her character had to choose one of three men to marry. Following Oh, Men! Oh, Women! (1957), Rogers did not appear on the silver screen for seven years. In 1965, Rogers appeared in her final film, Harlow. She then worked on Broadway and other venues, traveling through Europe, the U.S., and Canada. In 1984, she retired from acting and began to write her autobiography, Ginger, My Story, which was published in 1991. A star's personal life Rogers lived much of her life with her mother; they were both Christian Scientists. Their relationship was extremely close, and has been offered as a partial reason for Rogers' history of failed marriages and childlessness. Ginger was married five times; her final divorce took place in 1969. Rogers was a good friend of Lucille Ball for many years, until Ball's death in 1989. The two did not appear to share political views (Rogers was a conservative Republican), but enjoyed each other's company. Bette Davis, who was very different from Rogers, also was a friend. Formal recognition Rogers was awarded numerous honors and citations. In 1973, she gave a speech before the Congressional Women's Luncheon in Washington, D.C.; it was entered into the Congressional Record. Then again in 1975, she was present at the White House for the reception of the Emperor and Empress Hirohito. Her remarks on the American Bicentennial also were placed into the Congressional Record. She was awarded an honorary doctoral degree by Austin College in Texas. In 1992, Rogers was a recipient of the Kennedy Center Honors. The Craterian Ginger Rogers Theater in Medford, Oregon, is named in her honor. A long life ends Rogers suffered from diabetes. On April 25, 1995, she died of congestive heart failure at the age of 83. Her remains were buried beside those of her mother, and a few yards away from Fred Astaire, in Oakwood Memorial Park, Chatsworth, California.
---
*A popular dance of the 1920s.