Harold Stassen vaulted into national attention when he became governor of Minnesota at the tender age of 31. His later attempts to obtain the Republican presidential nomination all ended in failure, and his persistence, despite repeated defeats, became legendary.
Harold Edward Stassen was born on April 13, 1907, on a farm in Dakota County, Minnesota, the fourth of William and Elsie Stassen's five children. He completed high school in St. Paul when he was just 14 years of age. After working briefly for his parents, he entered the University of Minnesota, supported himself through a variety of jobs, including Pullman train conductor, and received his bachelor's degree at the age of 20. In 1929, he completed his law degree at the University of Minnesota Law School, opened a law practice in South St. Paul, and was elected Dakota County attorney. He served two terms in that office. In 1936, he was a delegate to the Republican National Convention.
In 1938, Stassen was elected governor of Minnesota. At 31, he was the youngest person ever to hold the governorship of any state in the union. He quickly gained national recognition and was named chairman of the National Governors Conference in 1938. In 1940, he was re-elected to both of those positions and delivered the keynote address at the Republican National Convention, where he assisted in clinching the presidential nomination of Wendell Willkie.
Re-elected governor in 1942, Stassen served only a few months of his third term before enlisting in the U.S. Navy in April 1943, where he served as Admiral William F. Halsey's assistant chief of staff. During two and a half years of active duty, Stassen was decorated three times, earned six major battle stars, and felt honored to be a delegate to the United Nations Charter Conference between April and May of 1945.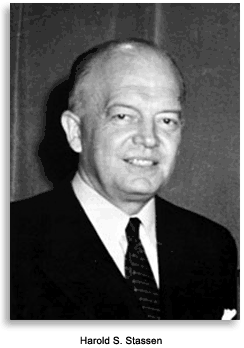 Stassen's first serious attempt at the Republican presidential nomination occurred in 1948. His campaign organization included future U.S. Supreme Court Chief Justice Warren Burger, who led the Minnesota campaign. Despite a strong showing, he was defeated at the convention by Thomas Dewey of New York. He then became president of the University of Pennsylvania, where his fundraising skills and cost-cutting abilities helped bring the university out of a longstanding financial crunch. At the 1952 convention, Stassen was considered to be a serious contender along with Robert A. Taft, sponsor of the anti-union Taft-Hartley Act of 1947. They both eventually lost to Dwight D. Eisenhower, who was then serving as president of Columbia University.
Following Eisenhower's inauguration in 1953, Stassen joined the new administration, where he served in cabinet-level positions and became a member of the National Security Council. Eisenhower appointed Stassen Special Assistant to the President for Disarmament Policy in 1955 and he was the chief U.S. negotiator during arms talks in London in 1957. He took a brief leave from the Eisenhower administration in the summer of 1956, when he attempted unsuccessfully to persuade delegates to the Republican National Convention that they should replace Richard M. Nixon with Christian Herter, then governor of Massachusetts, as the vice-presidential nominee.
With the London talks stalemated and disagreements with Secretary of State John Foster Dulles growing more intense, Stassen resigned from the cabinet on February 18, 1958, and took up the practice of law in Philadelphia. Until the end of his life, Stassen repeatedly campaigned for public office and was never again successful. He tried to become mayor of Philadelphia (1959), governor of Pennsylvania (1958 and 1966), U.S. Senator from Minnesota (1978), governor of Minnesota (1982), and U.S. Representative from Minnesota (1986). Between 1964 and 1992, Stassen ran for the Republican nomination for president every year except 1972. Stassen's book, Eisenhower: Turning the World Toward Peace, about his experiences on Eisenhower's cabinet, was published in 1990.
In addition to public service, Stassen, a lifelong Baptist, was involved in various church affairs. He served as president of the International Council on Religious Freedom and helped merge that organization with the National Council of the Churches of Christ in 1950. He also joined Martin Luther King Jr. in the March on Washington in 1963, as president of the American Baptist Convention.
When Stassen died at the age of 93 in Bloomington, Minnesota, on March 4, 2001, he had been married to his wife Esther for more than 70 years. They had a son, Glen Harold, and a daughter, Kathleen Esther. He also had been the sole remaining U.S. signatory of the United Nations charter.