Marie Jean Paul Joseph Roche Yves Gilbert du Motier, the Marquis de Lafayette, was born in Auvergne, France, into a family with a long history of service to the State.
He entered the French army at an early age, rising to the rank of captain. Lafayette shared with many of his countrymen an enthusiasm for the ideals put forth in America's Declaration of Independence, and with typical bravado he invested his own funds to outfit a ship and sailed for America in April 1777. He landed in South Carolina then headed north to join the forces of George Washington, with whom he established a lasting friendship during the travails at Valley Forge.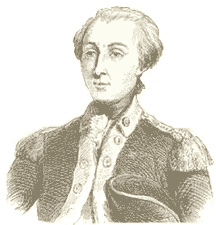 Serving as an unpaid volunteer on Washington's staff, Lafayette was wounded at Brandywine and served later at Monmouth and in New Jersey. He advocated a joint French and American invasion of Quebec, but the French were non-commital and the Second Continental Congress referred the question to Washington, he argued that it was a bad strategy, and the plan came to nought.
Lafayette's continued service was rewarded with a promotion to major general, but in 1779 he returned to France to promote America's interests. Later in 1779, Lafayette returned, bearing news of imminent French naval aid. He also served on the board of judges that condemned the spy, John André.
In 1781, Lafayette led American forces in Virginia against both Benedict Arnold and Lord Cornwallis. Once again, he returned to France and served as a diplomatic aid to Benjamin Franklin during the peace negotiations.
Lafayette played a prominent role in the early stages of the French Revolution, but was removed by the Jacobins for alleged moderation. He went on to a series of turbulent experiences during the Reign of Terror, the Napoleonic Era and the Restoration.
Lafayette made his final visit to America in 1824-25 and was received with great adulation and enthusiasm. The U.S. Congress provided him with a cash gift of $200,000 in appreciation of his valuable services.
---- Selected Quotes ----
Quotes by Marquis de Lafayette.
Regarding Liberty
Humanity has won its battle. Liberty now has a country.
Regarding Insurrection
When the government violates the people's rights, insurrection is, for the people and for each portion of the people, the most sacred of the rights and the most indispensable of duties.
Speech to the Constituent Assembly, 1790

Quotes regarding Marquis de Lafayette.
By John Quincy Adams
Pronounce him one of the first men of his age, and you have yet not done him justice.
Oration in the US House of Representatives on Lafayette, 1834

- - - Books You May Like Include: ----
A Slave in the White House: Paul Jennings and the Madisons by Elizabeth Dowling Taylor.
Paul Jennings was born into slavery on the plantation of James and Dolley Madison in Virginia. As a young boy, he was part of the Madison household st...
Twilight at Monticello: The Final Years of Thomas Jefferson by Alan Pell Crawford.
Much has been written about Thomas Jefferson, with good reason: His life was a great American drama–one of the greatest–played out in compelling acts....
For Liberty and Glory: Washington, Lafayette, and Their Revolutions by James R. Gaines.
They began as courtiers in a hierarchy of privilege, but history remembers them as patriot-citizens in a commonwealth of equals. On April 18, 1775, a ...
George Washington's World by Genevieve Foster.
The period measured by the life of George Washington--1732 to 1799--was one of revolution and change in many parts of the world as Enlightenment think...
Lafayette by Harlow Giles Unger.
In this biography, acclaimed author Harlow Giles Unger paints an intimate and detailed portrait of the heroic young French soldier who, at nineteen, r...