Harriet Beecher Stowe
Harriet Beecher Stowe was an American author. She was best known for Uncle Tom's Cabin, which helped galvanize the abolitionist cause and contributed to the outbreak of the Civil War. She also wrote poetry, essays, and non-fiction books.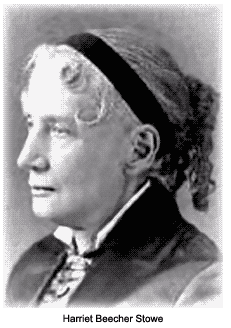 Beginnings
Harriet Elisabeth Beecher was born on June 14, 1811, in Litchfield,
Connecticut
. Her father was the Reverend Lyman Beecher, and her mother was Roxanna Foote Beecher. Her mother died when Harriet was only five years old. She had 10 brothers and sisters. Many of her siblings became famous reformers, following in their father's footsteps.
Harriet was first a student, and later a teacher at Hartford Female Seminary, founded by her sister, Catharine. During that period, the seminary was one of a few schools that educated females. Catharine believed that women should be educated in careers outside the home, and she also stressed the importance of writing. Harriet received an outstanding education and began to develop her talents as a writer.
Life in Ohio
In 1832, the family moved to
Cincinnati, Ohio
, where Harriet's father became the president of Lane Theological Seminary. In 1836, Harriet met and married Calvin Stowe, a professor at the seminary. The couple had seven children, most of whom were born in Cincinnati. Only three would survive their parents. Harriet Stowe joined the Semi-Colon Club, a local literary society in Cincinnati. Her writing skills became sharper as a result of her experiences in the club. Early in her marriage, Stowe published stories and magazine articles to supplement the family's income.
A best seller from Brunswick
In 1850, Calvin Stowe accepted a teaching position at Bowdoin College in Brunswick, Maine. The family moved to Brunswick. That year saw the passage of the
Fugitive Slave Act
, which made it a crime for citizens of free states to give aid to runaway slaves. The new law inspired Stowe to write
Uncle Tom's Cabin
, which was published in 1852 as two volumes. It became a best seller in the United States, England, Europe, and Asia, and was translated into more than 60 languages. Stowe used some of her own experiences and feelings to write the novel. The story humanizes slavery by portraying the lives of individuals and families. She describes the physical, emotional, and sexual abuse that enslaved people were forced to endure. After some critics attacked the veracity of
Uncle Tom's Cabin
, Stowe published
The Key to Uncle Tom's Cabin
in 1853, in which she presented her source material. Her inspiration had come partly from
Theodore Weld
's 1839 work,
Slavery As It Is
. That year, Stowe was invited to speak in Britain, where she was greeted enthusiastically. She made several return trips to Britain and Europe. Stowe also urged women of the United States to use their influence to obtain signatures on petitions, and spread information against slavery. It was said that
Uncle Tom's Cabin
contributed to the outbreak of the
Civil War
by showing the American people the evils of slavery. According to legend, when Stowe met
Abraham Lincoln
in 1862, he said, "So you're the little woman who wrote the book that started this Great War!"
Moving again
In 1853, the Stowes moved to Andover, Massachusetts, when her husband became a professor of theology at Andover Theological Seminary from that year to 1864. After Calvin retired, the family relocated to
Hartford, Connecticut
. When the family moved into their Forest Street home in Hartford, they became neighbors of Samuel Clemens, better known as
Mark Twain
.
Less heralded works
Stowe published a second anti-slavery novel in 1856, entitled,
Dread: A Tale of the Great Dismal Swamp
. Although her later works did not win the same popularity as
Uncle Tom's Cabin
, she still managed to publish novels, essays, and a volume of religious poems. In 1862, she published
Pearls of Orr's Island
;
Old-Town Folks
was released in 1869; and her last novel was
Poganuc People
, in 1878. Harriet Beecher Stowe died two years after her husband, on July 1, 1896, in Hartford. Her resting place is at Phillips Academy in Andover, Massachusetts.