Stephen King
Stephen King is an American author, famous for his horror novels. His work is often on the bestseller list, and he holds the the current record of the largest number of screenplay adaptions by a living author.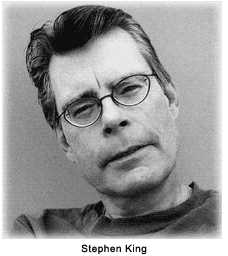 Early years Stephen Edwin King was born in Portland, Maine, on September 21, 1947. He is the second son of Donald Edwin King and Ruth Pillsbury King. His elder brother was adopted as an infant two years before Stephen was born. Donald King abandoned the family when Stephen was a toddler. His mother reared the boys with the help of extended family. Stephen moved around with his mother for the first part of his childhood, but they settled in Durham, Maine, when he was 11 years old. Stephen attended elementary school in Durham, and in 1966, he graduated from Lisbon Falls High School. He enrolled in the University of Maine that year, and majored in English. Stephen wrote a weekly column for the school newspaper. The first sale from his pen, a short story titled "The Glass Floor," was to Startling Mystery Stories in 1967. He also was active in student politics and a member of the student senate. He graduated in 1970, with a BA in English. Stephen met Tabitha Spruce at the university, and the couple married in January 1971. Intending to teach, Stephen was unable to get a position immediately following graduation, so he took work as a laborer in an industrial laundry. He and Tabitha also lived on her student loans and the occasional sale of short stories Stephen submitted to Cavalier and other men's magazines. Some of those stories were later compiled into the Night Shift Collection or other anthologies.
A stab at teaching, then success King was offered a teaching job at Hampden Academy in the fall of 1971. The couple moved to Hermon, a town just west of Bangor, Maine. King began to write a story about a teenage girl, but after a few pages, became discouraged and threw it away. His wife dug the story out of the trash and encouraged him to finish it. In January 1973, King submitted Carrie to Doubleday, which bought the book in March; in May, Doubleday sold the paperback rights to New American Library for $400,000 — half of which went to King. He was able to quit his teaching job and begin writing full time. New life, and a death In 1973, the Kings moved to southern Maine. They rented a summer home on Sebago Lake and lived in North Windham during the winter. They started a family and eventually had three children. King wrote Salem's Lot (originally titled Jerusalem's Lot) and got it published in 1975. While he was writing that novel, his mother died of cancer. King began to drink at the time. Following her death in 1974, the Kings moved to Boulder, Colorado. They lived in Boulder for less than a year, but he managed to write The Shining, which was set in Colorado and released in 1977. In the summer of 1975, the Kings purchased a house in the Lakes Region of western Maine. It was at this house that King finished The Stand, set mostly in Boulder. He also wrote The Dead Zone while they lived there. Shortly after The Tommyknockers was published in 1988, King's family and friends intervened in his drinking and other addictions by dumping his trash on the floor in front of him. They showed him evidence of his addictions: beer cans, cigarette butts, grams of cocaine, and prescription tranquizers. He sought help, then ceased to abuse all forms of drugs and alcohol by decade's end.
From novels to movies Many of King's books have made it to the big screen. He appears in most of those movies, usually in small parts. With few exceptions, his stories take place in Maine. Castle Rock is a popular place for his stories. When Director Rob Reiner directed Stand by Me, he subsequently named his production company, Castle Rock Entertainment. Stephen King published six novels under the pseudonym, Richard Bachman. They include: Rage (1977), The Long Walk (1979), Roadwork (1981), The Running Man (1982), Thinner (1984), and The Regulators in 1996. King staged a mock funeral for Bachman after the pseudonym was made public. That in turn inspired The Dark Half (1989), in which a novelist stages the burial of his horror-author pseudonym after having a serious novel published, only to find that his alter ego does not want to leave quite so easily. An injurious setback In June 1999, King was critically hurt in a vehicle accident. He suffered a collapsed lung, broken ribs, a fractured hip and leg. He had been walking on the shoulder of a roadway when he was struck by a minivan. King endured five operations in 10 days and underwent lengthy physical therapy, but has made a satisfactory recovery. In 2000, King published his autobiography: On Writing: A Memoir of the Craft. In 2003, he was honored with the Lifetime Achievement Award by the National Book Awards, prompting a huge uproar in the literary community over the choice. Stephen King currently lives in Bangor, Maine, with his wife Tabitha, who also is a novelist. They also own a house in the Western Lakes District of Maine. They spend winter seasons in Sarasota, Florida. Stephen King is a lifelong fan of the Boston Red Sox, and is frequently found at both home and away baseball games. He also is a fan of the band AC/DC, and frequently listens to their music to "get in the mood" to write. AC/DC recorded the soundtrack for his 1986 film, Maximum Overdrive. When asked why he writes in the horror genre, King says:
"I recognize terror as the finest emotion and so I will try to terrorize the reader. But if I find that I cannot terrify, I will try to horrify, and if I find that I cannot horrify, I'll go for the gross-out. I'm not proud."