Sinclair Lewis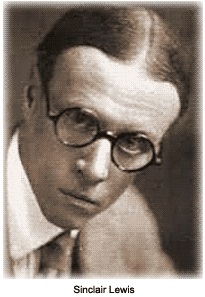 Sinclair Lewis was an American novelist and playwright, best known as the first American to win the Nobel Prize in Literature for his satirical and critical, yet often sympathetic views of middle–class American life in the 1920s. Through his novels, Sinclair expressed his views on such topics as narrow minds in small towns and insincere preachers. Sinclair's works include 22 novels and three plays. Though Lewis at times criticized the American way of living, his basic view of what he called the "American human comedy" was optimistic. Early years Harry Sinclair Lewis was born on February 7, 1885, in Sauk Centre, Minnesota to Dr. Edwin J. Lewis and Emma Kermott Lewis. Six years later, his mother died of tuberculosis. A year later, his father married Isabel Warner. In 1902, Sinclair attended Oberlin College in Ohio and received his bachelor`s degree from Yale University in 1908. While at Yale, he served as the editor of Literary Magazine and began his writing career as a journalist and editor. In addition, he wrote romantic poetry, followed by stories about knights and fair ladies. Writing for a living After graduating from Yale, Lewis worked for publishing houses and various magazines in Iowa, Carmel, California, San Francisco, Washington, D.C. and New York City. Lewis published his first book, Hike and the Aeroplane, in 1912, under the pseudonym Tom Graham. In 1914, Lewis married Grace Livingston Hegger, who at the time was an editor at Vogue. For the next two years, Lewis worked as an editor and advertising manager at the George H. Doran Company. In 1916, he left his job and began to travel extensively with his wife. His marriage to Grace ended in divorce in 1928, and the only child of their union, their son Wells, was killed overseas during World War II. Prizewinning work In 1920, Lewis was finally recognized as a serious author with the publication of his novel, Main Street, based on his home town of Sauk Center. In 1925, he published Arrowsmith, a novel about an idealistic doctor. That work won him the Pulitzer Prize, but he turned it down. In 1930, Lewis became the first American to win the Nobel Prize for Literature for his novel Babbitt. Considered by many to be Lewis`s greatest work, the book was a satirical look at middle-class America through its portrayal of businessman George Babbitt of Zenith, who desired "to seize something more than motor cars and a house before it`s too late." News that Lewis had been awarded the Nobel Prize was greeted with displeasure in some American circles, and the committee was particularly criticized by a leading member of the American Academy of Arts and Letters. Lewis used the occasion of his acceptance of the award in Stockholm to respond with a broad criticism of the Academy itself. After noting the major intellectual and artistic stars that were not members, he remarked:
It might be answered that, after all, the Academy is limited to fifty members; that, naturally, it cannot include everyone of merit. But the fact is that while most of our few giants are excluded, the Academy does have room to include three extraordinarily bad poets, two very melodramatic and insignificant playwrights, two gentlemen who are known only because they are university presidents, a man who was thirty years ago known as a rather clever humorous draftsman, and several gentlemen of whom -- I sadly confess my ignorance -- I have never heard.
Lewis was a born traveler and spent much of the 1920s with other great artists in the Montparnasse Quarter of Paris, France. His last great work,
It Can`t Happen Here
, was published in 1935, and described the rise of fascism in the United States. From 1936 to 1942, Lewis wrote several plays and even acted in a few.
Flame out
From 1928 to 1942, Lewis was married to Dorothy Thompson, a distinguished newspaperwoman and foreign correspondent. That union ended in divorce. Alcohol had played a dominant role in Sinclair's life, and he died of the effects of advanced alcoholism and heart disease in Rome, Italy, on January 10, 1951.