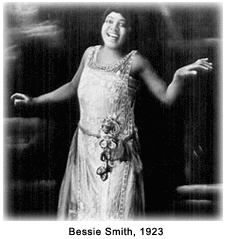 Bessie Smith is considered to be one of the most popular and successful blues singers of the 1920s and `30s. Known as the Empress of the Blues, Smith was born into poverty and orphaned at an early age. She is credited with recording more than 160 songs between 1923 and 1933. Smith performed on stage throughout the southern United States and recorded with such jazz greats as Louis Armstrong, Benny Goodman and Coleman Hawkins. Her singing talent has exerted a huge influence on popular American singers; Mahalia Jackson, Janis Joplin and Norah Jones have all given her credit as their inspiration.
Beginnings
Bessie Smith was born in Chattanooga, Tennessee, on April 15, 1894, one of six children. Her father, William Smith, was a laborer and part-time preacher. When Bessie was nine years old, both of her parents died, leaving her older sister, Viola, to care for the children. To survive, Bessie and her brother, Andrew, began to perform a musical act on the streets of Chattanooga. Bessie sang and her brother accompanied her on the guitar, often in front of the White Elephant Saloon.
In 1904, after her eldest brother, Clarence, left home to tour with a small traveling theater company, Bessie decided to do the same and make a living as an entertainer. In 1912, when Clarence returned to Chattanooga, he persuaded the managers of his troupe, Lonnie and Cora Fisher, to give Bessie an audition. Consequently, she was hired as a dancer with the Moses Stokes Company, to perform in a show that included the Mother of the Blues, Ma Rainey. It is thought that Rainey was instrumental in helping to develop Smith`s stage presence.
An expanding career
In 1930, Smith began to develop her own act at Atlanta`s "81" Theater. By the early 1920s, her reputation as a singer had spread through the South and all along the Eastern Seaboard.
In 1923, Smith signed with Columbia Records, and quickly rose to stardom as a main act on the Theater Owners` Booking Association theater circuit. Her most popular hit was "Down Hearted Blues," a song written and previously recorded by Alberta Hunter.
Smith`s winters were spent working a heavy theater schedule and she spent the remainder of her time traveling in her own railroad car, doing tent tours. Eventually, Smith became the highest-paid black entertainer of the day and performed with numerous legends of the time, including Louis Armstrong, James P. Johnson, Joe Smith, Charlie Green, and Fletcher Henderson.
The downside
With the Great Depression and the introduction of "talkies" that ended much of the vaudeville era, Smith's career began to wane. Though not as popular as in her heyday, Smith never ceased to perform. She continued to tour, and occasionally sang in clubs. In 1929, she appeared in a Broadway musical, titled Pansy. That year, Smith made her only cinematic appearance, starring in a film based on W.C. Handy`s St. Louis Blues.
Smith's final recordings were made in 1933 for John Hammond and the Okeh label. Hammond was impressed after watching her perform in a Philadelphia nightclub. Smith was paid $37.50 for each of four recordings. Detectible in the recordings, Smith`s musical style was undergoing a change more in line with the sounds of the Swing Era. Smith was accompanied by a band that included Swing-Era musicians Frankie Newton and Chuck Berry. "Take Me For A Buggy Ride" and "Gimme a Pigfoot" are among her most popular recordings. After cutting those recordings, Smith returned to touring with some success, and added swing to her repertoire.
An abrupt end
On September 26, 1937, Smith was severely injured in a car accident while traveling from a concert in Memphis to Clarksdale, Mississippi, with her companion Richard Morgan. She was taken to Clarksdale`s segregated Afro-Hospital, where she died.
In 1970, when singer Janis Joplin discovered that Smith`s grave was unmarked, she offered to pay for a stone. She shared the cost with Janita Green, who claimed she owed her successful, nonmusical career to Bessie Smith. According to Green, she was a little girl in a talent contest at the Standard Theatre where she was told by Smith after coming off stage, "You better stay in school, `cause you can`t sing!"
Off-site search results for "Bessie Smith"...
Bessie Smith
Bessie Smith1894? - 1937Blues Singer Start your search on Bessie Smith. Now Available in Paperback President Who? Forgotten Founders Click Here Unauthorized Site: This site and its contents are not affiliated, connected, associatedBessie Smith. Now Available in Paperback President Who? Forgotten Founders Click Here Unauthorized Site: This site and its contents are not affiliated, connected, associated with or ...
http://virtualology.com/hallofwomen/BESSIESMITH.ORG
African Americans - Blacks in American Film, St. Louis Blues starring Bessie Smith, Empress of the Blues
No blues singer can escape the influence of Bessie Smith, "The Empress of the Blues." She gave the music its raw, regal poignancy -- and marketability. Her feverish growls and testifying delivery has informed nearly every facet ofBessie Smith, "The Empress of the Blues." She gave the music its raw, regal poignancy -- and marketability. Her feverish growls and testifying delivery has informed nearly every facet of African ...
http://www.africanamericans.com/StLouisBlues.htm
Bessie Coleman Biography
Bessie's mother and two older brothers went to work and Bessie was left as caretaker of her two younger sisters. Education for Coleman was limited to eight grades in a one-room schoolhouse that closed whenever the students were needed in the ...
http://www.notablebiographies.com/Co-Da/Coleman-Bessie.html