Louis Armstrong
Louis Armstrong was one of the great early influences on jazz, during a period in which it became a nationally popular form of music in America.
"If anybody was Mr. Jazz, it was Louis Armstrong. He was the epitome of Jazz and always will be. He is what I call an American standard, an American original."

- Band leader Duke Ellington
The joy and spontaneity of Louis Armstrong's work on the cornet and trumpet, coupled with his astoundingly quick and inventive musical riffs, allowed Armstrong to rightly be called "the greatest of all Jazz musicians," and "the Founding Father of Jazz." The unmistakable "raspy frog" vocals left no doubt whose song it was.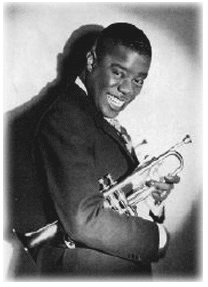 Whether you pronounce his name "Lewis" or "Louie," or simply "Pops," as his close friends and fellow musicians called him, "Satchmo" Armstrong always had a big smile for everyone whose path crossed his.
Armstrong's self-effacing nickname, "Satchmo," came about during a meeting with a British musical magazine editor, who had wanted to properly greet the gent from across the pond. Having heard that Armstrong was called by a variety of monikers referring to the size of his mouth, including "Dippermouth," "Gatemouth," and "Satchelmouth," the tongued-tied editor blurted out "Hello, Satchmo!" As it turns out, Armstrong liked the moniker and quickly adopted it as his own.
"If you don't like Louis Armstrong, you don't know how to love."
- vocalist Mahalia Jackson
Early Years
Louis was born in "the Battlefield," a poor section of New Orleans, in August 1901. As a boy, he released his energy in a variety of ways — not always socially acceptable. One of Louis's last transgressions as a youth, at the age of 12, was to fire a gun into the air during a New Year's Eve celebration. He was arrested and sent to reform school.
During his two-year stay at the "Gray Bar Hotel," Armstrong learned to play the cornet. Upon his release, Louis gravitated to areas where he could listen to the better-known bands of the city. He survived on the streets by selling newspapers, selling coal from a cart, and unloading boats at the docks.
As Louis became a regular at those dive bars, fate would have it that one of the great band leaders of the time, Joe "King" Oliver, befriended him. Oliver gave Louis his first cornet, and instructed him on the finer points of playing the instrument.
Rise to Stardom

"In my opinion, Louis Armstrong is the greatest trumpet stylist of all time and has influenced every trumpet player of his time and long after."

- Trumpeter Al Hirt
Louis's talent surfaced quickly. He was hired by Oliver, at age 16, to play in his band in the famous Storyville section of New Orleans. By 1919, at the age of 18, Louis left New Orleans to play on Mississipi River paddleboats in
St. Louis
with Fate Marable's band. They traveled up and down the river and performed at various stops along the way. Armstrong would later describe his experience as "going to the University," because it allowed him to learn from written musical arrangements.
Armstrong kept busy by performing in intermittent gigs with Kid Ory's band, staying with Marable until 1921, when he returned to New Orleans to play for Zutty Singleton.
Given the nature of the business, musicians tended to be nomadic, traveling to where the money was better or just for the novelty of new surroundings. Performing with a broad spectrum of musicians also increased each player's repertoire.
By 1922, Jazz was being exported from New Orleans to Chicago, and Armstrong accepted a chance to play for King Oliver in what was the hottest group in town — the Creole Jazz Band.
Urged to seek a higher national profile by his wife, pianist Lil Hardin Armstrong, whom he had married in February of 1924, they packed up and headed for New York. Armstrong hooked up with the top African-American band in the city, the Fletcher Henderson Orchestra. At that time, Armstrong switched to the trumpet to blend in better with the other brass players.
Armstrong partnered with one of his few rivals of the day, Sidney Bichet, to produce some unique background sounds for Blues singers
In 1925, Armstrong returned to Chicago, where he cut his first records as a band leader. They were to be the guiding light for Jazz musicians with his "Hot Five," then "Hot Seven" (number of musicians in the combo) creations of "Potato Head Blues," "Muggles," a playful ditty alluding to his use of marijuana, and the quintessential "West End Blues." Armstrong's most famous and lionized improv introduction to Blues is the paragon by which today all things Jazz are measured.
"Armstrong's improvisational verve and technical virtuosity defined Jazz . . . and his engaging personality and ever-present grin made him a natural as the international ambassador of Jazz, America's greatest gift to the world."

- Life Magazine, "The 100 People Who Made the Millenium"
The Rest of the Story
Having gained world acclaim in the late 1920s and early 1930s, Armstrong delighted in sharing his music by performing more than 300 concerts a year. After the extensive touring, including concerts in Europe and points east, as well as making more than 30 movies, he settled down in Queens, New York, to continue recording. His touring was popular worldwide and earned him the fond nickname "Ambassador Satch."
By the early- to mid-1940s, the Big Band influence had taken over the catbird seat of the musical world. Armstrong countered by paring his band down from 16 to six and reverting to the Dixieland style, which had given him his first successes.
One of his biggest commercial successses, "Hello, Dolly," was produced in 1963. In 1968, just three years before his death, Satchmo recorded one of the most poignant of his many hits, "What a Wonderful World."
Performing until the last, Pops died in his sleep in July 1971.
"I never tried to prove nothing, just wanted to give a good show. My life has always been my music, it's always come first, but the music ain't worth nothing if you can't lay it on the public. The main thing is to live for that audience, 'cause what you're there for is to please the people."

- Louis "Satchmo" Armstrong