Joan Baez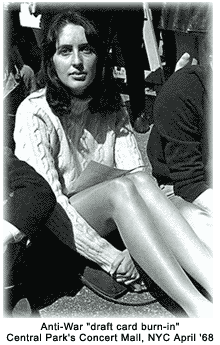 Considered to be the most accomplished interpretive folksinger/songwriter of the 1960s, and known for her distinctive vocal style as well as her activism and political views, Joan Baez has influenced nearly every aspect of popular music. Among of the first performers to use her popularity to promulgate social protest, she has sung and marched for civil and student rights and peace for the largest part of her life. Since the late 1960s, Baez has devoted her time to the school for nonviolence in that she founded in California and has performed at concerts supporting a variety of humanitarian causes. Beginnings Joan Chandos Baez was born on January 9, 1941, in Staten Island, New York, into a Quaker family of Mexican, English, and Scottish descent. Baez's father, Albert Baez, was a physicist. His avoidance of lucrative defense industry jobs, exerted a large influence on Joan's political activism in American and international civil rights, as well as antiwar movements from the 1960s to the present time. Her family moved frequently, owing to Albert's work, and lived in many different communities across the United States, as well as France, Switzerland, and Italy. In 1951, when the family spent time in the Middle East, 10-year-old Joan was deeply touched by the poverty and the inhumane treatment that the people in Baghdad suffered. In the late 1950s, Dr. Baez accepted a faculty position at MIT, and moved his family to the Boston area. At that time, Boston was the center of the new folk music scene, and Joan began to perform locally in Boston- and Cambridge-area clubs. After graduating from Palo Alto High School, she attended Boston University. Joan recorded her first album, Folksingers 'Round Harvard Square, while working at Club 47 Mount Auburn, in Cambridge, where she performed twice a week for $20 per show. Taking wing Baez's professional career took off at the 1959 Newport Folk Festival. Her first album for a major company, titled Joan Baez, was recorded the following year on Vanguard Records. The collection of traditional folk ballads, blues and songs, sung to her own guitar accompaniment, sold modestly well. Her second album, titled Joan Baez, Vol. 2, went gold in 1961, as did Joan Baez in Concert, parts 1 and 2, which were released in 1962 and 1963.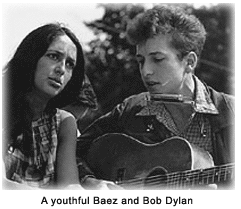 From the early- to mid-1960s, Baez emerged as a leader of the American Roots Revival, and she was instrumental in introducing her audiences to a relatively unknown Bob Dylan. Baez and Dylan became romantically involved in late 1962, and remained together through early 1965. It was during that period, as the Vietnam War and the Civil Rights struggle in America became prominent issues, that Baez focused more of her attention on both areas. Eventually, Baez's music and her political involvement became one and the same. Her performance of "We Shall Overcome" at Martin Luther King's March on Washington, caused the anthem to be permanently linked to her, and she was frequently seen at the front in civil rights marches. She became more vocal about her disagreement with the U.S. war in Vietnam, publicly disclosing that she was withholding 60 percent of her income taxes (the figure commonly determined to fund the military), and encouraging draft resistance at her concerts. In 1965, she founded the Institute for the Study of Nonviolence. The Beatles, et al. Baez was profoundly influenced by the British Invasion, and began to use more of her acoustic guitar on her 1965 album, Farewell Angelina. In the late 1960s, Baez experimented with poetry, writing the album Baptism: A Journey Through Our Time in 1969, the country music David's Album also in 1969, and One Day at a Time, released in 1970. Baez married David Harris, a prominent anti-Vietnam War protester in 1968. Harris was imprisoned for draft evasion. The couple divorced in 1973. Harris was a country-music fan and introduced Baez to a complex country rock influence that was evident in David's Album. In 1969, Baez appeared at the historic Woodstock music festival in upstate New York, which gave her an international musical and political podium, particularly upon the successful release of the like-titled documentary film. In 1971, her cover of The Night They Drove Old Dixie Down by The Band, made the top 10 on the charts in the United States.
Human rights
Much of the singer's time in the early 1970s was spent helping to establish a U.S. branch of Amnesty International. Baez worked tirelessly to improve human rights, both in Latin America and Southeast Asia. During Christmas 1972, Baez joined a peace delegation that traveled to North Vietnam to address human rights problems in the region, and deliver Christmas mail to American POWs. The singer's outrage at the human rights violations of communist Vietnam made her increasingly critical of its government. On May 30, 1979, Baez organized the publication of a full-page advertisement, published in four major U.S. newspapers, in which the communists were described as having created a nightmare. That ultimately led Baez to found her own human rights group, Humanitas International, whose focus was to target oppression in all walks of life, and criticize right- and left-wing regimes equally. In 1981, she toured Chile, Brazil and Argentina, but was prevented from performing in any of those countries, for fear that her criticism of their human rights practices would reach mass audiences.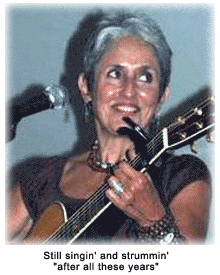 In 1985, Baez played a significant role in the Live Aid concert for African famine relief by opening the U.S. segment of the show in Philadelphia, Pennsylvania. She also has had the honor of touring on behalf of numerous other causes, such as Amnesty International's 1986 A Conspiracy of Hope Tour and a guest spot on their Human Rights Now! Tour. Baez continued to perform and record throughout the 1980s and '90s, releasing several albums. In August 2005, she appeared at the Texas antiwar protest initiated by Cindy Sheehan, mother of a soldier slain in Iraq. In September of that year, she sang "Amazing Grace" at the Temple in Black Rock City during the annual Burning Man festival, as part of a tribute to New Orleans and the victims of Hurricane Katrina. Baez continues to spend her time promoting peace though her music, words, and actions.