Chuck Yeager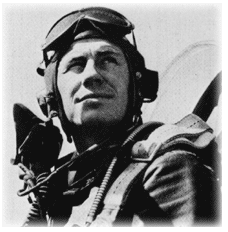 "The fastest man alive." That's what they called Air Force Captain Chuck Yeager when he flew a Bell X-1 jet airplane past the sound barrier, 761 mph, and into the record books as the first man to accomplish the feat. It also made Yeager the fastest man on earth on that December day in 1947, when he pushed his XLR-11 rocket-propelled machine to Mach 1.06, 6 percent faster than sound, or 807 mph, at 45,000 feet. The early years Yeager was born in February 1923, in Myra, West Virginia, southeast of Huntington and southwest of Charleston. At the age of 16, in 1939, he attended the Citizens Military Training Camp at Fort Benjamin Harrison, Indiana, and then enlisted as a private in the Army Air Corps, serving as a mechanic. World War II When the War in the Pacific began in December 1941, Yeager was transferred to what is now George Air Force Base in California. The next year, under the "Flying Sergeants" plan, he accepted a spot in the pilot training program. After receiving his wings, Yeager was promoted from corporal to flight officer. Yeager's first plane was a P-39 Airacobra, and was attached to the 363rd Fighter Squadron before deploying to England. While there, he flew P-51 Mustangs in combat against the Germans and shot down two enemy aircraft in his first seven missions. On Yeager's eighth mission, he was shot down, but the French Underground helped him escape to neutral Spain, until he could return to England by way of Gibralter. Combat policy at the time prohibited downed pilots from returning to action, but Yeager personally went to General Dwight D. Eisenhower to appeal the provision. Eisenhower consented, so Yeager was back in action. He flew 56 more missions, gunning down 11 more German aircraft — five in one day, earning him the nickname "Ace-in-a-Day." One of his kills was a German jet he downed from a prop-driven plane — a first in World War II combat. Postwar career Following the war, Yeager rose rapidly through the ranks. He attended pilot school and was involved in testing the P-80 Shooting Star and the P-84 Thunderjet. He also examined and evaluated several German and Japanese warplanes that had been captured and brought to the U.S. That experience led to his assignment with the experimental rocket plane, the Bell X-1, at Muroc Army Air Field, now Edwards Air Force Base, in the California desert. Yeager's mission aboard the X-1, dubbed Glamorous Glennis in honor of his wife, was to catalog the various effects that the plane and pilot, experienced as the rocket reached for the sound barrier — Mach 1. Yeager was nearly unable to make the flight, owing to two broken ribs sustained by falling off a horse two days before. His mechanic and friend, Jack Ridley, improvised a makeshift lever — a broom handle — for Yeager to latch the hatch of the X-1, once in the cockpit. As the fuselage rumbled and complained the nearer it got to the magic number, Yeager managed to hold everything together. As he cautiously edged through the mythological barrier, Yeager experienced a violent shaking, yet he throttled up and through to the other side — and calm skies. Bi-products of breaking the sound barrier included a sonic boom and a mini vapor cloud. Over the next two years, Yeager flew his X-1, and derivitives, more than 40 times, eclipsing the 1,000 mph, and 70,000 feet in altitude marks. Mach 2 Yeager was beaten to Mach 2 by rival Scott Crossfield of the National Advisory Committee for Aeronautics (NACA), precursor to NASA. Yeager and Ridley one-upped Crossfield when they devised "Operation NACA Weep," which bested Crossfield's record several times before a celebration of the flight's 50th anniversary, when Crossfield was supposed to be crowned the "fastest man alive." Muroc Field was renamed Edwards Air Force Base in 1950, in memory of another test pilot, Glen Edwards, who lost his life testing a Northrup YB-49. At that point through 1954, the names Yeager and Edwards were synonymous in the field of experimental aircraft flying. Yeager averaged more than 100 hours' flight time a month at Edwards, and during a single month, tested 27 different aircraft. By the end of his 34-year career, Yeager would log more than 10,000 hours of flight time in more than 330 types of aircraft, including a Russian MiG-15, which was confiscated in South Korea following the pilot's defection. That Yeager should be heralded as the creme de la creme among test pilots should come as no surprise. It was noted early on by his flight instructors that he "flew an airplane as though he was an integral part of it; his 'feel' for a new airplane was instinctive, intuitive, and as natural as if he had already flown it for a hundred hours." In service to America Yeager's leadership abilities, coupled with his skill as a pilot, earned him sometimes choice, sometimes dangerous, always envelope-pushing assignments, including flying the X-3, X-4, X-5, and XF-92A experimental aircraft. Significantly, he also flew 127 sorties over Vietnam and was involved in the deployment of the 4th Tactical Fighter Wing to Korea during the Pueblo incident in 1968. Accolades During his distinguished career, marked by courage, exceptional piloting skills, and "luck," as he once put it, Brigadier General Yeager has collected enough metal to haul around in a wheelbarrow. He has been awarded the:
Collier Trophy,

Harmon International Trophy,

Federation Aeronautique International Gold Medal,

Presidential Medal of Freedom, and

Congressional Silver Medal (equivalent to the Congressional Medal of Honor).
Final words
Whosoever sums up the life and times of Chuck Yeager, shall do so by comparing him with
Orville and Wilbur Wright
,
Charles Lindbergh
,
Amelia Earhart
,
Wiley Post
, and
Jimmy Doolittle
. Yeager easily and calmly accepts the mantle of "fastest man alive."