Amelia Earhart
Amelia Earhart was perhaps the most famous female aviator in American history, setting speed and distance records not only for female, but also male pilots. She was initially unimpressed with airplanes, until given a ride by pilot in late 1920. She said later, "By the time I had got two or three hundred feet off the ground, I knew I had to fly."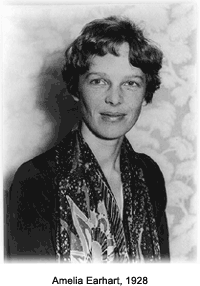 Early Years
Amelia Mary Earhart was born on July 24, 1897, to Edwin and Amy Earhart. Amelia's sister, Muriel (Pidge), was born two and a half years later and would remain a close friend of Amelia's (Millie) throughout her life.
Amelia's grandfather, retired U.S. District Court Judge Alfred Otis, was one of the leading citizens of Atchison, Kansas. Otis felt that his son in law, Edwin, an attorney, failed to measure up to his standards of providing social status and a large income for his family. Earhart was plagued by that disapproval during his marriage to Amy, and it would later play a part in the Earhart family's disintegration. The legacy of disapproval and doubt would follow Amelia from her childhood tomboy years through her flying career.
Amelia defied the conventional little girl behavior of the time by climbing trees, "belly-slamming" her sled to start it downhill, and by hunting rats with a .22 rifle. She also kept a scrapbook filled with newspaper clippings of women who had been successful in such predominantly male-oriented careers as the law, film direction and production, advertising, mechanical engineering, and management.
Edwin Earhart's private law practice failed. He took an executive position with the Rock Island Line Railroad in Des Moines, Iowa, in 1905. It was in Des Moines in 1907 that Amelia saw her first airplane at the Iowa State Fair. She said later, "It was a thing of rusty wire and wood and not at all interesting." It was not until more than a decade later that her interest in flying would be set ablaze.
In 1909, when Amelia was a young teenager, Edwin was promoted, and their standard of living improved. Soon after, Edwin began to drink and it became apparent to Amelia, friends and neighbors that he had become an alcoholic. After Edwin was fired from The Rock Island Railroad in 1914, Amy took the children to live with friends in Chicago.
Using trust fund money, Amy sent the girls to private intermediate schools in preparation for college. After graduating from Chicago's Hyde Park High School in 1915, Earhart left to visit her sister at a college preparatory school in Canada. It was there that Earhart decided to train and work as a nurse's aide in Spadina Military Hospital in Toronto, Ontario, in November 1918.
Earhart Becomes a Pilot
In the fall of 1919, Earhart enrolled in a pre-med program at Columbia University, but in 1920 quit to rejoin her recently reunited parents in California. Several months after her arrival, she attended a stunt-flying expedition with her father at Daugherty Field, Long Beach. Earhart's heart raced when an aircraft flew directly over their seats. The next day she was given a 10-minute flight.
Only five days after her first ride, Earhart took her first flying lesson from pioneer aviatrix, Anita "Neta" Snook, at the Kinner Field near Long Beach. Within six months, Earhart had saved enough money to purchase her first aircraft, a second-hand Kinner Airster. That two-seat yellow biplane, which she affectionately named Canary, was used by Earhart on October 22, 1922 to set her first woman's record of rising to an altitude of 14,000 feet. On May 15, 1923, she received her pilot's license from the Federation of Aeronautique Internationale (FAI) — the 16th woman to do so.
Realizing there was little monetary compensation for high-altitude flying, Earhart sold the Canary and purchased a yellow Kissel automobile. In 1924, after her parent's divorce, she then traveled with her mother across the country to Boston, Massachussetts. While in Boston in the fall of 1925, Earhart took a position as a novice social worker at Denison House. She also joined the Boston chapter of the National Aeronautic Association, where she invested what money she had into a company that would build an airport and market Kinner airplanes in Boston. During that time, Earhart used her growing notoriety to market Kinner planes, and to promote flying, especially to Women Pilots, by writing regular columns on the subject. The Boston Globe called her "one of the best women pilots in the United States."
Earhart's career as an aviatrix took off the day she received a telephone call from Captain H.H. Railey on April 27, 1926, inquiring if she wanted to be the first woman to fly across the Atlantic Ocean. After an interview in New York with the project coordinators and book publisher, publicist — and future husband — George P. Putnam, Earhart was invited to join pilot Wilmer "Bill" Stultz and co-pilot/mechanic Louis E. "Slim" Gordon on a flight from Trepassey Harbor, Newfoundland, to Burry Port, Wales. Putnam, after successfully publishing writings by Charles A. Lindbergh, foresaw Earhart's flight as a bestselling story for his publishing house. Although Earhart did not receive monetary compensation for the flight as Stultz and Gordon had, she was promised publicity from being the first woman to fly across the Atlantic Ocean.
In the multi-engine Fokker F7 dubbed Friendship, the crew made several attempts, due to poor weather conditions, before they finally left Boston Harbor and headed north to land at Trepassey, Newfoundland. High winds grounded the crew for days, while Stultz turned to drinking. On June 16, Earhart exercised her authority as commander of the trip by getting Stultz dosed with coffee and onto the pontoon-converted plane. Four hundred miles into the flight, Gordon took the controls and Stultz promptly fell asleep.
Since Earhart was unfamiliar with the use of navigational instruments, she could not fly the plane herself. Twenty hours and forty minutes later, the crew spotted land and touched down on water near Burry Port, Wales, 140 miles short of their intended destination of Southampton, Ireland.
The overwhelming publicity of the event that Earhart received was put to good use by Amelia and Putnam. She set several other aeronautical records between that flight and and her final one in 1937. In the fall of 1928 she published the successful book, 20 Hours 40 Minutes, about her trip in the Friendship and she also became a writer for Cosmopolitan Magazine. She also was named the General Traffic Manager at Transcontinental Air Transport (later known as TWA).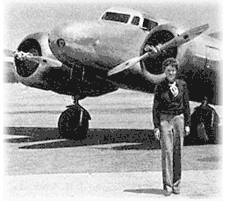 During the preparation for the Atlantic trip, Earhart's friendship with still-married George Putnam blossomed. Upon his divorce, and after signing a prenuptial agreement guaranteeing her continued independence, she married Putnam in December 1929. He would support and publicize her flying career.
In 1929, Earhart organized a cross-country air race dubbed the Women's Air Derby for pilots from Los Angeles to Cleveland — later nicknamed the "Powder Puff Derby" by Will Rogers. Earhart placed third in that race.
Speed and Flight Accomplishments
Earhart was the first woman to fly solo across the Atlantic Ocean on May 20 and 21, 1932, the fifth anniversary of Lindbergh's famed flight, finishing it in 14 hours and 56 minutes. She was awarded the National Geographic Society's gold medal from President Herbert Hoover and Congress awarded her the Distinguished Flying Cross, the first ever given to a woman. On August 24-25, 1932, she became the first woman to fly solo nonstop from coast to coast, setting the transcontinental speed record for flying 2,447.8 miles in 19 hours and five minutes. And on July 7 and 8, 1933, she broke her previous women's nonstop transcontinental speed record by making the same flight in 17 hours and seven minutes.
Other speed records she broke or set include being the first person to fly solo across the Pacific from Honolulu, Hawaii, to Oakland, California, at a distance of 2,408 miles, on January 11, 1935. Ten pilots had already lost their lives attempting to cross the Pacific. Therefore, her plane was equipped with a two-way radio, making it the first ever carried in a civilian plane.
Over April 19 and 20, 1935, she was the first person to fly solo from Los Angeles, California, to Mexico City, Mexico, in 13 hours and 23 minutes. Then on May 8 of that same year, she was the first person to fly solo nonstop from Mexico City to Newark, New Jersey, in 14 hours and 19 minutes.
Between the fall of 1935 and her disappearance in July 1937, Earhart served at Purdue University as a consultant in the Department for the Study of Careers for Women, and as a technical advisor in the Department of Aeronautics, which was part of the School of Mechanical Engineering. She became interested in Purdue because at the time it was the only university in the United States with a fully equipped airport. In addition, campus women were encouraged to receive practical mechanical and engineering training. Earhart lectured and conducted conferences with Purdue faculty and students. She initiated studies on new career opportunities for women, a lifelong passion of hers, and most importantly, served as an example of a successful modern woman to female Purdue University students.
During a dinner party at Purdue University President Edward C. Elliott's home, Earhart told of her desire for a flying laboratory where she could conduct studies of the effects of long-distance flying on pilots. By night's end, she received $80,000 in donations from fellow guests David Ross; J.K. Lilly, of the Eli Lilly Drug Company; Vincent Bendix; and manufacturers Western Electric, Goodrich, and Goodyear. The funds were used to purchase a new twin-engine Lockheed Electra 10E airplane specially suited for Earhart, and it was delivered in 1936.
Fateful Last Flight
Shortly before her 40th birthday in 1937, Earhart expressed a desire to be the first woman to fly around the world. Not only would she be the first woman, but she would also travel the longest possible distance, circumnavigating the world at its girth. Referring to the flight, she said, "I have a feeling that there is just about one more good flight left in my system, and I hope this trip is it."
She chose Fredrick Noonan for her navigator, because of his knowledge of the Pacific Area, having worked for Pan American Pacific Clipper. Using her Lockheed Electra 10E, they set off on March 17, 1935, for a flight from Oakland, California to Hawaii. During takeoff from Luke Field near Pearl Harbor, the plane was seriously damaged when Earhart overcompensated for a dropped right wing, causing the aircraft to go out of control. The plane was shipped to California for repairs while Earhart planned her next departure.
Since they were leaving so much later in the year, Earhart decided to travel in the reverse direction from her original plan to fly west. Weather conditions were more favorable in the Caribbean and Africa. After the plane's delivery, on May 21, 1937, Earhart and Noonan departed from Los Angeles, California, to Florida to begin their 29,000 mile journey.
On June 1, 1937, Earhart and Noonan departed Miami, Florida, to San Juan, Puerto Rico. From there, they traveled to South America, then on to Africa and the Red Sea. Becoming the first to fly non-stop from the Red Sea to Karachi, India, they traveled from there on to Rangoon, Bangkok, Singapore, and Bandoeng where they were prevented from departing for several days because of monsoons. During that time, Amelia became ill with dysentery that lasted for several days. At that time, repairs were made to the long-distance instruments, which had been giving them trouble.
It was not until June 16, 1937, that the pair was able to depart for Port Darwin, Australia, where the direction finder was repaired and their parachutes were shipped home because they "would be of no value over the Pacific." They reached Lae, New Guinea, in the mid-Pacific on June 29. With only 7,000 miles left, their next stop would be one of the most challenging locations to navigate to, Howland Island, which was only a mile and a half long and half a mile wide.
Inaccurate navigational maps had plagued Noonan throughout the trip; therefore, the U.S. Coast Guard cutter Itasca was stationed just off shore to act as their radio contact. Radio conditions were poor and the Itasca was bombarded with commercial radio traffic generated from the flight. To provide additional illumination, three other U.S. ships — burning every possible light on deck — were positioned along the flight route as markers. About that additional help, Earhart remarked, "Howland is such a small spot in the Pacific that every aid to locating it must be available."
At 0:00 hours Greenwich Mean Time (GMT) on July 2, 1937, the Electra took off from Lae with an estimated 1,000 gallons of fuel, allowing for 20 to 21 hours of flight. Despite favorable weather reports, Noonan's premier method of celestial navigation was impossible due to overcast skies and intermittent rain showers. At 08:00 hours, Earhart's plane was on course at roughly 20 miles southwest of the Nukumanu Islands, but headwind speeds had increased by 10 to 12 mph. It is doubtful that Earhart had received the headwinds report prior to her radio transmission. She made irregular transmissions throughout most of the flight and those received were faint and full of static.
At 19:30 hours, Earhart reported to the Itasca, "We must be on you, but we cannot see you, but gas is running low... been unable to reach you by radio ... we are flying at 1,000 feet," at which point the Itasca produced thick black smoke into the air that trailed the ship for approximately 10 miles. Radio controllers continued to transmit, but could not establish two-way contact.
Sixteen minutes later, at 19:46 hours GMT, Earhart made her final transmission: "We are on the line position 157-337 will repeat this message... We are running north and south." The Itasca continued to make attempts to establish two-way contact, broadcasting on all channels until 21:30 hours GMT when it was determined that her plane must have ditched into the ocean.
With that determination, the most expensive air and sea search so far in history was begun, totaling $4 million and covering 250,000 square miles of ocean. President Franklin Roosevelt had dispatched nine naval ships and 66 aircraft, but on July 18, the main search was abandoned. George Putnam continued the search until October, when he also abandoned hopes of locating his wife and the navigator.
Lasting Legacy
Amelia's early life is depicted at the Amelia Earhart Birthplace Museum, located in Atchison, Kansas. Opening in 2023 is the new Amelia Earhart Hangar Museum, also located in Atchison. The museum's mission is to honor Earhart's enduring aviation legacy and inspire future generations to imagine their own possibilities. The Museum's showpiece will be the world's last remaining Lockheed Electra 10-E, identical to the plane Earhart piloted on her fateful round-the-world flight.
Earhart's own courage and bravery is illustrated in a letter left to Putnam in case the flight would be her last. She wrote,
"Please know I am quite aware of the hazards. I want to do it because I want to do it. Women must try to do things as men have tried. When they fail, their failure must be but a challenge for others."
---
For additional famous women, see
Important and Famous Women in America
.