Grand Ole Opry
As an ingrained bit of Americana, the Grand Ole Opry has been a source of entertainment for fans of country-western music since before the Great Depression. Humble beginnings When radio became a staple in the early 1920s, station managers clamored for programming. Much of that programming came from live, in-studio performances, as well as recorded music.
In 1925, the National Life and Accident Company, located in Nashville, Tennessee, needed a cost-effective method to advertise their products. The company's solution was to build a radio station, partly to accomplish its primary aim, but also to be a good-hearted community member. Rumor has it that the station took its call letters — WSM — from the company motto, "We Shield Millions." They hired as their first programming director a 30-year-old whiz kid, George D. Hay, who had fired up the popular National Barn Dance in Chicago, Illinois. So, in November 1925, "Solemn Old Judge" Hay launched his Nashville version of Barn Dance with slick fiddler Uncle Jimmy Thompson. The weekly show quickly became popular when such other guests as the Crook Brothers, Gully Jumpers, Possum Hunters, and Fruit Jar Drinkers took their turns. Two years later, Hay spoofed the preceding show aired at the station, NBC's Music Appreciation Hour, which featured serious music. He countered the final piece on that program, an interpretation of a roaring steam engine, by introducing "Harmonica Wizard" DeFord Bailey and his own train song, "The Pan American Blues." Hay remarked on air that instead of stuffy classics from the grand opera, he would present some down-to-earth classics of his own and call the program the Grand Ole Opry. The name stuck and has been around ever since. Growing pains The radio station hallways were soon overflowing with fans trying to get a glimpse of the performers. National Life decided it was time for a bigger venue, so they built a performer-friendly, acoustically engineered studio to seat 500 onlookers. In 1932, when the station boosted its power to 50,000 watts, the program's popularity took another jump, reaching much of the United States and parts of Canada. Finding a still larger place to suit the musicians, and as much of the public as it could, was difficult. They tried the Hillsboro Theater, the Dixie Tabernacle, and the War Memorial Auditorium. Finally, an agreement was reached with Ryman Auditorium, a 2,400-seat, former religious meeting house, in 1943. Evolution of a format Prior to 1938, the show's management preferred just instrumentalists to perform — vocalists took a back seat. That changed, however, when Roy Acuff and his Smoky Mountain Boys performed "The Great Speckled Bird." In 1939, NBC picked up the show and sponsored it with Prince Albert Tobacco. Other performers, such as Bill Monroe and his Blue Grass Boys and Little Jimmy Sizemore began their tenures during the '30s, as well. The new acts added to the groundswell of support for the program, which prompted NBC and more than 140 of its affiliates to begin carrying the show. A prestigious venue. A landmark Grand Ole Opry tour in 1947, led by Ernest Tubb and his Texas Troubadours, played the prestigious Carnegie Hall, setting a precedent for both the Hall and the Opry. Another group followed, to Washington, D.C., playing Constitution Hall the same year. In addition, Acuff, Red Foley, Hank Williams, and others, toured U.S. military bases in Europe, in 1949.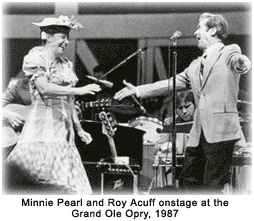 Also in the 1940s, Eddy Arnold, Little Jimmy Dickens, Grandpa Jones, and Sarah Collie (better known as Minnie Pearl*), added their wealth of talent to the mix. Future king of another realm. In 1954, Elvis Presley made his sole appearance on the Grand Ole Opry. His rockabilly style was received politely, but drew some backstage comments that Presley ought to return to his truck-driving job. Presley vowed never to return, and he didn't. In 1955, Ralston Purina began to sponsor an hour-long program that aired regionally from the Ryman stage. Other talent to make their way on stage during the '50s included Chet Atkins, Johnny Cash, the Everly Brothers, Patsy Cline ("Crazy"), Lester Flatt and Earl Scruggs (Beverly Hillbillies theme song), Lefty Frizell, Ferlin Husky, George Jones, Ray Price, Jim Reeves, Marty Robbins, Hank Snow, Red Sovine, Porter Wagoner, Kitty Wells (the "Queen of Country Music"), and Faron Young.
Flourishing despite Rock 'n Roll. The touring continued in 1961, when Cline, Reeves, Grandpa Jones, et al., led a second troupe into Carnegie Hall. New faces in the '60s included Jim Ed Brown, Sonny James, Loretta Lynn ("Coal Miner's Daughter"), rebel Willie Nelson, Dolly Parton, Del Reeves, Tex Ritter, Jeanie Sealy, and Dottie West. As the 1970s dawned, it was apparent that CW music was here to stay, and the Opry management decided that newer, larger digs were in order. The dream came true in 1974, when the organization moved into a state-of-the-art, multi-million dollar facilty called, simply, the "Grand Ole Opry House." The Opry continued to find and introduce new talent: singing comic Jerry Clower, prolific storyteller Tom T. Hall ("Children and Watermelon Wine;" "I Love" — the "poet laureate of country music"), Ronnie Milsap, Don Williams (the "Gentle Giant," who sang "I Believe in You"), and Tammy Wynette. In the mid 1980s, The Nashville Network (TNN) wanted a half-hour show, to which the organization responded with Grand Ole Opry Live. In 1987, a casual Opry Backstage was created to air just before Opry Live. Live eventually expanded to an hour-long production and can be seen on the GAC Great American Country (GAC) network. A nod from another medium. Country music's growth during the '80s was no doubt influenced by a 1980 release of a John Travolta/Scott Glenn movie, Urban Cowboy. Taking advantage of that newest surge of popularity, budding stars Boxcar Willie, multi-talented Roy Clark, John Conlee ("Rose-Colored Glasses"), Reba McEntire, Ricky Scaggs, B.J. Thomas ("Hooked On A Feeling"), Randy Travis ("Forever and Ever, Amen"), and others, took to the Opry stage. The 1990s were an extension of the '80s, in that the Opry membership could count on its rolls superstars and newcomers alike: Clint Black ("A Better Man"), Garth Brooks, Diamond Rio ("Meet in the Middle"), Vince Gill ("When I Call Your Name"), Alan Jackson ("Don't Rock the Jukebox"), Emmylou Harris, Travis Tritt ("When Good Ol' Boys Go Bad"), and Trisha Yearwood ("She's In Love With The Boy"). The current decade of the 2000s has seen the likes of Trace Adkins ("This Ain't No Thinkin' Thing"), bluegrass man Del McCoury, Brad Paisley ("Mud on the Tires"), and second-generation phenom, Pam Tillis ("All the Good Ones Are Gone"), who sang on the Grand Ole Opry with her father, Mel, when she was eight years old.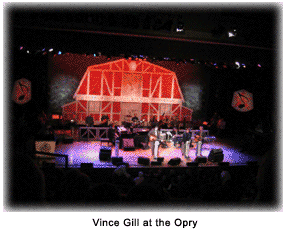 Through the years The Grand Ole Opry's 80-plus-year history reveals an expansion in direct proportion to its growing audience. The expansion from a simple radio station to world presence has been remarkable when one considers that the program was half-farce to begin with, and probably wasn't expected to enjoy a long shelf life. Today the Opry can be heard in more than 200 markets, on the Internet, satellite radio and on the American Forces Network. From April through December, a Tuesday Night Opry has been added to the programming schedule as has America's Grand Ole Opry Weekend, a two-hour show heard by millions. The sustaining force of the Opry in the '00s can be summed up by "Judge" Hay's admonishment: "Keep 'er down to Earth, boys!" Opry membership The Grand Ole Opry is an elite club that requires an invitation to join. This hot ticket is not necessarily doled out to performers in the "superstar" category.
"Opry membership requires a passion for country music's fans, a connection to the music's history. And it requires commitment — even a willingness to make significant sacrifices to uphold that commitment. . . .The decision to bring a new act into the Opry fold is a two-pronged one, based on a combination of career accomplishment and commitment as well as the relationships between performers and fans."
The Grand Ole Opry is both "grand" and "old" for a reason — they've kept it "down to Earth."
---
*The name "Minnie Pearl" is emblazened on a commemorative plaque that hangs in the hallowed halls of the Opry House, along with other immortals who have passed on. The unique thing about Minnie's plaque is that it has no date of death on it. It is thought that the spirit of Minnie Pearl lives on, even though the mortal body of Sarah Collie has been laid to rest.