John Lennon
John Lennon was best known as a singer, songwriter, poet, and guitarist for the British rock band, "The Beatles." Throughout his career, he also was known as a solo musician, political activist, artist, actor, and author. The lyrics Lennon composed with his band mate, Paul McCartney, were instrumental in rock music becoming a catalyst for serious and political messages.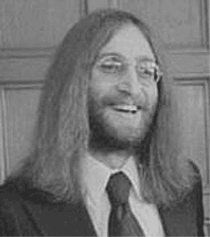 Recognized as one of the great music icons of the 20th century, many of Lennon's songs, such as "Imagine" and "Strawberry Fields Forever," are ranked among the most popular songs in music history.
Early days
John Winston Lennon was born in Liverpool, England, on October 9, 1940, to Alfred Lennon, a merchant seaman, and Julia Stanley. He lived with his parents in Liverpool, until his father walked out on the family when John was five years old. His mother decided that she was unable to care for her son, and gave him to her sister, Mimi. Lennon lived with his Aunt Mimi and her husband, George, the remainder of his childhood and teen years.
Although John did not live with his mother, he still kept in contact with her, and Julia sparked his lifelong interest in music by teaching him how to play the banjo. At the age of 17, John lost his mother when she was hit by a car driven by an inebriated off-duty police officer. In tribute to his mother's memory, John wrote the songs "Julia", "Mother," and "My Mummy's Dead," and named his firstborn son, Julian, after her.
Lennon attended school at Dovedale Primary and Quarry Bank High School. In 1956, he formed a musical group with some of his schoolmates and called it "The Quarrymen," as a tribute to the school song. Paul McCartney joined the band in October of that year, and later, George Harrison came aboard.
Though he failed in school, John was accepted into the Liverpool College of Art with help from his school's headmaster and his Aunt Mimi. It was there that he met his future wife, Cynthia Powell. It was not long before John grew to hate the conformity of art school, and ultimately he dropped out.
John devoted himself to music, inspired by American rock 'n roll and such singers as Elvis Presley, Chuck Berry and Buddy Holly. He continued to play in the band he had started in school, adding more rock 'n roll numbers and changing the name of the band to "Johnny and the Moondogs." He eventually changed that name to the "Silver Beetles," which was later shortened to "The Beatles." Cynthia and John were wed in 1962, after she became pregnant with their son, Julian
A smashing success
The Beatles' first single, "Love Me Do," was issued on October 5, 1962, and was a modest success. The years 1963 and 1964 proved to be the most important in their careers. In 1963, the "Beatlemania" craze had erupted in Britain, and the Beatles were on their way to becoming a headline band, not just an opening act. They starred in the Royal Variety Show and, at the time, one of the highest-rated television shows, "Sunday Night at The London Palladium."
The year 1964 was the biggest for the Beatles, when they came to America and landed on top of the largest record market in the world. With the country mourning the death of President John F. Kennedy, the Beatles appeared on the scene and brought back fun and excitement.
They also brought back rock 'n roll. After Elvis had joined the army, and Jerry Lee Lewis and Chuck Berry were rocked by scandals, American teens were looking for new idols. The Beatles were in the right place at the right time.
Ed Sullivan had been at the London airport, when the Beatles returned from Sweden, and saw all the girls screaming, the boys cheering, and the press taking pictures. Knowing immediately that they were something special, he booked them on his television program, "The Ed Sullivan Show." To the thrill of teenagers everywhere — and the dismay of many parents — those "long-haired" boys were a huge hit.
That show received the highest ratings in the history of television. Later that year, the Beatles toured America for the first time and starred in their first motion picture, A Hard Day's Night.
In 1965, the Beatles filmed a second motion picture, titled HELP!. Later that year, the mop-haired foursome performed at Shea Stadium in New York to an audience of more than 55,000 screaming fans, one of the largest live audiences in history.
Lennon often spoke his mind freely. On March 4, 1966, in an interview for the London Evening Standard, he made an off-the-cuff remark that the Beatles were "more popular than Jesus."
The remark was later partially reprinted in the magazine Datebook, which ignited a firestorm of controversy. Across the U.S., but mainly in the Bible Belt, conservative groups publicly burned Beatles records and memorabilia. Radio stations banned Beatles music, and concert venues cancelled performances. Eventually, even the Vatican got involved and issued a public denouncement of Lennon's comments.
On August 11, 1966, the Beatles held a press conference in Chicago, to address the growing upset. Though Lennon tried to explain that his quote was taken out of context, he finally apologized to put an end to the unfortunate affair.
After the Vatican accepted his apology and the hysteria eventually died down, the Beatles went back to work on their music. But the constant Beatlemania, mobs, and a press hanging on to every word — ready to tear them apart — was too much. The Beatles stopped touring and never performed a scheduled concert again.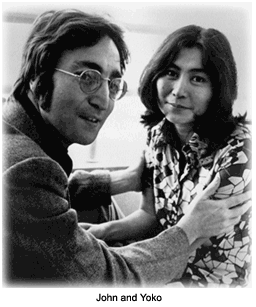 Yoko Ono
On November 9, 1966, after he had finished filming a minor role in the film How I Won the War, Lennon visited an art exhibit by Yoko Ono at the Indica art gallery in London. On his return from India in 1968, Lennon left his estranged wife and began a love affair with Ono. Cynthia Lennon filed for divorce later that year.
From the beginning of the relationship, Lennon and Ono were inseparable. Lennon spent much time with her on public demonstrations protesting the Vietnam War. On March 20, 1969, Lennon and Ono were married in Gibraltar, and spent their honeymoon in Amsterdam.
The couple created a media stir when they held a "Bed-In" for peace. They held another Bed-In in Montreal at the Queen Elizabeth Hotel the same year. It was during the second Bed-In that the couple recorded "Give Peace a Chance," a song that became an international anthem of the peace movement.
Though mainly portrayed as a couple of eccentrics by the media, Lennon and Ono accomplished much for the peace movement, as well as for other causes that they were passionate about, such as feminism and racial harmony. Shortly after, Lennon changed his middle name from Winston to Ono, to show his "oneness" with his new wife.
Leaving the Beatles
After splitting from the Beatles in 1970, Lennon pursued a solo career and released the John Lennon/Plastic Ono Band album, a raw, brutally personal record. It was heavily influenced by Arthur Janov's "Primal Therapy," which Lennon had undergone previously.
The therapy, which consists literally of screaming out one's emotional pain, is obvious in several of the songs on the album, the main one being "God," in which he lists all the things he does not believe in, including the Beatles. Numerous music critics consider "Plastic Ono Band" to be a major influence on later hard rock and punk music.
In 1973, Lennon's personal life temporarily fell apart when Yoko kicked him out of their home. Despite alleged episodes of public drunkenness, Lennon put together the well-received album, Walls and Bridges, which featured a collaboration with Elton John.
Lennon finished out the year by making a surprise guest appearance at an Elton John concert in Madison Square Garden. It was to be his last-ever concert appearance.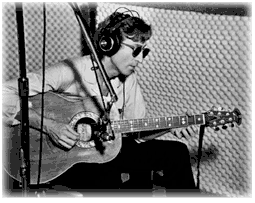 Retirement
In 1975, following a reconciliation, the couple had their first child. Owing to all the Beatlemania, Lennon had never been able to spend time with his first son, Julian. He retired from music and dedicated himself to family life. Life was made easier for Lennon in 1976, when his ongoing problems with his U.S. immigration status were finally resolved.
Lennon's retirement, which he began following the birth of his second son, Sean, lasted until 1980, when he picked up his guitar again. After a long break from the business, feeling reinvigorated and full of ideas, Lennon wrote an impressive amount of material that later became the comeback album Double Fantasy, which he and Ono produced together. His single, "Just Like Starting Over," was climbing the singles charts, and Lennon was thinking of starting a world tour, when his life was tragically ended.
A musical catastrophe
On December 8, 1980, as Lennon was returning home with Ono following a recording session, a crazed fan named Mark David Chapman stepped out of the shadows and fired five shots, hitting Lennon in the back and shoulder. Lennon died at age 40 on the way to a hospital.
His remains were cremated, but in New York City's Central Park, an area called Strawberry Fields was created in John Lennon's memory by Yoko Ono. Lying in an intersection of walking paths is a tribute to John Lennon and his vision for peace. The monument is a circular mosaic of black and white marble tiles. In the center is the title of John Lennon's song, "Imagine."