History of Adrian, Michigan
Adrian, the county seat of Lenawee County, is located in southeastern Michigan, about 70 miles southwest of Detroit. The city has a variety of manufacturing industries, in addition to serving the needs of the surrounding agricultural region.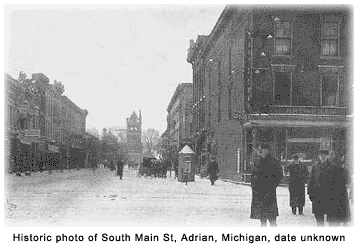 Addison J. Comstock founded Adrian in 1825. Originally known as Logan, it was later given the name Adrian in reference to the Roman emperor Hadrian. The first religious group to organize in Adrian were the Methodists in 1830, followed the next year by the Baptists. The city was chartered in 1853. In 1837, the Raisin Institute was established in Adrian. Founded due to the efforts of Laura Haviland, a fervent abolitionist, it was the first integrated school in Michigan. Haviland was also a "conductor" on the Underground Railroad. Adrian College was established in 1859. In 1919, Siena Heights College was established by the Adrian Dominican Sisters. It is now Siena Heights University. Siena is located in a district of many lakes. Walter J. Woods State Park is nearby. The area north of the city has been called Irish Hills due to its resemblance to Ireland. The history of Adrian and Lenawee County is on display at the Lenawee County Historical Museum. The Sisters of saint Dominic built Adrian's first hospital in 1885. In 1910, William K. Bixby donated $25,000 for the establishment of the Emma L. Bixby Hospital. The successor to that institution is the present day Bixby Medical Center.