Shoeless Joe Jackson
"Jackson didn't seem to have any weaknesses . . .. He gave me more trouble than anyone else." - Pitcher Walter Johnson
Hall of Fame pitcher
It is unfortunate that one of the great players of the game of baseball should be forever remembered as an alleged party to the most infamous and insidious crime in the world of sports — the Black Sox Scandal of 1919 — instead of the truly outstanding athlete and person he was. "Shoeless" Joe Jackson's lifetime batting average was .356 — still third on the all-time list in the Major Leagues.
This natural talent and husband from Greenville, South Carolina, was a gentle, kind, and generous sort. An example of his largess is the occasion he purchased badly needed uniforms for a hometown basketball team.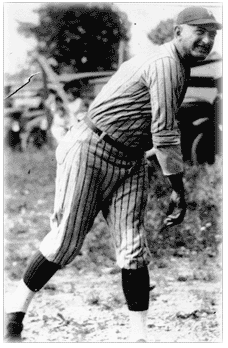 The early years
Joseph Jefferson Jackson was the eldest of eight children, which included five brothers and two sisters, born to George and Martha Jackson in Pickens County, South Carolina, in 1887.* Pickens County is located in the northwest corner of the state on the North Carolina border.
At the age of five, Joe moved with his family one county east to Brandon Mill, a textile-producing town.
By the age of six, Joe was working in the mill as a "linthead," or clean-up boy. By the time he turned 13, he was working 12 hours a day and had no time for school. He received little formal education, and never learned to read or write.
Jackson's natural talent as a baseball player, however, caught the eye of a local Boston Braves scout, who paid him $2.50 to play on Saturdays for the Brandon Mill team. Jackon gave his wages to his parents to help with family expenses.
At age 19, Joe signed (or X'ed) a contract to play for the Greenville Spinners for $75 a month, and by 1908, when he was 21, he got "The Call" to play in the Major Leagues with Connie Mack's Philadelphia Athletics. In his first game, Joe went 1-for-4, but after five games, he got homesick and returned to Greenville. It also was in 1908 that he married his childhood sweetheart, Katherine Winn.
Joe in "The Show"
After kicking around in the Minor leagues for the next year or two, Joe was traded in 1910 to the Cleveland franchise, then known as the "Naps," in honor of future Hall-of-Famer Napolean "Nap" LaJoie. Again he received the call-up to play the last 20 games with the parent club and batted .387 in 75 at-bats.
Jackson stayed with the big club the following year, which was officially his rookie year, and became the only rookie ever to hit more than .400 for a season, when he hit .408.
In 1912, Joe hit .395 and led the American League in triples, which earned him a contract with Hillerich and Bradsby, makers of the world-famous bat, "Louisville Slugger." The following year, he led the league with 197 hits and a .551 slugging percentage.
Joe was traded once again, for the last time, in 1915, for two outfielders, a pitcher and $31,500 in cash, to the Chicago White Sox.
In 1917, Jackson hit .307 and dazzled in the field, helping the White Sox to a World Series championship over the New York Giants, led by fiesty, future Hall of Fame manager, John McGraw.
Jackson's Part in the Black Sox Scandal
Controversy continues to swirl around Jackson's involvement in the "scandal that rocked the baseball world." Some say, "Guilty, as charged." Others are convinced that Joe's only crime was of knowing about the "fix" by seven other members of the team, and not informing the proper officials about the plot.
As a backdrop leading up to the scandal, Jackson had a typically outstanding season, batting .351 on 181 hits, with 96 RBIs (runs batted in) in 139 games. His salary for the season was $6,000. (It must be noted that there were other players in the league with lesser ability, making as much as $10,000. Owner Charles Comiskey was notorious for underpaying his players, in part due to the "Reserve Clause," which bound a player to his team until he was traded or sold to another team.
It also should be noted that the Cincinnati Reds, the National League champions, had won 96 games to Chicago's 88 during the shortened 140-game schedule that year.
In the Series, Jackson hit .375, tops among all regulars on both teams; he had 12 hits in eight games, including the only home run of the Series, scored five runs, and managed six RBIs.
Now on one hand, it is known that Jackson twice asked manager Kid Gleason to bench him during the final week of the season. Jackson was heard to say, "If there was something going on, I knew the bench would be the safest place."
On the other hand, Jackson is quoted as saying before the grand jury in late 1920, "They promised me $20,000 and paid me $5,000." It is said that Jackson tried to approach Comiskey to return his share of the money in a bout of remorse, but the owner refused to see Jackson.
In a reshuffling of the three-man "National Commission," Judge Kenesaw Mountain Landis became the ultimate and exclusive "Czar of Baseball." He promptly banned Jackson, along with the seven other conspirators, from professional baseball for life, thus placing Jackson on the "ineligible" list for consideration for induction into baseball's Hall of Fame.
After the Dust Cleared
Jackson was acquitted of charges stemming from the scandal in a criminal trial in 1921, and settled in Savanna, Georgia, staying active in the game as he joined the semi-pro leagues and led his 1923 team to a championship.
In 1924, Jackson and some of his teammates who were indicted in the scandal, sued Comiskey for three years of back pay. The jury awarded Joe more than $16,000, but the judge overruled and jailed Jackson for perjury.
After returning to Greenville, Jackson became a successful businessman in the restaurant business as well as owning a liquor store.
When he died in 1951, he and his wife were childless.
Myths and Legends
The nickname "Shoeless" was bestowed on Jackson, not because he didn't wear shoes - he owned an average number of pairs for the day. He did, however, play in a game in which he was trying to break in a new pair of baseball cleats. The new pair of spikes caused some blisters, so Jackson played without them in the next game. When he tripled and pulled into third, a fan in the stands yelled, "You shoeless sonofagun, you!"
It was the only game in which Jackson actually went without shoes, but the nickname stuck — even though he didn't care for the moniker.
Jackson carried on a "love affair" with his bats. He believed a bat had only so many hits in it, and when he went into a slump, he discarded the bat and went to a new one - with one notable exception: "Black Betsy," a bat he credited with great powers, but wouldn't use except in dire situations, fearing he would use up the hits in "her."
In 2001, Black Betsy sold at auction for more than $500,000.
Joe had a name for his other bats. They included "Blonde Betsy," Big Jim," "Ol' Genril," "Caroliny," and "Dixie," his most-used bat, which gave rise to a fan chant of, "Give 'em Dixie, Joe."
He also carried lucky charms — discarded hairpins. He kept them in his uniform pocket until he went into a slump. Like the bats, he would throw the hairpins away and start a new collection.
It is said, with some authority, that Babe Ruth wanted to improve his swing mechanics when he arrived in the Big Leagues. After observing some styles, including eventual all-time leading hitter for average, Ty Cobb, Ruth opted for Jackson's smooth, natural stance and swing.
Following the revelation of the Black Sox scandal, it has been purported that a kid in the neighborhood of the trial venue, rushed up to Jackson and blurted out the now-famous quote: "Say it ain't so, Joe." That event was good copy for the Chicago Daily News, but was fabricated by sportswriter Charlie Owens.
When Jackson started out with the old mill team, he spent a stint as a pitcher. That lasted until he threw the ball so hard, he broke the catcher's hand. At that point he was moved to the outfield. His arm strength was on display again when he was reported to have thrown a ball from the backstop behind home plate over the centerfield fence at a ball field in Brunswick, Georgia (the exact length of the throw is not known).
Epilogue
There have been ongoing attempts by various groups and individuals to persuade current (2005) commissioner Bud Selig to reinstate "The Shoeless One" to active status and in turn, be considered for the Hall of Fame. These groups have included such luminaries as Hall of Famers Ted Williams and Bob Feller (in 1998) and a group of congressmen including U.S. Senators Tom Harkin (D-Iowa), Strom Thurmond (R-S. Carolina), and Trent Lott (R-Mississippi), in 2000. A ruling is yet to be made.
---
*Although his death certificate lists his date of birth as 1888, in all of his interviews, Jackson states his age as correlating to 1887 as the correct date of birth.