Abner Doubleday
The real Abner Doubleday Doubleday was born in June 1819 in Ballston Spa, New York, just north of Albany, the state's capital. He was from a family of public servants — his grandfather fought in the Revolutionary War and his father served two terms in the U.S. Congress.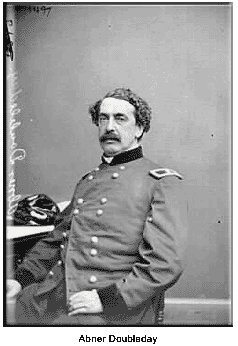 Abner plied his trade as a civil engineer for two years before entering the U.S. Military Academy at West Point, New York, from which he was graduated in 1842. He was commissioned a second lieutenant and assigned to the Third U.S. Artillery. Rising through the ranks as a career soldier, he was named a Union general in the American Civil War. Military career At the start of the Civil War, he was assigned to the First U.S. Artillery at Fort Sumter, in Charleston Harbor, South Carolina. He fired the first return cannon shot in answer to the Confederate volley on April 12, 1861, sparking the war. Doubleday also served in the Shenandoah Valley from June to August, 1861. He was appointed brigadier general of volunteers in February 1862, and saw action at the Second Battle of Bull Run, at South Mountain, Antietam (where he was wounded), and Fredericksburg (where his division was mostly idle). He was promoted to major general of volunteers in November 1862, and saw action at Chancellorsville, and took over corps command for a day when General John F. Reynolds was killed in opening of the Battle of Gettysburg, July 1, 1863. Army commander George G. Meade replaced Doubleday after the first day of battle, one in which the I Corps was overwhelmed by a Confederate assault. Meade had a long history of disdain for Doubleday's combat effectiveness, dating to South Mountain. Doubleday was humiliated by the snub and held a lasting grudge against Meade. He was wounded in the neck on the second day of the battle, then assumed mostly administrative duties in the defense of Washington, D.C., including the attack by Jubal A. Early in the Valley Campaigns of 1864. Doubleday also served in the Mexican-American War (1846-48) and Seminole wars.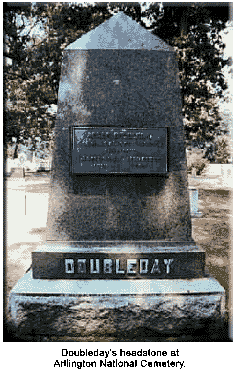 Doubleday retired from the Army in 1873 and moved to San Francisco, where he obtained a charter for the cable car railway that still runs there. He died in 1893, in Mendham, New Jersey, and is buried in Arlington National Cemetery.
---
See Abner Doubleday - "Father of
Baseball
"?