Antietam
Following the Confederate victory at Second Bull Run in late August, 1862, Lee moved his forces across the Potomac into Maryland. This advance into Union territory was later memorialized in James Greenleaf Whittier's poem, "Barbara Frietchie." Lee issued Special Orders No. 191 and divided his forces into four components, sending "Stonewall" Jackson to nearby Harper`s Ferry. Union commander George B. McClellan gained a potential advantage when, on September 13, a Union soldier discovered a copy of Lee's orders wrapped around a packet of cigars. Realizing that his opponents knew that his force was being divided, Lee took up a position near the town on Sharpsburg on Antietam Creek. However, McClellan let his advantage fade away through inaction, and waited until September 17 to attack, a delay that enabled Jackson to return victorious from Harper`s Ferry.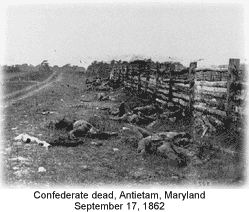 The ensuing battle was one of the bloodiest of the Civil War. During the day, there were five distinct and largely uncoordinated attacks by Union troops, beginning with a dawn attack by Hooker`s 1st Corps against the Confederate left under Jackson. Initially, the Confederates were pushed back but after an hour of fighting, they held their positions.
Next came an attack by two divisions of the Union`s 12th Corps under Mansfield. Mansfield was killed but his forces broke through Confederate lines to reach the Dunkard church. Losses were heavy on both sides. Around 9:00 in the morning, Sumner`s 2nd Corp arrived and began an immediate attack. His forces were pinned by an attack on their left flank by a Confederate division under McLaws. Some 2,000 soldiers fell in a brief period, bringing an end to the attack on the Confederate left.
In the center, the two divisions of Sumner`s forces that he had not waited for, were attacking Hill`s division. The scene of the fighting was a road that became known in history as The Bloody Lane. Once again, a situation developed that might have changed the course of the war. A confederate officer gave an incorrect order that weakened the defenses, which could have been penetrated with a strong Union attack. But no order to attack came.
The final component of the day`s fighting was a Union attack by Major General Ambrose E. Burnside. Burnside was to use his four divisions of 9th Corps. Having received instructions to prepare for the fight at 7:00 a.m., he did not get an actual order to attack until hours later, and even then he delayed. Around 1:00 p.m., he attacked the bridge over Antietam Creek, which turned out to be lightly defended. Another two hours were spent preparing to press the attack, at which point the Confederate forces were easily pushed back.
But too much time had been wasted. Major General Ambrose P. Hill`s Light Division had marched 17 miles that day and arrived in time to force back the Union troops toward Antietam Creek.
During the battle, the Unions 5th Corps had been present throughout and the 6th Corps had arrived during the day. Neither had been sent into action. Even an attack on the following day would have crushed Lee, who had not retreated. McClellan has been severely criticized for not mounting a full scale assault on the following day. Instead, Lee was able to retreat southward across the Potomac. The South suffered 13,700 casualties and the North, 12,500.
The impact of Antietam was immense. The South badly needed a victory on Northern soil; this was the only way in which they would be able to secure European assistance. Their failure to hold enemy territory dissuaded the British from establishing diplomatic relations.
Lincoln, long awaiting a significant victory, used the occasion of Antietam to announce the preliminary Emancipation Proclamation freeing slaves in rebel territories.
Following the events of September 1862 the Confederate armies were increasingly on the defensive.