Lucius D. Clay
General Lucius DuBignon Clay was the commander of U.S. forces in Europe and U.S. military governor in Germany from 1945 to 1949. He is best noted for his splendid effort to orchestrate the most remarkable logistical and transportation accomplishment in history, the 11-month-long Berlin Airlift of 1948 through 1949. He later became a successful business executive and political advisor to Presidents Dwight D. Eisenhower and John F. Kennedy. Early days The son of Sarah Francis and Senator Alexander Stephens Clay, Lucius was born in Marietta, Georgia, on April 23, 1897. He was the youngest of six children. As a youngster, he thrived on the Southern way of life. The U.S. Military Academy at West Point quickly became Clay's goal in life. He attended from 1915 to 1918, finishing 27th in a class of 137. Shortly after graduating on June 12th, 1918, Clay was made captain, and was assigned to the U.S. Army Corps of Engineers. The immediate promotion to captain was part of the remedy for low numbers of Army officers at the time. World War I ended in November 1918 before Captain Clay could reach Europe. In September 1918, Clay married Marjorie McKeown, the daughter of a wealthy button factory owner. Marjorie and Lucius produced two children, Lucius Jr. and Frank, who also would become general officers. Glimmers of greatness Beginning in 1933, Clay spent four years in Washington, D.C., organizing and managing New Deal public works projects. During his childhood, Clay had spent considerable time in Washington; his father was a friend of then President Theodore Roosevelt. The assignment proved to be congenial for Clay, who worked easily with "New Dealers" and members of Congress. In 1937, Clay was transferred to the Philippines, where he worked with General Douglas MacArthur and his chief of staff, Dwight D. Eisenhower. A year later, Clay left the military to become the district engineer at Denison, Texas, where he was in charge of the design and construction of the Red River Dam. Then in 1940, as the United States teetered on the edge of World War II, Clay re-entered the Army where he was appointed to the Airport Approval Board. Under his direction, nearly 500 airfields in North America and worldwide were built or improved. He was then promoted to brigadier general in March 1942.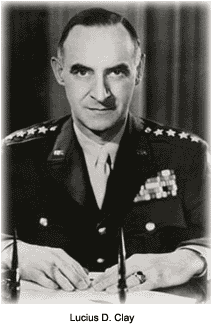 While serving at that post, the general requisitioned 50 million field jackets, 299 million pairs of pants, 2.3 million trucks, 88,000 tanks, 178,000 artillery pieces, and billions of rounds of ammunition. As a result of his tireless character, Washington soon took notice. General Eisenhower called on General Clay after the D-Day invasion at Normandy. With Cherbourg (principal port of entry for Allied supplies) in war-torn shambles, Eisenhower asked Clay to "clean things up." Clay doubled the flow in one day and had supplies moving rapidly toward the front before leaving three weeks later. Given General Clay's determined ability to manage resources, workers, and industrial production, General Eisenhower chose him to serve as Deputy Governor of Germany (1945 to 1947). Berlin Airlift After World War II, Germany was divided into four occupation zones. Although Berlin was located in the eastern Soviet zone, the Allies divided the city into four sectors. The western sectors of Berlin were controlled by the United States, Great Britain and France, and the eastern sector was occupied by the Soviets. On June 23, 1948, in a gambit to control all of Berlin, the Soviet Union cut surface traffic — all roads, water routes and railways — to and from West Berlin. The delivery of vital commodities quickly came to a halt. Without them, West Berliners would have to submit to Soviet control or starve. As Germany's newly appointed deputy governor, General Lucius Clay took little time to secure the permission of President Harry S. Truman to airlift supplies into the city at a feverish pace. Clay declared, "They can't drive us out short of war." On June 25, at a rate of 140,000 tons of supplies a month, General Clay ordered Operation Little Lift, as well as Operation Vittles.* Crews on American C-47s and other aircraft conducted round-the-clock delivery missions, landing at Tempelhof airfield in West Berlin. The C-47s were later joined by smaller aircraft, making essential air drops of food, clothing and medical supplies even more substantial. For nearly 11 months, the planes took off from or landed at the airfield approximately every three minutes. General Clay directed some 277,800 flights, carrying 2.3 million tons of food and fuel to West Berlin. On May 12th, 1949, after nearly a year, the Soviets loosened their stubborn clutch on West Berlin. It had been the crowning match of men and mission. Clay was declared a hero in West Germany and in the United States, where he received a ticker-tape parade below towering buildings in New York City. Berliners renamed the "Kronprinzenallee," a street in front of the former U.S. Headquarters in Berlin-Zenlendorf, "Clayallee."
Retirement General Clay had attained the rank of full general and retired within days after the lifting of the blockade. Following his retirement in mid-1949, Clay went into private business and prospered in several firms. He also played a major role in forming the Clay Committee, which helped to establish the Federal-Aid Highway Act of 1956. The "Berlin Hero" also played a part in Eisenhower's successful presidential campaign. He remained a trusted advisor to the president through the end of his second term, and would render a similar service to Eisenhower's successor, John F. Kennedy. In 1961, while residing in West Germany as President Kennedy's personal representative, Clay took steps to bolster the morale of West Berlin's citizenry confronting the erection of the Berlin Wall. From his home in New York City, Clay was active in local affairs. In 1966, Mayor John V. Lindsay appointed him to head a Public Development Corporation to revitalize the city's industry. Later, he served on the City Charter Revision Commission.
A man of honor
General Lucius D. Clay died in 1978, just shy of 81 years of age. He was survived by his wife Marjorie, sons General Lucius D. Clay Jr., of the Air Force and Major General Frank B. Clay of the Army (both retired). Lucius Clay was buried at West Point. A humble tribute to a great man is found at the foot of General Clay's grave. It is a plaque lying flush with the ground, placed there by the citizens of Berlin, the city he and his airmen rescued from starvation or communism. The plaque bears a few bracing words:
Wir danken dem Bewahrer unserer Freiheit. "We thank the Defender of our Freedom."
---
*The coal delivery operation to West Berlin.