Adlai E. Stevenson
Adlai E. Stevenson II, representing the third generation of the Stevenson family in Illinois politics, was a popular and effective governor of Illinois before running twice unsuccessfully for president against Dwight D. Eisenhower in 1952 and 1956. He later became an ambassador to the United Nations where he remained until his death in 1965. Stevenson was born in California on February 5, 1900, to Lewis G. Stevenson and Helen Davis Stevenson. After his birth, the Stevenson family returned to Illinois and settled in Bloomington. The Stevenson family had a long history of political involvement beginning with Jesse Fell, his maternal great-grandfather, who, during the 19th century, was a prominent Republican and an early Abraham Lincoln supporter. His paternal grandfather, Adlai E. Stevenson, served as vice president during Grover Cleveland's second term, was nominated for the office with William Jennings Bryan in 1900, and also ran unsuccessfully for Illinois governor in 1908. Stevenson left Bloomington after his junior year in high school and received his diploma from University High School in Normal, Illinois, near Bloomington. He graduated from Princeton University and flunked out of Harvard Law School. He later regained his interest in law and obtained a law degree from Northwestern University Law School, afterward joining a Chicago law firm. Stevenso began his career in public service in the early 1930s. He became involved with the Chicago Council of Foreign Relations, and was named its president in 1933. In July 1933, he became involved with the Agricultural Adjustment Administration (AAA) as the special attorney and assistant to its general counsel, Jerome Frank. Following the repeal of Prohibition in 1934, Stevenson joined the staff as chief attorney for the Federal Alcohol Control Administration (FACA), an agency designed to regulate the alcohol industry's activities. Later that decade, he became one of the chief spokesmen for the Committee to Defend America by Aiding the Allies, which brought him into opposition with the isolationism espoused by Colonel Robert McCormick's Chicago Tribune. In 1940, Stevenson became a special assistant to Colonel Frank Knox, the secretary of the Navy. In that position, he wrote speeches, represented the secretary and the Navy on committees, and generally handled administrative duties. Following World War II, he worked for the State Department on preparations for the United Nations organization. In 1948, Stevenson ran for governor of Illinois and won easily. In a period when concerns about political subversives verged on hysteria, Stevenson stood against the tide. He commented, "The whole notion of loyalty inquisitions is a natural characteristic of the police state, not of democracy." As governor, he was widely credited for cleaning up much of the corruption that had characterized Illinois politics.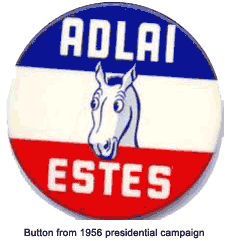 When President Harry S. Truman decided not to seek another term in the spring of 1952, he threw his support behind Stevenson. Stevenson, however, was reluctant to campaign for the office, although he left himself open to the draft. He was tapped to deliver the keynote address at the Democratic National Convention that was held in Chicago in 1952. The convention drafted him and he accepted their nomination for the presidency:
I accept your nomination and your program. I should have preferred to hear those words uttered by a stronger, a wiser, a better man than myself. But after listening to the President's speech, I even feel better about myself. None of you, my friends, can wholly appreciate what is in my heart. I can only hope that you understand my words. They will be few. I have not sought the honor you have done me. I could not seek it, because I aspired to another office, which was the full measure of my ambition, and one does not treat the highest office within the gift of the people of Illinois as an alternative or as a consolation prize.
During the campaign,
Richard M. Nixon
attacked him for having been a character witness for suspected communist spy
Alger Hiss
. Senator
Joseph McCarthy
accused him of being soft on communism. In the end, there was probably little that Stevenson could have done. His opponent, Dwight D. Eisenhower, was a popular war hero, to whom he lost in November in a landslide. Nevertheless, the quality of his campaign impressed his fellow Democrats and in 1956, he overcame a strenuous campaign by Senator Estes Kefauver of
Tennessee
to win a second nomination. Kefauver was voted his vice presidential nominee, against stiff competition from
John F. Kennedy
. Stevenson campaigned vigorously to Americans to join his "New America." Some of his liberal agenda items were later used by the Kennedy and
Johnson
administration. Despite delivering 300 speeches and traveling 55,000 miles, Stevenson's second campaign against Eisenhower led to the same outcome as the first. The country was at peace and enjoyed moderate prosperity. Therefore, Americans did not feel a need for a change. For the next four years, Stevenson held no official post. At the Democratic National Convention in 1960, he refused to give the nominating address for Kennedy, in hopes that he would still win the nomination. This caused a strain in their future political dealings. When Kennedy won in
November
, he offered Stevenson the position of U.S. Ambassador to the United Nations, instead of the Secretary of State position to which he had been aspiring. He refused to accept the position until Kennedy named Dean Rusk his Secretary of State, which deepened the rift between them. Characteristic of Stevenson, he later accepted the position and devoted himself to his responsibilities. He later became president of the Security Council, advanced arms control, and improved relations with new African nations.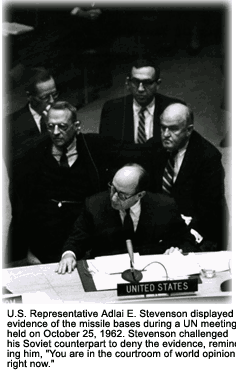 After the failed
Bay of Pigs Invasion
in May 1961, Stevenson publicly humiliated himself when he announced that
Fidel Castro
's forces had been financed by the
CIA
and wealthy Cuban émigrés had supported the anti-Communist forces. Having been intentionally misinformed by the White House, Stevenson considered resigning from his position as U.N. ambassador, but was convinced he should remain. Even so, during the
Cuban Missile Crisis
, he acted as the statesman he truly was when he confronted Soviet Ambassador Valerian Zorin in an emergency meeting of the Security Council. Stevenson provoked him to admit that offensive weapons had been placed in Cuba and declared that he was prepared to wait "until Hell freezes over" for Zorin's response. Amid rumors of his resignation, Stevenson spoke at the Economic and Social Council in Geneva, in July 1965. During a brief stop in London on July 14, 1965, he died suddenly. Following memorial services in
Washington, D.C.
, he was interred in a family plot in Evergreen Cemetery in Bloomington, Illinois.