Matthew Bunker Ridgway was born in Fort Monroe, Virginia, on March 3, 1895. He was the son of Colonel Thomas Ridgway, an artillery officer.
Ridgway began his higher education by applying to West Point Military Academy. He was rejected on his first attempt due to a lack of mathematical knowledge, but was accepted on his second try. He graduated from West Point Military Academy in 1917 and was commissioned as a second lieutenant. With his knowledge of other cultures and their languages, he returned to West Point in 1918 to serve as a Spanish language instructor.
Ridgway furthered his education at the Infantry School at Fort Benning. Following completion of the coursework, he was given command of a company of the 15th Infantry in Tsientsin, China. After his stint in China, he was assigned to a post in Nicaragua, where he helped to supervise the free elections of 1927.
From the time he joined the army, Ridgway desired to learn as much as he could. He used his knowledge to his advantage and was later considered to be conversant in foreign affairs. In 1930, Ridgway served on a commission that adjudicated a dispute between Bolivia and Paraguay. He then became a military adviser to the Governor General of the Philippines. After serving in the field for several years, Ridgway traveled to Kansas to attend the Command and General Staff School in 1935. He remained in school until 1937.
The impressive work on Ridgway's résumé caught the attention of General George C. Marshall. Marshall took Ridgway to Brazil on a special assignment (nature unknown), but soon after the outbreak of World War II, Ridgway was recalled to be part of the War Plans Division in Washington, D.C.
In August 1942, Ridgway received a promotion to brigadier general and took command of the 82nd Infantry Division, one of the Army's two parachute divisions. On July 10th, 1943, Ridgway's paratroopers played a major part in the invasion of Axis-held Sicily, in an airborne operation. That was the first time that the U.S. Army made use of paratroopers in a battle. Ridgway burnished his reputation and continued with many more airborne operations.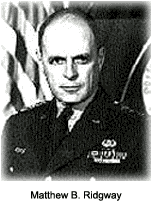 On June 6th, 1944, Ridgway jumped with his soldiers at the D-Day landings on Normandy where he fought with the 82nd for 33 days. After Ridgway took command of the 18th Airborne Corps in September 1944, he led his troops into battle during the invasion of the Rhineland and Ardennes-Alsace. They later went to the Baltic to join up with the Red Army on May 2nd.
On June 4th, 1945, Ridgway was promoted to lieutenant general. After the war, he was made the Chief of the Caribbean Command from 1948 to 1949. Following his command in the Caribbean, Ridgway became the Deputy Chief of Staff to General Joe L. Collins, Army Chief of Staff.
In 1950, Ridgway was posted to the Korean police action where he was given the command of the Eighth Army. Many historians believe that Ridgway was responsible for strengthening the Eighth Army, helping it to beat back an enormous number of soldiers of the People's Republic of China, which had entered the war from the north. The Eighth Army also managed to fight the enemy to a standstill.
In April 1951, General Douglas MacArthur, Commander in Chief of the Far East Command, was removed from duty by President Truman. That vacancy was quickly filled by Ridgway, and he was promoted to full general. Later, Ridgway replaced General Dwight D. Eisenhower on May 30th, 1952, making him the Supreme Allied Commander of Europe. A decision to surround himself with American personnel while in Europe upset many European military leaders, so he was brought back to the United States to replace Army Chief of Staff Joe Collins in July 1953.
Ridgway retired from the U.S. Army in June 1955 and became the chairman of the Mellon Institute of Industrial Research in Pittsburgh, Pennsyvania. He remained at the institute until 1960.
Matthew Ridgway passed away July 26th, 1993.
Off-site search results for "Matthew B. Ridgway"...
Matthew B Ridgway
Ridgway1895-1993Commander of UN forces in the Korean War Start your search on Matthew B Ridgway. Now Available in Paperback President Who? Forgotten Founders Click Here Unauthorized Site: This site and its contents are not affiliatMatthew B Ridgway. Now Available in Paperback President Who? Forgotten Founders Click Here Unauthorized Site: This site and its contents are not affiliated, connected ...
http://www.virtualology.com/virtualwarmuseum.com/hallofamericanwarsand ...
Rozanne Ridgway
Rozanne Ridgway1935 -US Foreign Policy Advisor Start your search on Rozanne Ridgway. Now Available in Paperback President Who? Forgotten Founders Click Here Unauthorized Site: This site and its contents are not affiliated, connected, associated ...
http://virtualology.com/hallofwomen/ROZANNERIDGWAY.COM
Matthews, Stanley
... Rutherford B.Kenyon CollegeOhioPublic SchoolsSherman, John Stanley Matthews was born on July 21, 1824, in Cincinnati, Ohio. He attended public schools in Cincinnati, before enrolling in Kenyon College. Matthews graduated from Kenyon in ...
http://www.ohiohistorycentral.org/entry.php?rec=255