Henry Morgenthau Jr.
Henry Morgenthau Jr. flourished during the New Deal and World War II, and was one of the indispensable figures in reviving the American economy following The Great Depression. The sole Jewish member of Franklin D. Roosevelt's administration, Morgenthau served the president faithfully. Morgenthau was born on May 11th, 1891, in New York City, New York, the son of Henry and Josephine (Sykes) Morgenthau. Henry was proud to attend the private school, Exeter Academy, and later studied architecture and agriculture at Cornell University. With his schooling in agriculture, he went on to buy an apple orchard and dairy in East Fishkill, New York, in the spring of 1913. In 1916, Morgenthau married Elinor Fatman. The couple had three children. In 1949, two years after his first wife died, he married Mrs. Marcelle Puthon Hirsh of New York. Active in his local community, Morgenthau was appointed to be the chairman of the New York Agricultural Advisory Commission in 1928. His friend, then Governor Franklin D. Roosevelt, assisted him in getting that position, which Morgenthau held until 1932. Having gained even more knowledge about the agricultural economy, Morgenthau became the Commissioner of Conservation in 1930. When Roosevelt was elected president, he wanted Morgenthau to be at his side as the chairman of the Federal Farm Board, and appointed him governor of the Farm Credit Association in 1933.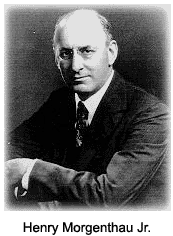 In 1934, Morgenthau was appointed as Secretary of Treasury, where he administered the federal tax programs, raising amazing revenues that had never been seen before. He supervised the sale of more than $200 billion worth of government bonds, which helped to finance war defense and international monetary stabilization. From the time he was appointed until December 7th, 1941, Morgenthau was able to defend the U.S. dollar against devaluation from other competitive nations. Morgenthau remained in his position until just after the death of President Roosevelt, waiting for incoming President Harry S. Truman's return from the "Big Three" conference in Berlin. He left the cabinet on July 22nd, 1945. His career in politics at an end, Morgenthau still wanted to influence people from around the world, so he turned to philanthropy. He went on to become a financial advisor to the new nation of Israel. Morgenthau was a prominent Zionist and served as chairman of the American Financial and Development Corporation for Israel. In 1950 Morgenthau became the chairman of Hebrew University in Jerusalem. Henry Morgenthau Jr. died on February 6th, 1967, in Poughkeepsie, New York.