Nathaniel Hawthorne
Along with the works of Washington Irving and Edgar Allen Poe, Hawthorne's collections of short stories, Twice Told Tales (1837), Mosses from an Old Manse (1846), and The Snow-Image and Other Twice Told Tales (1851), help form the first substantial body of short fiction in America. Although his sense of life was tragic, Hawthorne desired to be optimistic. He was attracted to the romantic world of dream reverie, but felt strongly that the actual world could come to seem unreal, in a dangerous way, if that bent were indulged.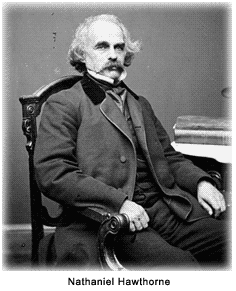 The early years
Nathaniel Hawthorne was born in
Salem, Massachusetts
, on Independence Day, 1804. It is interesting to note that one of his ancestors was a judge in the
Salem Witch Trials
of 1692-93. Hawthorne was one of the first esteemed graduates of Bowdoin College, located in Brunswick,
Maine
, in that famous class of 1825 — Henry Wadsworth Longfellow being another. In addition,
Harriet Beecher Stowe
, whose husband took a teaching position at Bowdoin, wrote most of her book,
Uncle Tom's Cabin
, in a study in Appleton Hall.*
Early career
Hawthorne's first novel was a self-published, undistinguished piece titled
Fanshawe
, in 1828, which he wrote while living at his mother's house and still learning the writing craft. From that point, Hawthorne began to publish short stories in newspapers and magazines. He engaged in a number of literary activities, including editing the
American Magazine of Useful and Entertaining Knowledge
and
Peter Parley's Universal History
. He loved to retell Greek myths for children and published a children's book,
Grandfather's Chair
, in 1841. After a three-year engagement to Sophia Peabody, they married in 1842. His marriage and career could best be described as "rootlessness," living for a time at Brook Farm, which was run by Transcendentalists. In
Concord
, he lived in two famous domiciles, the Old Manse and the Wayside, where he rubbed shoulders with the likes of
Ralph Waldo Emerson
and
Henry David Thoreau
. He also met and befriended
Herman Melville
, who dedicated
Moby Dick
to him.
His novels
Hawthorne completed only four full-length novels. His first,
The Scarlet Letter
(1850) was controversial, owing to its treatment of adultery, but it firmly established his reputation as an estimable writer of his time. His personal take on the book, however, was that it was too "gloomy." Hawthorne's favorite piece was
The House of the Seven Gables
(1851), with its happy ending, which reflected Victorian-era pieties of the love of nature and faith in evolution.
The Blithedale Romance
(1852) was based upon Hawthorne's experiences and life-long courtship of his loving wife at Brook Farm. His final complete work,
The Marble Faun
(1860), explored the theme of the "Fall of Man," a myth that had been a pervasive subject in his fiction from the beginning.
A passing, a style
While paying a visit to his friend,
Franklin Pierce
, in Plymouth,
New Hampshire
, Hawthorne died on May 19, 1864. A capsule of Hawthorne's sometimes dichotomous writing themes might be summed up thus: In his greatest fiction, he creates characters who are conscious of their isolation from other people and those systems of values or institutions that seem to make life worth living. Hawthorne's character's inner lives drive them to react to their own actions: his great subject.
---
*Other notables from the college include
Robert E. Peary
, class of 1877, who reached the North Pole in 1909; Alfred C. Kinsey, class of 1916, wrote
Sexual Behavior in the Human Male
; and Joan Benoit Samuelson, 1979, won the gold medal in the first women's Olympic Marathon.