J. Edgar Hoover
John Edgar Hoover was born in Washington, D.C., on January 1, 1895 to Dickerson N. Hoover, a federal official, and Annie M. Scheitlin, a strict woman of conviction. Hoover was reared as a Presbyterian and once contemplated the ministry. Somewhat of an outsider in school, he was not athletic and did not have girlfriends.* He excelled at his studies, debating, and the military drill team, then was named class valedictorian. Following high school, Hoover worked as a messenger in the Library of Congress. For three years he attended night law classes at George Washington University. Following graduation in 1917, he was admitted to the bar. That same year, Hoover found work at the U.S. Department of Justice. He soon demonstrated his ability and was named to head the Enemy Aliens Registration Section. In 1919, he was appointed as an assistant to Attorney General A. Mitchell Palmer and became head of the new General Intelligence Division. In this role he supervised the Palmer Raids on aliens alleged to hold radical views. From there, in 1921, he joined the Bureau of Investigation as deputy head, and in 1924 the attorney general made him the director. When the division became the Federal Bureau of Investigation in 1935, Hoover was named its director.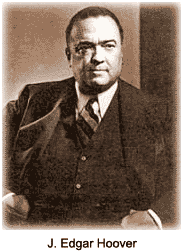 Hoover hired better-qualified personnel, and established numerous procedures and techniques that would make the FBI conspicuous for its efficient criminal arrests. Under his direction, the bureau provided various services to local and state police organizations, including identifying suspects by fingerprints from a centralized file, providing a crime laboratory and other investigative services. The bureau also began to compile and distribute national crime statistics, and train personnel in the National Police Academy. In the 1930s, Hoover directed investigations that led to the apprehension of numerous criminals, including bank robber John Dillinger. To promote his bureau's campaign against Organized Crime, he personally participated in the apprehension of several major gangsters. In 1936, President Roosevelt assigned to the FBI the responsibility for espionage and sabotage investigations. By 1939 the FBI had become pre-eminent in the field of domestic intelligence. The FBI's counterespionage and antisabotage operations during World War II effectively derailed German and Japanese agents' interference with U.S. war efforts. Following World War II, Hoover became a zealous and high-profile anti-Communist. He focused on the putative threat of Communist subversion. The FBI played a significant role in the investigation of alleged Communist sympathizers and spies in the federal government. Hoover led the bureau in a thoroughgoing string of investigations intended to snuff out subversive activities not only within the government, but the private sector as well. Hoover was a subject of controversy for numerous years. His detractors charged him with abusing his accumulated power and pushing the FBI beyond its jurisdiction. They branded his anti-Communism as compulsive; it has been documented that he organized systematic harassment of political activists and dissenters, including Martin Luther King Jr. He was accused of blackmailing noted public figures and resorting to political persecution. Hoover's COINTELPRO program sanctioned FBI agents to harry, obstruct, and eradicate such groups as the Black Panther Party and other left-wing organizations. Allegedly, Hoover accumulated powerful leverage by building files on persons, especially politicians, that were kept out of official FBI records. The existence of such unofficial documentation is unconfirmed because his longtime secretary, Helen Gandy, destroyed a number of files following Hoover's death. After his death, however, reforms were undertaken to prevent such abuses in the future. Nevertheless, Hoover's seminal contributions to the advancement of police investigative work spoke for themselves. In 1966, he received the Distinguished Achievement Award for his role as director of the FBI.
Beginning with the Kennedy administration, Hoover's influence began to fray. He butted heads with the president's brother, Attorney General Robert F. Kennedy, whose aim was to curtail Hoover's power and political involvement. Hoover also sparred with subsequent attorneys general and more frequently became a target of the media. He died on May 2, 1972, at age 77 in the midst of controversy stirred by allegations of illegal FBI activities. J. Edgar Hoover served for nearly 50 years under no fewer than eight presidents, from Calvin Coolidge to Richard M. Nixon. It is because of the Hoover tenure that subsequent FBI directors were limited to 10 years in office. Writings: Persons in Hiding (1938), Masters of Deceit (1958), A Study of Communism (1962), Crime in the United States (1965), and J. Edgar Hoover on Communism (1969).
---
*Hoover resided with his mother until her death in 1938, when he was 43 years old. He was a lifelong bachelor.