The Great White Fleet: Around the World
Theodore Roosevelt, always a great advocate of naval strength, sent a portion of the Atlantic fleet on a world cruise beginning in December 1907. Sixteen battleships, plus auxiliary support ships and 14,000 men, embarked on a 14-month, 45,000-mile voyage for the purposes of generating international goodwill, testing naval readiness and impressing world powers with American might. Japan, in particular, was targeted; recent tensions, however, had abated to some degree with the conclusion of the Root-Takahira Agreement.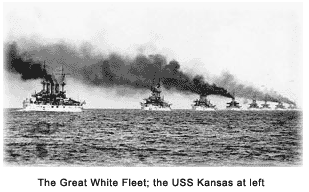 Participating vessels were painted white, a matter of visual appeal and not of naval necessity. The moniker "Great White Fleet" was not used at the time, but later became the standard description of the fleet. No effort was spared to make the ships appear pristine on the exterior, but the glossy paint masked major mechanical problems in the engine rooms. Two of the ships were unable to complete the voyage. Beginning at Hampton Roads before Christmas 1907, the fleet proceeded to Port of Spain, Trinidad for the holiday. The next ports of call included Rio de Janeiro; Punta Arenas, Chile; Callau, Peru; and Magdalena Bay, Mexico. An exchange of ships occurred at San Francisco, where the fleet remained from May to July of 1908. The ships then steamed on to Honolulu; Auckland, New Zealand; Sydney and Melbourne, Australia, where huge and enthusiastic crowds gathered; and Manila. In October, several of the ships were damaged in a typhoon and one sailor was lost at sea as the fleet pushed northward. The reception at Yokohama was warm despite the underlying friction with Japan. A stop was made at Colombo, Ceylon, before steaming on to the Red Sea. The fleet tied up the Suez Canal for four days before all of the ships completed passage and then broke down into smaller contingents for the purpose of visiting various Mediterranean ports. The fleet assembled at Gibraltar before beginning the voyage home to Virginia where in February 1908 they were greeted by a beaming Roosevelt aboard the presidential yacht Mayflower and cheering thousands. The procession of warships was in some ways illusory. The resplendent fleet not only was in poor repair, but also was obsolete. The H.M.S. Dreadnought, first of the modern "all-big-gun" battleships, had been launched by the British in 1906, ushering in a new naval age. The Great White Fleet was a relic of a fading era.
---
See other
foreign affairs issues under Theodore Roosevelt
.