The Early Phase
Commencing with Washington's defeat at Great Meadows in July 1754, the French maintained the upper hand in an undeclared war that was a struggle for turf in North America.
The major event in this initial phase was the overwhelming defeat of General Edward Braddock in the shadow of Fort Duquesne in July 1755.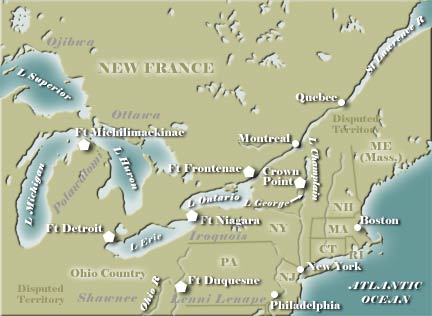 Another significant setback for the British cause in 1755 was the failure of Massachusetts governor
William Shirley
to take the French position at
Fort Niagara
, the gateway to the West.
Two events offered encouragement to the British effort. In June, Shirley and his forces succeeded in taking Fort Beauséjour, which occupied a strategic position between Nova Scotia and Acadia. As a security measure — a move that still generates bitterness today — the British expelled many of the French-speaking "Acadians" from Nova Scotia, fearing that they would provide aid to the enemy.
The second event that raised American spirits was the halting of a French advance on Lake George in September 1755, but the planned follow-up attack on Crown Point was stillborn thanks to balky New England soldiers. General William Johnson was later knighted for this solitary victory.
On the frontier, Lenni Lenape and Shawnee struck hard at the British-American settlements. The Indians had been emboldened by Braddock's defeat and spread terror throughout western Pennsylvania, Maryland, and Virginia. Washington played a prominent role in quelling the threat in the Shenandoah Valley.
In 1756, Lord Loudoun was sent to North America as the new commander-in-chief. Unfortunately for the British cause, he was little else but a master at paperwork. The war soon entered a new dimension as fighting broke out in Europe and elsewhere throughout the globe.
---
See
French and Indian War Timeline
. See also
Indian Wars Time Table
.