Samuel Adams was born in Quincy, Massachusetts, the son of a prominent landowner and brewer, and cousin and political mentor of John Adams. He studied at Harvard College and received his degree in 1743. Following college he began the study of law, but soon gave in to family pressures and took a position as a clerk in the counting house of Thomas Cushing, one of the colony's leading merchants. Adams was not a success in business and worked for Cushing only a short time before beginning his own short-lived venture.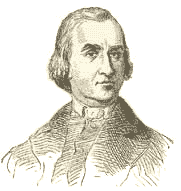 In spite of his lack of success at business (failing as a brewer and tax collector and wasting an inheritance), Adams displayed true genius in politics. He excelled at political discourse, writing and strategy. In 1765, Adams was elected to the General Court (legislature) of Massachusetts, representing the town of Boston. His abilities were recognized by his fellow legislators and he soon rose to a leadership position. Adams was offered positions by royal officials that would have enriched him, but he refused and remained chronically in debt.
Adams was prominent in organizing protests over the Sugar Act (1764) and the Stamp Act (1765). His continued outspoken criticism of English policies did much to foment public unrest, which erupted into violence in the Boston Massacre in 1770. Adams worked with "committees of correspondence," which exchanged ideas with dissidents in other colonies for opposing British programs. Adams played a prominent role in planning and executing the Boston Tea Party.
On November 2, 1772, the Boston town meeting appointed a committee to draft a declaration of the rights of the colonists, with Sam Adams as one of the members. On November 22, Adams presented a declaration that he had written, which began:
Among the natural rights of the Colonists are these: First, a right to life; Secondly, to liberty; Thirdly, to property; together with the right to support and defend them in the best manner they can. These are evident branches of, rather than deductions from, the duty of self-preservation, commonly called the first law of nature. All men have a right to remain in a state of nature as long as they please; and in case of intolerable oppression, civil or religious, to leave the society they belong to, and enter into another.

When men enter into society, it is by voluntary consent; and they have a right to demand and insist upon the performance of such conditions and previous limitations as form an equitable original compact.

Every natural right not expressly given up, or, from the nature of a social compact, necessarily ceded, remains.

All positive and civil laws should conform, as far as possible, to the law of natural reason and equity.

As neither reason requires nor religion permits the contrary, every man living in or out of a state of civil society has a right peaceably and quietly to worship God according to the dictates of his conscience.
The opening sentence of this manifesto of natural rights stated a position that Thomas Jefferson would later incorporate in the Declaration of Independence in 1776.
Adams' views became radical after the British closed the port of Boston and quartered soldiers in the city in 1774. He attended both the First Continental Congress (1774) and the Second Continental Congress (1775), speaking forcefully as an advocate of independence. On the eve of hostilities, Adams narrowly eluded the British forces at Lexington. He continued to serve in the Congress during the War and was a signer of the Declaration of Independence.
Later Adams was a supporter of the new Constitution and worked to assure ratification by Massachusetts. He served as governor of the Commonwealth from 1793 to 1797.
---- Selected Quotes ----
Quotes by Samuel Adams.
Regarding Shays' Rebellion
Rebellion against a king may be pardoned, or lightly punished, but the man who dares to rebel against the laws of a republic ought to suffer death.
Regarding Boston Massacre
If you, or Colonel Dalrymple under you, have the power to remove one regiment you have the power to remove both. It is at your peril if you refuse. The meeting is composed of three thousand people. They have become impatient. A thousand men are already arrived from the neighborhood, and the whole country is in motion. Night is approaching. An immediate answer is expected. Both regiments or none!
Address to acting governor Thomas Hutchinson, the day after the Boston Massacre
Regarding Ratification
And that the said Constitution be never construed to authorize Congress to infringe the just liberty of the press, or the rights of conscience; or to prevent the people of the United States, who are peaceable citizens, from keeping their own arms; or to raise standing armies, unless necessary for the defense of the United States, or of some one or more of them; or to prevent the people from petitioning, in a peaceable and orderly manner, the federal legislature, for a redress of grievances; or to subject the people to unreasonable searches and seizures of their persons, papers or possessions.
Debate in the Massachusetts convention, 1788

- - - Books You May Like Include: ----
A Leap in the Dark: The Struggle to Create the American Republic by John Ferling.
It was an age of brilliant leaders and agonizing choices, of soaring ideas and passionate conflicts. Even as it was happening, those who lived through...
Samuel Adams: A Life by Ira Stoll.
In this stirring biography, Samuel Adams joins the first tier of founding fathers, a rank he has long deserved. With eloquence equal to that of Thomas...
Signing Their Lives Away by Joseph DAgnese.
In the summer of 1776, fifty-six men risked their lives and livelihood to defy King George III and sign the Declaration of Independence—yet how many o...