William Penn
William Penn was born in London and attended Oxford where he became acquainted with the Society of Friends (Quakers); his association with this highly unpopular sect led to his expulsion from the university. Young Penn then spent time traveling in Europe and in service to the King in England before turning to the ministry. His devotion to Quakerism led to a break with his father and to problems with civil authorities. Penn was imprisoned for a time in the Tower of London, where he wrote his most famous work, No Cross, No Crown (1689).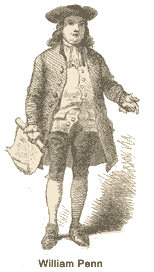 Despite his troubles, Penn maintained a friendship with James, Duke of York and received a massive land grant from Charles II in 1681, which gave him possession of much of present-day Pennsylvania, Delaware and New Jersey. The King had owed a debt of £16,000 to Admiral Penn and satisfied it by issuing the grant to the Admiral's surviving son. From the beginning, Penn's aims were twofold: to provide a haven for fellow Quakers ("the Holy Experiment") and to produce a profit. He arrived at the new colony in 1682 and set about meticulous planning for the city of Philadelphia. Penn was generally successful in maintaining good relations with neighboring Indian tribes and governed the colony effectively for two years. He then returned to England to combat the persecution of Quakers there and to seek the resolution of a boundary dispute with Maryland. In 1697, William Penn produced a Plan of Union, which would have brought together the colonies of "Boston, Connecticut, Rhode Island, New York, New Jerseys (sic), Pennsylvania, Maryland, Virginia, and Carolina." He presented it to the London Board of Trade, representing one of the earliest plans to bring together the colonies for military and economic purposes. In 1699, Penn returned to Pennsylvania for the last time and managed to restore order to a colony in chaos. He also issued the Charter of Privileges, a new constitution that provided for a more powerful legislative assembly and religious freedom. Penn returned to England in 1701, leaving his American affairs in the hands of an agent. That representative turned out to be incompetent and dishonest, causing Penn so much financial distress that he was imprisoned in 1707-08. Penn suffered a debilitating stroke in 1712 and never again was active in public life. William Penn was a truly notable figure whose career encompassed an ardent advocacy for Quakerism, a prominent presence in the English court, a trusted friendship with his Indian neighbors in Pennsylvania, and a successful role as an early urban planner.
---
See
Early Development of Pennsylvania
.