Freedmen`s Bureau
Officially known as the Bureau of Refugees, Freedmen and Abandoned Lands, this agency was established by Congress in 1865 as an arm of the War Department. The Bureau was given authorization to provide services to the nearly four million newly freed slaves for a period of one year. In 1866, Congress extended the agency, but the measure was vetoed by Andrew Johnson. Congress overrode the veto and the Freedmen's Bureau continued to operate for a number of years, offering services in the following areas: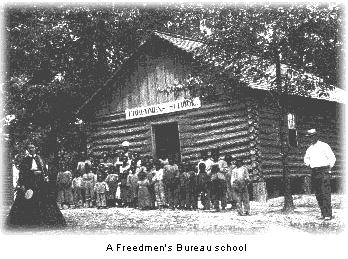 Relief: The agency provided food and medical supplies for needy blacks and whites; hospitals were constructed in many areas of the South
Education: More than 1,000 public schools were built throughout the South, as well as a number of black colleges
Legal: Programs were established to monitor labor agreements between freedmen and their employers; for a while the Bureau ran a system of courts aimed at ending the exploitation of the workers
Land Distribution: Lands of Confederate officials were seized and distributed to freedmen; this program was later ended and the lands were restored to their original owners.
The Bureau established an excellent record in relief and education, but its other programs were weakened by their blatant political motivations. In many instances, the Bureau lined up black votes in support of
Republican
candidates-—a fact deeply resented by white Southerners. Only the educational programs lived on past 1869 and those were finally ended in 1872.