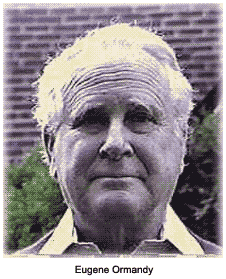 Eugene Ormandy was a Hungarian-born American conductor and violinist. He is considered to be one of the top 10 conductors of the 20th century and is associated with the Late Romantic and early 20th-century repertoire.
Early years
Eugene Ormandy was born Jenö Blau on November 18, 1899, in Budapest, Hungary. He studied violin at the Budapest Royal Academy, and graduated at the age of 14. By the age of 17, he was a professor of violin, touring throughout Central Europe.
Blau moved to the United States in 1921. He took a new name from the ship he had voyaged on, the Normandie. Hoping for a chance to tour the U.S., he went first to New York City. Instead, Ormandy ended up playing his violin in the Capitol Theatre orchestra, which created music for silent films.
Ormandy married Stephanie Steffy Goldner in 1922. They were divorced in 1947.
First conducting opportunity
In 1924, Ormandy was given a chance to stand in for the Capital Theatre orchestra's regular conductor. He decided then to pursue a career in conducting. Ormandy began with light classics for radio and summer concerts, which led to a position as deputy for Arturo Toscanini during a concert series by the Philadelphia Orchestra.
In 1931, Ormandy was appointed the conductor of the Minneapolis Symphony Orchestra, where he served until 1936. RCA Victor collaborated with the Minneapolis Symphony to produce many recordings during the Great Depression. Some of those recordings, including Bruckner's Symphony No. 7 and and Mahler's Symphony No. 2, were critically acclaimed, earning Ormandy a reputation as an outstanding musician.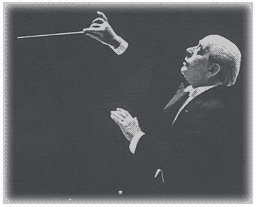 The Philadelphia
In 1936, Ormandy returned to the Philadelphia Orchestra, where he shared the conductorship with Leopold Stokowski until 1938. That year, Ormandy was made the principal conductor. Ormandy held that position until he retired in 1980. He cultivated a lush, velvety sound in the string sections, which became the orchestra's trademark.
Ormandy led the Philadelphia Orchestra on numerous tours around the United States and the world. They traveled to Finland in 1955, and in 1973, they toured the People's Republic of China. That was an memorable tour, owing to the fact that communist China had been isolated from Western music for many decades.
A recording star
In the company of Leonard Bernstein and Arthur Fiedler, Ormandy was one of the best-selling classical conductors during the 1960s. In 1970, he received the Presidential Medal of Freedom "for bringing to each performance something more precious than his great gifts — himself and the rich experiences of his life."
In 1976, the veteran conductor was appointed an honorary Knight of the British Empire by Queen Elizabeth II.
Eugene Ormandy died of pneumonia in Philadelphia on March 12, 1985, at the age of 85.
Off-site search results for "Eugene Ormandy"...
Eugene McCarthy
PRESIDENTS HOME PAGE Eugene McCarthy (1916-2005) 1968 - IndependentMajor Party candidates: Richard Nixon, Hubert Humphrey 1976 - IndependentMajor Party candidates: Gerald Ford, Jimmy Carter 1988 - Consumers PartyMajor Party candidates: George ...
http://www.presidentsusa.net/emccarthy.html
Eugene Talmadge
... of liver, beginning Georgia's three governors controversy Eugene Talmadge Eugene Talmadge served as governor of Georgia from 1933 to 1937 and 1941 to 1943. Elected to another term in 1946, he died before inauguaration, sparking the "three ...
http://ourgeorgiahistory.com/chronpop/1000131
Eugene V. Debs
Debs at the Indiana Historical Society Eugene V. Debs foundation Eugene V. Debs : Citizen and Socialist Harp Song for a Radical : The Life and Times of Eugene Victor Debs THIRD PARTY CANDIDATES PAGE The purpose of this site is to provide ...
http://www.presidentsusa.net/evdebs.html