Jerry Falwell
The Reverend Jerry Falwell is a Baptist minister who founded the Thomas Road Bible Church of Lynchburg, Virginia, in 1956. In 1968, Falwell gained national prominence when he began to preach through television and radio on the Old Time Gospel Hour. In 1979, he founded the Moral Majority, a group comprising conservative Christians, and served as the group's leader until 1987. He also is the founder of Liberty University, formerly Lynchburg Baptist College. His outspoken ways and controversial statements have at times put him at odds with diverse groups of people and often made national headlines. He is considered to be on of the most controversial figures in modern American Christianity.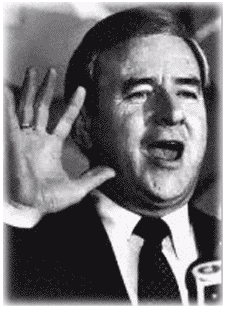 Early years Jerry Lamon Falwell was born on August 11, 1933, along with fraternal twin brother, Gene, in Lynchburg, Virginia, to Carey and Helen Falwell. Jerry attended Brookville High School in Lynchburg, where he earned several letters in football and basketball. Following high school, he attended Lynchburg College, then went on to graduate from Baptist Bible College in Springfield, Missouri, with a theology degree in 1956. Shortly after receiving his degree, Falwell became the first pastor of the Thomas Road Baptist Church of Lynchburg, Virginia, at the tender age of 22. The group was small, with only 35 adults in attendance at the church's first meeting in an elementary school. Eventually, the church found its first home in a former Donald Duck Bottling Company building. The congregation grew to more than 24,000 members. On April 12, 1958, Falwell married Macel Pate, and the couple had three children: Jerry, now an attorney, Jonathan, a pastor; and Jeannie, a surgeon. An educational vision In 1967, Falwell commenced work toward his vision of building a Christian educational system for evangelical youth. He founded the Lynchburg Christian Academy, an accredited Christian day school providing kindergarten, elementary and high-school classes. Liberty University, an accredited, liberal-arts Christian institution, was founded in 1971. Today it boasts an enrollment of more than 21,500 students from all 50 states and 80 nations. Falwell also began to publish National Liberty Journal, a monthly newspaper now read by more than 200,000 pastors and Christian workers, and the Falwell Confidential, a weekly e-mail newsletter sent to more than 500,000 pastors and Christian activists. A political vision, and controversy In the late 1970s, Falwell became active in politics. In 1979, he founded the Moral Majority, an advocacy group comprising conservative Christians devoted to reestablishing traditional religious values in the national consciousness, principally through support of conservative political candidates. He served as its leader through 1987. Falwell's outspoken views have placed him in the forefront of numerous controversies. In 1983, he lost a famous suit against Hustler publisher Larry Flint over a 1983 cartoon. In 1984, Falwell was forced to pay gay activist, Jerry Sloan, $5,000 after losing a court battle. Falwell had said he would pay Sloan $5,000 if he could produce a tape of him (Falwell) calling the gay-oriented Metropolitan Community Churches "brute beasts" and "a vile and Satanic system" that will "one day be utterly annihilated and there will be a celebration in heaven." When Sloan produced the tape, the latter refused to pay. After Sloan won the first court case, Falwell appealed, arguing that the Jewish judge in the case was prejudiced. He lost again and was forced to pay an additional $2,875 in sanctions and court fees.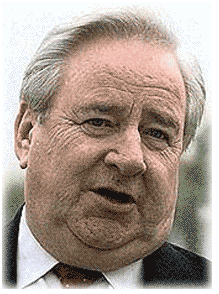 Falwell again gained notoriety in the press following the September 11, 2001, terrorist attack, when he made comments interpreted as blaming various groups for the attack. When asked why God would allow such an event to happen to America, Falwell said:
". . .I know that I'll hear from them for this. But, throwing God out successfully with the help of the federal court system, throwing God out of the public square, out of the schools. The abortionists have got to bear some burden for this because God will not be mocked. And when we destroy 40 million little innocent babies, we make God mad. I really believe that the pagans, and the abortionists, and the feminists, and the gays and the lesbians who are actively trying to make that an alternative lifestyle, the ACLU, People for the American Way — all of them who have tried to secularize America — I point the finger in their face and say "you helped this happen."
A few days later, the Reverend Falwell published an apology for his comments and said he believed that only the terrorists bore responsibility for the attacks. He insisted, however, that he believed that groups that have labored to secularize America, have helped to dislodge the U.S. from its religious underpinnings. Falwell now heads the Liberty Alliance, established in 1991, and is the author of several faith-based books.