Ella Fitzgerald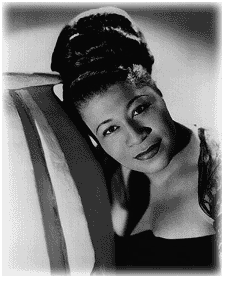 Ella Fitzgerald was an African-American Jazz singer. Considered to be one of the most influential vocalists of the 20th century, she also was known as Lady Ella. Fitzgerald received 13 Grammy Awards, the National Medal of Art, and the Presidential Medal of Freedom. Beginnings Ella Jane Fitzgerald was born on April 17, 1917, in Newport News, Virginia. Her parents were William and Temperance (Tempie); they divorced shortly after she was born. Ella and her mother moved to Yonkers, New York, where they eventually moved in with her mother's boyfriend, Joseph Da Silva. Ella's mother had a second child, Frances, in 1923. In 1932, Ella's mother died in a car accident. Ella's aunt, Virginia, took Ella into her home. A short time later, Joe died of a heart attack, then Frances also was taken in by Aunt Virginia. Ella made her singing debut in November 1934, when she was nearly 16 years old. She appeared on "Amateur Night" at the Apollo Theater in Harlem, New York. Her intention was to dance. However, following an appearance by a local dance duo, she decided on the spot to sing instead. She crooned in the style of her idol, Connee Boswell, and won the competition that night. Ella was noticed by a member of Chick Webb's band, who persuaded Webb to hire Ella. From bud to blossom In 1935, Ella began to sing with Webb's orchestra at Harlem`s Savoy Ballroom. She recorded several hits with them, including; "(If You Can`t Sing It), You`ll Have to Swing It," and "Love and Kisses," which was her first recording. In 1938, at the age of 21, Ella recorded a playful version of the nursery rhyme, "A-Tisket, A-Tasket." One million copies later, the tune hit number one and stayed on the pop charts for 17 weeks. Ella was suddenly famous. On June 16, 1939, Chick Webb died, which left Ella as bandleader. The group was renamed "Ella Fitzgerald and her Famous Band." Marriages In 1941, Fitzgerald married Benny Kornegay. However, after discovering he had a criminal record, she quickly had the marriage annulled. When Fitzgerald was on tour with Dizzy Gillespie's band in 1946, she met and fell in love with Ray Brown. The couple married in 1947, and they eventually adopted a child born to Ella`s half-sister, whom they christened as Ray Brown Jr.
Alliances At the time, her new husband was working for producer and manager, Norman Granz, on the Jazz at the Philharmonic tour. Granz persuaded Fitzgerald to sign with him; it was the beginning of a lifelong business relationship and friendship. Fitzgerald joined the Philharmonic tour. Fitzgerald worked with Louis "Satchmo" Armstrong on several projects. From 1956 to 1964, she recorded covers* of other artists` music, including Cole Porter, Irving Berlin, Rodgers and Hart, and the Gershwins. A collection of those tunes was known as The Great American Songbook. The small screen Fitzgerald began to appear on television variety shows. She was a guest on the Bing Crosby Show, Frank Sinatra Show, and Tonight Show, to name a few. With such a busy touring schedule, Ella and Ray were away from home much of the time, which put a strain on their relationship with their son. Eventually Ella and Ray Jr. managed to mend their relationship. However, the busy schedules also put a strain on the couple's marriage, and they were divorced in 1958. However, they remained friends for the remainder of their lives. Later years Fitzgerald continued to work as hard as she had early in her career, despite ill effects on her health. She sometimes performed in two shows a day, in cities that were hundreds of miles apart. In 1974, she spent two weeks performing in New York with Frank Sinatra and Count Basie. In 1979, Fitzgerald was inducted into the Down Beat magazine Hall of Fame, and she also received the Kennedy Center Honors for her continuing contributions to the arts. In September 1986, Fitzgerald underwent quintuple coronary bypass surgery. She also was diagnosed with diabetes, which was to blame for her failing eyesight. However, she returned to the stage and continued to work an exhaustive schedule. By the 1990s, Fitzgerald had recorded more than 200 songs, and in 1991, she gave her final concert at New York`s Carnegie Hall. She had performed there 26 times. With her diabetes worsening, Fitzgerald experienced severe circulatory problems, and had to have both legs amputated below the knees. She never fully recovered from the surgery and was rarely able to perform. She spent time in her yard with Ray Jr. and her granddaughter. A voice is silenced On June 15, 1996, Ella Fitzgerald died in her Beverly Hills home. Her remains were interred in the Sunset Mission Mausoleum at Inglewood Park Cemetery in Inglewood, California. Fitzgerald had received numerous awards. In 1987, President Ronald Reagan awarded her the National Medal of Arts. It was one of her most prized moments. France followed suit several years later, presenting her with their Commander of Arts and Letters award, while Yale, Dartmouth and several other universities bestowed honorary doctorates.
---
*To cover means someone else previously recorded the tune, and Fitzgerald recorded the same tune in her own voice and style.