Kathleen Battle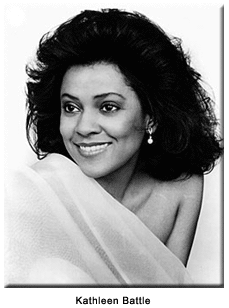 Kathleen Battle is an American operatic soprano. Her voice and artistry have captivated audiences around the world, making her one of the most acclaimed singers of her time. Beginnings Kathleen Deanna Battle was born in Portsmouth, Ohio, on August 13, 1948. She is the youngest of seven children. Kathleen was a good student and singer, but her ambition was to teach music, not perform. She received a scholarship to the University of Cincinnati College-Conservatory of Music. Majoring in music education, Kathleen earned her bachelor's degree in 1970, and her master's in 1971.
She took a position teaching music to some of Cincinnati's inner-city youth. While Battle was teaching fifth- and sixth-graders, she continued to study voice privately, which resulted in an audition with Thomas Schippers, the Cincinnati Symphony Orchestra's conductor. Subsequently, he arranged and conducted her professional debut at the 1972 Festival of Two Worlds in Spoleto, Italy. Battle sang the German Requiem by Johannes Brahms. A star's career American conductor, James Levine, brought Battle to the Ravinia Festival outside Chicago, Illinois, then to the Metropolitan Opera Company in New York City. She joined the company in 1977, and made her debut in a small role in Tannhäuser, by German composer Richard Wagner. The rising star moved on to other challenging operatic roles by the great composers. She gained much notoriety in such roles as Blonde in Die Entführung aus dem Serail, by Wolfgang Amadeus Mozart; Zdenka in Arabella, by Richard Strauss; Sophie in Strauss's Der Rosenkavalier, and Cleopatra in Giulio Cesare, by George Frederic Handel. Battle also has appeared to public acclaim at the San Francisco Opera, the Salzburg Festival in Austria, and the Royal Opera in London, England. She also is accomplished in nonoperatic singing. Her engagements have included recitals, soloing with symphony orchestras, recording studios, and television, when she collaborated with classical trumpeter, Wynton Marsalis.
Leaving the Met In 1994, Battle left the Metropolitan Opera, following disagreements with other company members. She has been labeled a prima donna by many, and has been accused of being impossible to work with because of her temperament, and the way she treats staff. Despite this, she remains a favorite on the concert scene.
Battle continues to appear on stage and television, and she enjoys musical collaborations with numerous artists. She has performed with tenors Luciano Pavarotti and Plácido Domingo. She also has worked with violinist Itzhak Perlman, flautist Jean-Pierre Rampal, guitarist Christopher Parkening, and saxophonist Grover Washington Jr. Those performances are captured on numerous recordings and videos. Honors The vocalist's appearance on the PBS broadcast of the Metropolitan Opera's 1991 season opening gala won her an Emmy Award for Outstanding Individual Achievement in a Classical Program on Television. She also has won four other Grammys. Battle also is the recipient of six honorary doctorates from American universities. In 1999, she was inducted into the NAACP Image Hall of Fame.