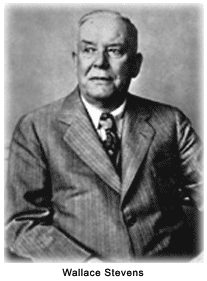 Wallace Stevens was widely regarded as one of the most significant American poets of the 20th century.
Early days
Wallace Stevens was born in Reading, Pennsylvania, on October 2, 1879, to a lawyer and a teacher.
Wallace attended Reading Boy's High School and enrolled in Harvard College in 1893. During his years at Harvard, he wrote for the Harvard Advocate, Trend, and Poetry, a magazine run by editor, critic, and poet, Harriet Monroe. In 1916, Wallace wrote a play that won the magazine's prize for verse drama, Three Travelers Watch a Sunrise. The following year, it was produced at New York's Provincetown Playhouse.
Wallace left Harvard without a degree in 1900, then worked as a reporter for the New York Tribune until he enrolled in the New York Law School. He graduated in 1903, and passed the bar the following year.
A law career and marriage
Stevens worked for several New York law firms between 1904 and 1907. He was hired as a bonding lawyer for the American Bonding Company.
Following a long courtship, Stevens married a home-town girl, Elsie Kachel Moll, in 1909.
Stevens became the vice president of the New York Office of the Equitable Surety Company of St. Louis, Missouri. That job was abolished in 1916, owing to mergers. He then joined the home office of Hartford Accident and Indemnity Company, and left New York for Hartford, Connecticut, where he would live the remainder of his life. He was named the company's vice president by 1934.
Stevens' marriage to Elsie produced one daughter, Holly, born in 1924. The couple's marriage was unhappy, but they never divorced. He liked the fact that Elsie was fanatical about her housekeeping, but rejected her presence just the same. He did not like visitors in his home, and kept his distance from most people. However, Stevens was known to be a serious joker, and spent time with avant-garde writers, as well as an old Harvard classmate, Walter Arensberg.
Let the verse begin
In 1923, Stevens published his first collection of verse, Harmonium, which was received well by critics, but sold only 100 copies. Nevertheless, it is now regarded as one of the great works of American poetry.
He would never retire from his career to write poetry. He would always keep a balance between the two. His income from his career kept him and his family comfortable, even through the Depression.
During the 1930s, Stevens began to write poems with a new fluency. In 1935 Ideas of Order, and in 1937 Owl's Clover were printed in limited editions by the Alcestis Press. Knopf printed The Man with the Blue Guitar in 1937, and in 1942, Parts of a World also became a limited edition. Cummington Press printed deluxe volumes of Notes toward a Supreme Fiction, and Esthtique du Mal, also in 1942.
Turning 60, a green light
Many would argue that Stevens turned out his best work after he turned 60. It was in this later period that he became noticed as a major poet. Stevens wrote An Ordinary Evening in New Haven in 1950, and in 1951, published The Necessary Angel. He received widespread public notice after he published Collected Poems in 1954, one year before his death.
Stevens was elected to the National Institute of Arts and Letters in 1946. He received the Bollingen Prize in Poetry in 1950, and in 1955, was awarded the Pulitzer Prize, and the National Book Award.
The pen is set aside
Wallace Stevens died on August 2, 1955. His remains were buried at the Cedar Hill Cemetery in Hartford, Connecticut.
His daughter edited and published a book in 1966, Letters of Wallace Stevens.
Off-site search results for "Wallace Stevens"...
Nettie Stevens
   You are in: Museum of History >> Hall of Women >> Nettie Stevens Citation: Website address (ie benjaminfranlin.org), edited by Stanley L. Klos and volunteer editor's name, if any, listed at bottom - Carnegie, PA 1999-2006. We rely on ...
http://virtualology.com/hallofwomen/NETTIESTEVENS.COM
George Wallace
... and the Transformation of American Politics Wallace The Two Deaths of George Wallace : The Question of Forgiveness THIRD PARTY CANDIDATES PAGE The purpose of this site is to provide researchers, teachers, students, politicians, journalists ...
http://www.presidentsusa.net/gwallace.html
Wallace, Lewis
Wallace's next field command was in the summer of 1862 in Kentucky, but he quickly lost his command for political reasons.  In September 1862, Confederate forces under Kirby Smith captured Lexington, Kentucky.  Smith dispatched General Henry Heth ...
http://www.ohiohistorycentral.org/entry.php?rec=395