Annie Oakley
Annie Oakley was a legendary markswoman of the American West. She was famous for performing in the Buffalo Bill Wild West Show.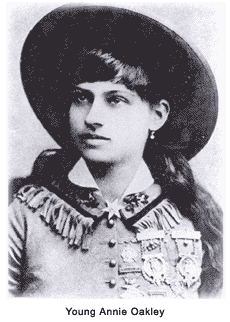 The Early Years
Phoebe Ann Mozee was born in Patterson Township, Ohio, on August 13, 1860, to Susan and Jacob Moses. She was reared on a rented farm, and was the fifth of seven children. Her siblings called her Annie, and she would take the stage name Oakley, reportedly after Oakley, Ohio.
Her father died in 1866 from pneumonia and overexposure in freezing weather. Her mother remarried, but was widowed again. At the time, her mother had to put Annie in the care of the superintendent of the county poor farm.
She learned to embroider and sew; she also spent some time with a local family, by whom she was mentally and physically abused.
Dead Eye
Annie began to shoot game at age nine to support her mother and siblings. She became a crack shot. Word of mouth about her spread so much that by age 16, Annie was off to Cincinnati to enter a shooting contest with Frank E. Butler, a.k.a. Francis Butler. Butler was an accomplished marksman who performed in vaudeville. Annie beat Frank by one point, and won his heart at the same time.
They were married in 1876. Annie became his assistant in his traveling shooting act. Her husband soon realized that she was more talented, and gave her the limelight, becoming her assistant and personal manager. In 1885, they joined Buffalo Bill's Wild West Show, run by the legendary Buffalo Bill Cody.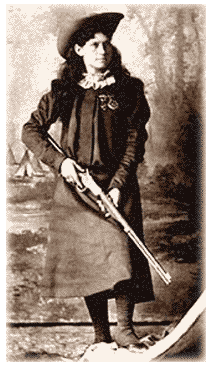 The Wild West Show
Annie Oakley was the star attraction of the Wild West Show for 17 years. She was an amazing shot. One day she shot 4,472 of 5,000 glass balls tossed in midair, and she could shoot a dime out of the air at 90 feet. She could hit a playing card five or six times with the edge facing her at 90 feet. That is how free tickets with holes punched in them came to be called "Annie Oakleys."
Another of her acts was to shoot the ashes off a cigarette held in her husband's mouth. She was easily recognized by the large number of shooting medals she wore on her chest.
Wrecked by a Train
In 1901, Oakley suffered a spinal injury from a train wreck. She underwent five operations and was left partially paralyzed for a time. Oakley made a full recovery, but she toured less often during the last part of her career. However, her shooting expertise never faltered and she continued to set records. In 1922, in a shooting contest in Pinehurst, North Carolina, Oakley hit 100 clay targets straight from 16 yards — she was 62 at the time.
A Star Flames out
On November 3, 1926 Annie Oakley died of pernicious anemia, in Greenville, Ohio, at the age of 66. Her husband died on November 21, just three weeks later, of natural causes. She was a legend in her own time, and would be celebrated in the 1946 Herbert and Dorothy Fields musical, Annie Get Your Gun.
Throughout her career, Oakley maintained her dignity and propriety while quietly proving that she was far superior to most men on the shooting range. Annie Oakley and her legend endure into the 21st century through motion pictures, television, on the stage, in history books, and museums.