Yo Yo Ma
Yo Yo Ma is a world-famous cellist. He is considered to be one of the best 'cellists in the world. A child prodigy, he appeared at the age of eight on American television, in a concert conducted by Leonard Bernstein.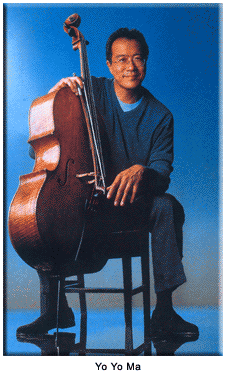 The Early Years
Yo Yo Ma was born in Paris, France, on October 7, 1955. His father, Hiao-Tsiun Ma, was a conductor and composer, and his mother, Marina Lu, was a singer. Yo Yo began his musical studies when he was just four years old. He studied the violin and the viola before taking up the 'cello. His family moved to New York when he was nine years old.
In 1962, he began to study with the renowned teacher, Leonard Rose, at the Juilliard School of Music. From 1972 to 1976, Ma attended Harvard University, where he pursued a traditional liberal-arts education to expand upon his conservatory training. Following his graduation, he became a full-time 'cellist.
In 1978, Ma won the Avery Fisher Prize, a prestigious $50,000 award given to only a few of the world's best musicians. Although he didn't study music at Harvard, Ma was awarded an honorary Doctorate of Music in 1991.
Ma married his long-time girlfriend, Jill Hornor, a violinist, in 1978. They have two children, Nicholas and Emily.
The Instruments
Ma owns two 'cellos. The main one is a Montagnana, "Petunia," from Venice, made in 1733. Ma once absentmindedly left it in a taxi cab in New York — the honest driver returned it to him. The other is the "Davidov Stradivarius," previously owned and played upon by the British virtuoso, Jacqueline du Pré, which she left to him when she died.
The Silk Road*
In 2001, Ma became involved with the Silk Road Project. The project goal is to bring together musicians from the United States, Europe, and Asia. The project celebrates different kinds of music from numerous cultures.
Along with classical works, Ma also enjoys an eclectic variety of other music, ranging from contemporary to folk, and even Brazilian. The accessible artist also has appeared in an episode of the animated children's television series, Arthur, as well as on The West Wing, Sesame Street, and Mister Rogers' Neighborhood.
Presently, Yo Yo Ma has recorded more than 50 albums with Sony Classical Music. He has performed with most of the world's leading orchestras, including the New York Philharmonic, the London Symphony Orchestra, and the Berlin Philharmonic. As of 2005, he has won 15 Grammy Awards.
In January 2006, Ma added a new role as a UN Peace Ambassador
---
*The Silk Road was a network of trading routes that connected Europe with Asia. People traveled on the Silk Road for hundreds of years. When traveling on the road, they traded goods and information.