John Wayne
John Wayne was an American film actor who was known as "the Duke." He was best known for his Western films. He projected a ruggedness and masculinity that made him an enduring icon. Early years John Wayne was born in Winterset, Iowa, as Marion Morrison, on May 26, 1907. His parents were Clyde and Mary Brown Morrison. Clyde was a pharmacist and Mary was a housewife. Marion had a younger brother, Robert. The family moved to Glendale, California, in 1911. Neighbors gave Marion the nickname "Duke," because he never went anywhere without his dog, Duke.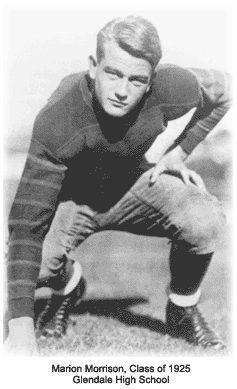 Marion did well at school, academically and athletically. He narrowly missed admission to the U.S. Naval Academy, but was given a football scholarship in 1925, to attend the University of Southern California. While Marion attended USC, cowboy actor Tom Mix got him a summer job as a prop man, in exchange for football tickets. While Marion was working on the set, he became friends with director John Ford. In 1927, Marion was injured in an accident on the beach. He was no longer able to play football, so he lost his scholarship and failed to graduate from USC. A starring role, name change, and marriages After two years as a prop man at the William Fox Studios, Marion got his first starring role in The Big Trail in 1930. The director, Raoul Walsh, gave him the stage name "John Wayne" after War for Independence general "Mad Anthony" Wayne. The studio's stuntmen tutored John in riding and other western skills. Wayne married Josephine Alicia Saenz in June 1933. They had four children and were divorced in 1945. Wayne did not achieve stardom until 1939, with the film Stagecoach. When the U.S. entered World War II, Wayne did not enlist. When the military draft was reinstated, he requested and received a deferral for "family dependency," and stayed in Hollywood. He made 21 movies between 1940 and 1945, when the war ended. In 1946, Wayne married Esperanza Baur, an actress from Mexico. They had no children and divorced in 1954. That same year Wayne married Pilar Palette, with whom he had three children. They remained married until his death in 1979. A string of Ford films The friendship Wayne had with John Ford led to work in more than 20 of Fords' films, including; She Wore a Yellow Ribbon in 1949, The Quiet Man (1952), The Searchers (1956), The Wings of Eagles (1957), and The Man Who Shot Liberty Valance in 1962. While Wayne appeared in predominantly strong, masculine roles in war films and westerns, he also had a sense of humor. On television, he appeared on an episode of Laugh-In, in a pink bunny suit. Wayne also starred in two airplane disaster movies, Island in the Sky (1953), and The High and the Mighty (1954). Wayne played the leading role in more than 142 films — an unsurpassed record. In 1964, Wayne underwent surgery to have a cancerous lung and two ribs removed.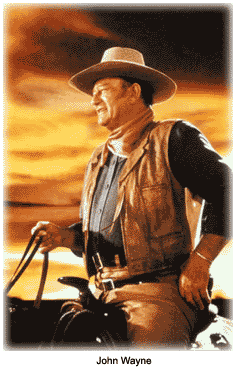 Wayne was known for his pro-American, conservative political views. In 1968, he starred in, and directed the film Green Berets, produced with the armed forces' assistance. Berets was the only film of the era to openly support the Vietnam War. It was rumored in 1968 that Wayne would be the vice-presidential candidate on the George Wallace ticket. A nod from the Academy and other honors Wayne received a Best Actor Oscar for his role as Rooster Cogburn in the 1969 film, True Grit. He also received a nomination for Best Actor in Sands of Iwo Jima, and another as the producer of Best Picture nominee The Alamo, which he also directed. In 1973, Wayne released a best-selling spoken-word album titled America, Why I Love Her. The album was nominated for a Grammy, and in 2001, it was re-released with similar success. In 1974, Wayne was entered into the Hall of Great Western Performers of the National Cowboy and Western Heritage Museum, in Oklahoma City, Oklahoma. Wayne's final film was The Shootist, released in 1976. No success at the box office, the low-budget movie nevertheless won critical acclaim. It is the story of an old gunfighter, dying of cancer, who tries to come to terms with his past. The end On June 11, 1979, the Duke died of stomach cancer at the age of 72, at UCLA Medical Center. His remains were buried at Pacific View Memorial Park cemetery in Corona del Mar, California. Some trace his cancer back to his work in the movie Conqueror, which was filmed 100 miles downwind of a Nevada nuclear-weapons test site. Other actors who worked on the same film also died on cancer, including Dick Powell, Agnes Moorehead, Susan Hayward, and John Hoyt. However, it should be noted that most of those people were smokers — including Wayne.