Tina Turner
"Like a Phoenix from the ashes . . ." The dynamics of a soul singer Big hair — check. Pouty lips — check. Powerful, growly voice — check. Long, sexy legs — double check! And there you have it — the riveting presence of the "Queen of Rock," Anna Mae Bullock, aka Tina Turner. The early years Anna Mae was born in November 1939 to an African American and Cherokee couple in Nutbush, Tennessee, about 50 miles northeast of Memphis. The town's small, rural location was the inspiration for one of her songs, "Nutbush City Limits."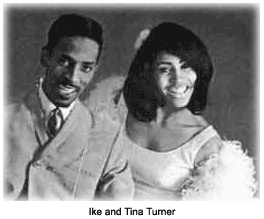 Anna Mae was discovered by Ike Turner, an early rock 'n roller. He had her change her first name to Tina and her last name to Turner by way of marriage, to become a part of the Ike and Tina Turner Revue in the 1960s and early '70s. Ike had a band at the time called the "Kings of Rhythm," which continued as their backup group. Although the Revue enjoyed a few fleeting hits — "A Fool in Love;" It's Gonna Work Out Fine;" "River Deep, Mountain High" — they were better known for their live concerts where the finale was a frenetic rendition of Credence Clearwater Revival's "Proud Mary." Tina splits Ike, as told in Tina's autobiography, I, Tina, was so abusive that she was compelled to divorce him after 16 years of marriage. In the divorce settlement, Tina took with her only the stage name that Ike had given her — no money, no property. For emotional support, she turned to Buddhism. To make ends meet, Tina began to tour. After a few years of supreme struggle, she scored minor successes in the pop singles market with remakes of "Ball of Confusion," and "Let's Stay Together." Capitol Records took notice and produced Tina's album Private Dancer (1984). That release contained three singles hits, including the title track, "Better Be Good to Me," and the Song of the Year, "What's Love Got to Do with It?," which also propelled her to a Grammy for Best Female Pop Vocal Performance. Off an' runnin' Turner's career rose like the proverbial Phoenix from the ashes. She put a spark into the road-warrior film Mad Max Beyond Thunderdome, starring Mel Gibson, in 1985. That movie produced another solid hit in "We Don't Need Another Hero."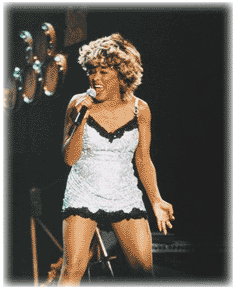 Turner turned her success into long concert runs on world tours, and in the early 1990s, recorded "Simply the Best," which British boxer Chris Eubank used as his theme song whenever he entered the ring. The song also was adopted by the Australian Rugby League, which worked it into a huge advertising campaign. Turner then performed the song at the 1993 League Final. In 1995, Turner recorded "GoldenEye," the title track to a James Bond movie of the same name. Her last concert of 2000 was the highest-grossing performance of the year, solidifying her place as the "most successful female rock artist in history." The new millenium Turner is now semi-retired, shuttling between her villas in Zurich and Nice, while getting in the occasional duet with the likes of Phil Collins. They recorded "Great Spirits" for Brother Bear, a Disney film (2003). Approaching (incredibly) her 65th birthday, she released "All the Best," a collection of her greatest hits in 2004, rising as high as No. 2 on the charts. In December 2005, she joined Tony Bennett, Suzanne Farrell, Julie Harris, and Robert Redford as recipients of the Kennedy Center Honors of the year.