Ernest Hemingway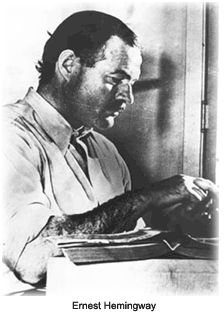 Ernest Hemingway was an American novelist and short-story writer. He won the Nobel Prize in Literature in 1954. Hemingway based many of his stories on his experiences during World War I, the Spanish Civil War, and World War II. Early days Ernest Hemingway was born on July 21, 1899, in Oak Park, Illinois. He was the first son and the second of six children born to Clarence and Grace Hemingway. His father was a physician, and his mother was a homemaker who made extra money by giving voice and music lessons. As a youngster, Ernest spent summers vacationing with his family in rural Michigan. That close contact with nature would impart to Ernest his lifelong passion for the outdoors, and living in areas most would consider too remote or even isolated. He attended Oak Park and River Forest high schools, where he boxed and played football. Ernest excelled academically, especially in English. He wrote for the weekly school newspaper. After Ernest graduated from high school, he did not enroll in college. In 1916, when he was just 17 years old, he became a reporter for The Kansas City Star, and remained on that job for about six months.
Off to a horrible war Hemingway attempted to join the U.S. Army to see action in World War I, but failed the medical entrance exam, so he joined the American Field Service Ambulance Corps and left for Italy. Soon after Hemingway arrived at the Italian front, he witnessed the war's brutality. The first day on duty, he had to pick up human remains, most of which were women who had been working in a factory that was bombed. That first encounter with human death left Hemingway extremely shaken. In 1918, he was wounded, which ended his career as an ambulance driver. He was awarded the Silver Medal of Military Valor from the Italian government. Coming home Hemingway returned to Oak Park following the war, and in 1920, took a job as a freelancer and foreign correspondent at the Toronto Star in Ontario. Hemingway married his first wife, Elizabeth Hadley Richardson, in 1921. The couple elected to live in Paris, where Ernest covered the Greco-Turkish War for the Star. Ernest's first book, Three Stories and Ten Poems, was published in Paris in 1923. The couple returned to the states when Hadley was due to give birth to their first child. They had a son and named him John Hadley Nicanor Hemingway. Ernest resigned from the Star in 1924 to pursue his own writing. On his own in the U.S. Hemingway's first work published in America was In Our Time in 1925. He and Hadley divorced in 1927; later that same year, he married Pauline Pfeiffer. Also that year, Hemingway published Men Without Women, a collection of short stories containing "The Killers," one of his best-known stories. His and Pauline's first son, Patrick, was born in 1928, and two years later they had a second son, Gregory. While bearing their first child, Pauline went through a difficult labor, and the infant was delivered via Caesarean section. Ernest used that episode, and his experience during the war, to write A Farewell to Arms, published in 1929. A world of writing After Hemingway went on safari to Mombasa, Nairobi, and Machakos, Kenya, he wrote The Snows of Kilimanjaro in 1932. While he was in Spain reporting on the Spanish Civil War, Hemingway broke ties with his friend, novelist and war correspondent John Dos Passos, because Dos Passos persisted in reporting atrocities committed not only by the fascists whom Hemingway disliked, but also the Republicans whom Hemingway favored. When Francisco Franco's forces won the Spanish Civil War in the spring of 1939, Hemingway lost his adopted homeland to Franco's fascist nationalists. Less than a year later, he lost his beloved home in Key West, Florida, owing to his 1940 divorce. A few weeks after he divorced Pauline, he married Martha Gellhorn, his companion when he was in Spain. The same year, his novel For Whom The Bell Tolls, based on events in the Spanish Civil War, was published. On December 8, 1941, the United States entered World War II, and Hemingway wanted to take part in naval warfare. While aboard his fishing boat, the Pilar, Hemingway supposedly patrolled for German submarines off the coasts of Cuba and the U.S. Later, as a war correspondent for Collier's magazine, Hemingway took part in the D-Day invasion of Normandy on a landing craft, coming in on the ninth wave after most of the action was ended. Postwar writing Following the war, Hemingway began to work on the novel The Garden of Eden. He never finished it, but it would be published posthumously in 1986. He also worked on a trilogy, comprising The Sea When Young, The Sea When Absent, and The Sea in Being. The latter would be published in 1952 as The Old Man and the Sea. Ernest divorced Martha Gellhorn. Shortly thereafter, he married his fourth and final wife, war correspondent Mary Welsh, whom he had met overseas in 1944. The Old Man and the Sea was a huge success, earning Hemingway both the Pulitzer prize in 1953 and the Nobel Prize in Literature in 1954. Then, bad luck struck. While on safari, Hemingway suffered injuries in two plane crashes. The injuries were serious: He sprained his right shoulder, arm, and left leg, sustained a grave concussion, temporarily lost vision in his left eye, and hearing in his left ear. In addition, he suffered paralysis of the sphincter, a crushed vertebra, ruptured liver, spleen and kidney, and first-degree burns on his face, arms, and leg. A few months later, Hemingway was badly injured in a bushfire that inflicted second-degree burns on his legs, torso, lips, left hand and right forearm. The pain was horrible; he was unable to travel to Stockholm, Sweden, to accept his Nobel Prize. A downward spiral Hemingway did glimpse a slight glimmer of meaning when he revived some manuscripts from 1928 and worked on them from 1957 to 1960. The resultant work became A Moveable Feast, published posthumously in 1964. He seemed to come alive; however, a lifetime of heavy drinking had caught up with him. His health also was threatened by high blood pressure and aortal inflammation. He became more depressed — which was aggravated by more heavy drinking.
Hemingway attempted suicide in the spring of 1961. He received electroconvulsive therapy for depression; however, a few weeks short of his 62nd birthday, he put a shotgun to his head and took his life on the morning of July 2, 1961. His remains were interred in the Catholic cemetery of Ketchum, Idaho. The influence of Hemingway's writings on American literature was considerable, and it continues today.