William Faulkner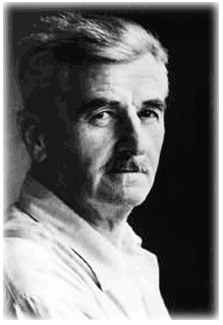 William Faulkner was a Nobel and Pulitzer prize-winning American novelist and short story writer. Many recognize him as one of the greatest fictional writers of the 20th century. Early days William Cuthbert Falkner (older spelling) was born on September 25, 1897, in New Albany, Mississippi, the eldest of four sons born to Murry and Maud Butler Falkner. His great-grandfather, William Clark Falkner, was an important figure in Mississippi history. He served in the Confederate Army as a colonel, founded a railroad, and was the namesake for the town of Falkner in nearby Tippah County. The colonel was a significant role model for William; the latter would model his fictional character, Colonel John Sartoris, after his great-grandfather. The family moved to Oxford, Mississippi, when William was five years old. William began to write poetry at the age of 13. He attended Oxford High School, but dropped out before graduating and worked in his grandfather's bank for a while. William attempted to enlist in the U.S. Army, but was rejected because he was too short. He then enlisted in the British Royal Air Force in Canada; it is believed that he then changed the spelling of his last name to Faulkner. William served with the RAF during World War I, but saw no action. He returned to Oxford in December 1918, full of numerous stories of his adventures in the RAF. Many were highly exaggerated or patently untrue, including injuries that left him with constant pain and a silver plate in his head. Education and early writing In 1919, William enrolled at the University of Mississippi in Oxford under a special provision for war veterans. While attending the university, he published poems and short stories in the campus newspaper, the Mississippian. He also submitted artwork to the university yearbook. In the fall of 1920, after three semesters of study, William dropped out. In 1921, Faulkner moved to New York City and worked in a bookstore. He moved back to Oxford and worked as a postmaster in the University of Mississippi's post office from 1922 to 1924. That was not a good job for Faulkner; he resigned following an inspection by the postal inspector. It seems he was constantly reading on the job, losing mail, and was not helpful to customers. Faulkner then moved to New Orleans, Louisiana, in 1925. He was encouraged by friend Sherwood Anderson to write fiction. He drew from his service with the RAF to write his first novel, Soldiers' Play, published in 1926. Faulkner also took some advice and wrote about his native region. He created Yoncona County, later renamed Yoknapatawpha, which was based upon his family history, specifically his great-grandfather. In 1929, Sartoris was published. Marriage and the Nobel Prize In June 1929, Faulkner married Estelle Oldham Franklin, his childhood sweetheart, who had divorced her first husband. In 1930, they purchased a traditional, Southern pillared house in Oxford, which William named Rowan Oak. In 1933, Faulkner began to take flying lessons, and he purchased his own aircraft. To make a living to support Estelle and their three children, William worked over the next 20 years in Hollywood on several screenplays, from Today We Live in 1933 to Land of the Pharaohs in 1955. In 1949 he won the Nobel Prize in Literature, and when Faulkner accepted the prize, his acceptance speech was delivered in such a low and rapid voice, that few could make it out. However, when it was published in the paper the following day, the speech was recognized as one of the finest ever given at a Nobel ceremony. He began:
I feel that this award was not made to me as a man, but to my work -- a life's work in the agony and sweat of the human spirit, not for glory and least of all for profit, but to create out of the materials of the human spirit something which did not exist before. So this award is only mine in trust. It will not be difficult to find a dedication for the money part of it commensurate with the purpose and significance of its origin. But I would like to do the same with the acclaim too, by using this moment as a pinnacle from which I might be listened to by the young men and women already dedicated to the same anguish and travail, among whom is already that one who will some day stand here where I am standing. Our tragedy today is a general and universal physical fear so long sustained by now that we can even bear it. There are no longer problems of the spirit. There is only the question: When will I be blown up? Because of this, the young man or woman writing today has forgotten the problems of the human heart in conflict with itself which alone can make good writing because only that is worth writing about, worth the agony and the sweat.
In 1951,
Requiem for a Nun
was published, and his first Puliter Prize novel,
A Fable
, was published in 1954. Faulkner continued the story of the Snopes family, begun in 1940 with
The Hamlet
, with
The Town
(1957), and
The Mansion
(1959). Faulkner's final novel, entitled
The Reivers
, was written in 1961. He dedicated the work to "Victoria, Mark, Paul, William, Burks," his grandchildren by his two stepchildren and biological daughter. The novel, published in June 1962, would win a second, posthumous Pulitzer Prize for fiction.
Days of pain
In June 1962, Faulkner suffered his third fall from a horse. He was in constant pain, and his health was failing quickly. On July 6, 1962, Faulkner died of a heart attack at the age of 64, on his great-grandfather's birthday. William Faulker's remains were buried on July 7, 1962, at St. Peter's Cemetery in Oxford, Mississippi.