Shirley Chisholm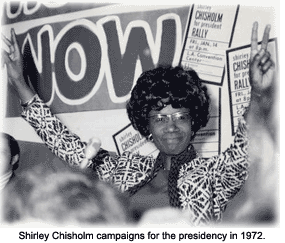 Shirley Chisholm was the first African-American woman elected to Congress and an outspoken advocate for women and minorities during her seven terms in the House of Representatives. She was known as a politician who refused to allow fellow politicians, including the male-dominated Congressional Black Caucus, to sway her from her goals.
Youth, education, and marriage Shirley Anita St. Hill was born on November 30, 1924, in Brooklyn, New York to Charles and Ruby St. Hill. She was the eldest of four girls. Her father was from British Guiana and her mother was from Barbados. Shirley and her sisters were sent to live with her maternal grandmother in Barbados in 1927. She attended school in Barbados and received a good education from the British school system. Shirley rejoined her parents in New York in 1934. She graduated from the Girls High School in Brooklyn in 1942, after excelling in academics. Shirley attended Brooklyn College and majored in sociology. When black students were denied entrance to a social club, she fought against the racism and formed an alternative club. In 1946, Shirley graduated with honors. Many companies she applied to for employment rejected her, but she managed to find a job at the Mount Calvary Child Care Center in Harlem. In 1949, Shirley married Conrad Chisholm, a private investigator originally from Jamaica. Both were involved in local politics, and played a key role in forming the Bedford-Stuyvesant Political League. Shirley Chisholm worked in the day care field until 1959. The following year, she established the Unity Democratic Club. The club was instrumental in mobilizing black and Hispanic voters.
A life in public service In 1964, Shirley Chisholm ran for a state assembly seat. After winning the election by a landslide, she served in the New York General Assembly from 1964 to 1968. During her tenure, she wrote a bill that instituted S.E.E.K. (Search for Education, Elevation, and Knowledge), a program that provided college funding to disadvantaged youth. She also introduced a bill that secured unemployment insurance for domestics and day-care providers. In 1968, Chisholm campaigned to represent New York's 12th Congressional District. Her slogan was "Fighting Shirley Chisholm — Unbought and Unbossed." She won a seat and became the first African-American woman elected to Congress. During her first term, Chisholm hired an all-female staff, and spoke out for civil rights, women's rights, and poor people. In addition, she was against the Vietnam War. Chisholm served on several committees, including education and labor; she campaigned for a higher minimum wage and federal funding for day-care facilities. She also was responsible for securing federal grants for a number of Brooklyn-based enterprises that benefited disadvantaged communities. In 1970, Chisholm was elected to a second term. She became a popular public speaker and was the co-founder of the National Organization for Women (NOW). Campaigning for president On January 25, 1972, Chisholm announced her candidacy for the presidency, becoming the first African-American woman to do so. The 1972 Democratic National Convention in Miami, Florida, became the first major convention in which any woman was considered for the presidential nomination. Chisholm did not win the nomination, but she garnered 151 of the delegates' votes. Chisholm served in the House of Representatives until she retired in 1982. Shirley Chisholm received numerous honorary degrees, and such awards as Brooklyn College Alumna of the Year, Key Woman of the Year, Outstanding Work in the Field of Child Welfare, and Woman of Achievement. Chisholm passed away in Daytona Beach, Florida, on January 1, 2005. She was 80 years old.
---
For additional famous women, see
Important and Famous Women in America
.