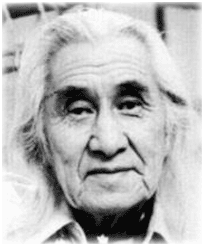 Chief Dan George was a man of considerable talent and a noble spokesman for Native Americans.
A chief's son
Dan was a son of the Tsleilwaututh (Burrard) tribal chief. He was born on Burrard Reserve No. Three in North Vancouver, September 23, 1899, and given the native name, Geswanouth Slahoot. He was known in English as Dan Slaholt. Dan's surname was changed to George when he entered a mission boarding school at the age of five. The children were forbidden to speak their native language.
Dan left school at the age of 17 to work. He held several jobs, including bus driving and longshoring, and he was chief of the Tsleilwaututh tribe from 1951 to 1963.
Invited to act
While Dan George was a school bus driver, he was invited to try out for the role of an Indian, "Old Antoine," in the Canadian Broadcasting Corporation series, "Cariboo Country." A replacement for the original actor was needed immediately. George got the part, and soon he was described as one of the "finest natural actors anywhere." He won the Canadian Film Award for best entertainment film in 1965 for one of the episodes, "How to Break a Quarterhorse." Walt Disney Studios adapted another of the series for a movie, "Smith!," starring Glen Ford and Keenan Wynn. A critic wrote that Dan George played his role to "ultimate perfection."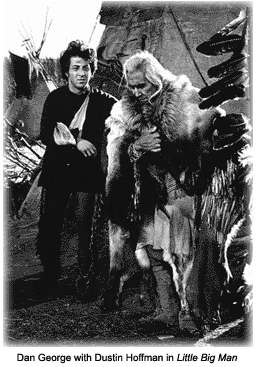 At the age of 71, George was nominated for the Academy Awards Best Supporting Actor for his role in the movie "Little Big Man" with Dustin Hoffman. Dan George made several more movies, including "The Outlaw Josey Wales," and "Harry and Tonto." He also appeared in the miniseries "Centennial," based on the book by James Michener.
In addition, Dan George was a stage actor. He played the role of Rita Joe's father in "The Ecstasy of Rita Joe," with performances held in Vancouver, British Columbia, at the National Arts Centre in Ottawa, and in Washington.
First Peoples spokesman
Given the high-profile, dignified image he projected in acting, George was thrust into another spotlight as a spokesman for native people throughout North America. One of his first appearances in that role was at Empire Stadium in Vancouver for the city's centennial celebrations in 1967. He also was chairman of National Brotherhood Week in 1972.
Chief Dan George was made an Officer of the Order of Canada in 1971. He was honored with a Doctor of Laws degree from Simon Fraser University in 1972 and a Doctor of Letters from the University of Brandon in 1973.
George continued to play minor roles in such other movies as "Cancel My Reservation," and "Nothing Personal." Throughout his career, he refused to play a role that demeaned Native Americans. He died in 1981 in Vancouver, British Columbia.
---
See also
Northwest Culture
.
Off-site search results for "Dan George"...
Dan Driessen | BaseballLibrary.com
» October 19, 1976: At Yankee Stadium, DH Dan Driessen contributes 2 singles and a HR to Cincinnati's 3rd straight WS triumph. The final score is 6-2. » April 26, 1977: Dan Driessen has two homers and six RBIs to pace the Reds to a 9–1 win over ...
http://www.baseballlibrary.com/baseballlibrary/ballplayers/D/Driessen_%20...
Dan Quisenberry | BaseballLibrary.com
... Dan Quisenberry SHOPPING » Look for Dan Quisenberry books at BN.com » Look for Dan Quisenberry books at Amazon.com Your purchases keep BaseballLibrary.com online. Thank you! RELATED LINKS » 1983: The Pine Tar Game Finally Ends Submissions ...
http://www.baseballlibrary.com/baseballlibrary/ballplayers/Q/Quisenber%20...
Tribe of Dan
George McCook, Dan's son, attained the rank of brigadier-general and served as one of Ohio's attorneys general before the Civil War. Other members of the Tribe of Dan included Latimer, Robert, Alexander, Daniel, Jr., Edwin Stanton, Charles Morris ...
http://www.ohiohistorycentral.org/entry.php?rec=638