Billy Graham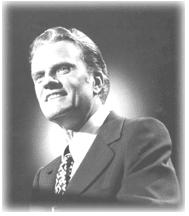 Billy Graham is the best-known Christian evangelist of the 20th century. He gained world attention in 1949 with a tent revival in downtown Los Angeles, California, which was scheduled for three weeks and lasted more than eight. In the following 55 years and more, Billy Graham Crusades have consistently drawn audiences of thousands to arenas and stadiums around the world. Childhood and youth Billy Graham was born in Charlotte, North Carolina, as William Franklin Graham Jr. to William Franklin and Morrow Coffey Graham. Billy was the eldest of four children and was reared on a dairy farm. He grew up during the Depression and knew the meaning of hard work on the farm, but he also found time to read in the hayloft. When Billy was 16 years old, he made a commitment to Jesus Christ at a revival led by Mordecai Ham. Education, ordination, and marriage Graham was ordained in 1939, by a church in the Southern Baptist Convention. He attended Florida Bible Institute (now Trinity College) to learn the scriptures. In 1943, he graduated from Wheaton College in Illinois and married Ruth McCue Bell, who also attended Wheaton. Following graduation from Wheaton, Graham became the pastor of the First Baptist Church in Western Springs, Illinois, before joining Youth for Christ. Youth for Christ was founded for ministry to youth and servicemen during World War II. Graham preached throughout the United States and in Europe during the postwar era, and began to rise as a young evangelist. A crusade runneth over In 1949, Graham held the Los Angeles crusade that was scheduled to run for three weeks, but lasted nearly three times as long. Crowds overflowed the tent that was pitched downtown, every night of the crusade. He staged numerous other crusades that had to be extended as well, including one in London that lasted 12 weeks, and a New York City crusade in Madison Square Garden that ran nightly for 16 weeks in 1957. Some people were leery of his crusades, and claimed he was using them to enrich himself. To counter those claims and run the ministry in an orderly, businesslike manner, the Grahams, Cliff Barrows, Grady Wilson, and George Wilson incorporated the Billy Graham Evangelistic Association (BGEA) in 1950.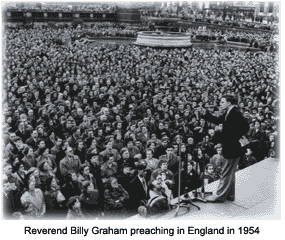 Ways of spreading the Word Billy Graham conducts his ministry through BGEA, including the weekly "Hour of Decision" radio broadcast on Sundays, heard around the world for more than 50 years. About six television crusade specials are held each year, broadcast during prime time in most markets in the United States and Canada. The "My Answer" newspaper column is carried by national and international papers. The BGEA's Decision Magazine, whose circulation is more than one million, is available in English and German, along with Braille and on cassette tape. World Wide Pictures has produced and distributed more than 125 evangelistic films. Those movies have been translated into 38 languages and have been seen by more than 250 million people throughout the world. They also are provided in correctional institutions in the United States. Billy Graham also has written 24 books; many have been on the bestsellers list. Honors Graham's counsel has been sought by presidents, and he has received many honorary doctorates from institutions in the U.S. and abroad. Other honors include the Speaker of the Year Award (1964), Big Brother Award (1966) for his work on behalf of the welfare of children, Templeton Foundation Prize for Progress in Religion (1982), Congressional Gold Medal (1996), and the Ronald Reagan Presidential Foundation Freedom Award. In December 2001, he was presented with an honorary British knighthood for his international contribution to civic and religious life over 60 years. Graham has appeared on the covers of Time, Newsweek, Life, U.S. News & World Report, Parade, and numerous other publications. He also has been featured in many newspaper and magazine articles, as well as books. Billy and Ruth Graham currently reside in the mountains of North Carolina. They have three daughters and two sons.*
---
*Franklin Graham, an evangelist in his own right, is the president of Samaritan's Purse.
See also
Oral Roberts
.