Marian Anderson
Marian Anderson was an African-American contralto, best remembered for her performance on Easter Sunday, 1939, on the steps of the Lincoln Memorial in Washington D.C. The concert began with a stirring rendition of "America." The event had been arranged by First Lady Eleanor Roosevelt and Secretary of the Interior Harold Ickes, after the Daughters of the American Revolution (DAR) banned Anderson from singing in Constitution Hall. The snub had generated a great uproar, and thousands of DAR members resigned, including Eleanor Roosevelt. Four years later, Anderson was invited by the DAR to sing at a benefit for the American Red Cross.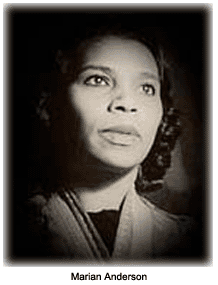 Childhood and education Marian Anderson was born in Philadelphia, Pensylvania, in 1897, to John and Anna Anderson. She was the eldest of three girls. When Marian was a young girl, her father died from a head injury suffered at work. Mrs. Anderson and the girls moved in with John's parents. Marian graduated from South Philadelphia High School after focusing on music and singing frequently at assemblies. After graduating at age 18, she applied for admission to a local music school, but was harshly rejected because of her color. Shortly after graduating, however, Marian's principal enabled her to meet Guiseppe Boghetti, a highly sought-after teacher. When he heard Marian sing "Deep River" for the audition, he was moved to tears. An illustrious career In 1925, Anderson entered the Lewisohn Stadium competition. After beating 300 other contestants, she sang in New York's amphitheater with the Philharmonic Orchestra. That gained Anderson a contract when an impresario, Arthur Judson, heard her perform. In March 1930, she performed at Carnegie Hall, becoming the first black female to do so. Despite that success, Anderson still performed mainly for black audiences. Anderson traveled to Europe and remained there until 1935, performing for numerous audiences and royalty as well. While in Europe, she signed another contract for American performances. On December 20, 1935, Anderson appeared at New York's Town Hall for a second time and was a huge success. Anderson toured Europe again, and through 1938, gave about 70 performances a year. On April 9, 1939, following the DAR's snub, Anderson sang in front of the statue of Lincoln before 75,000 people and millions of radio listeners. A few weeks later, she gave a concert at the White House, where President Franklin D. Roosevelt was entertaining King George VI and Queen Elizabeth of Britain. In July 1943, Anderson married Orpheus H. Fisher, a Delaware architect she had known since her childhood. They lived on her Marianna Farm in Connecticut. During World War II and the Korean War, she entertained troops in hospitals and on bases. In 1957, Anderson toured India and the Far East as a goodwill ambassador, through the U.S. State Department, and the American National Theater and Academy. When she returned, President Dwight D. Eisenhower appointed her as a delegate to the United Nations Human Rights Committee. She sang at his inauguration and John F. Kennedy's inauguration. Anderson gave her final concert on Easter Sunday, April 19, 1965, following a year-long farewell tour.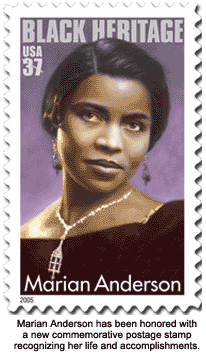 Honored to the end Marian Anderson received numerous awards throughout her career, beginning with the Springarn Medal in 1939. In 1941, she received the Bok award, given annually to an outstanding Philadelphia citizen; she established the Marian Anderson Scholarship with the $10,000 she won. In 1963, President Lyndon B. Johnson awarded her the American Medal of Freedom. In 1980, the U.S. Treasury Department coined a half-ounce gold commemorative medal with her likeness. In 1986, President Ronald Reagan presented her with the National Medal of Arts. In 1986, Anderson's husband passed away. In July 1992, she moved to Portland, Oregon, to live with her nephew, conductor James DePriest. She suffered a stroke the following spring and became limited to a wheelchair. Marian Anderson died on April 8, 1993, of heart failure. She was 96 years old. In June, more than 2,000 admirers attended a memorial service at Carnegie Hall.
---
For additional famous women, see
Important and Famous Women in America
.