Shirley Temple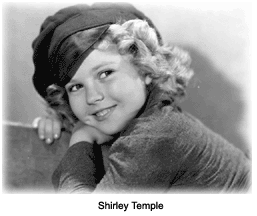 Shirley Temple, later known as Shirley Temple Black, is considered by many to be the most famous child actor in history. Her career began at the age of three. She starred in more than 40 movies during the 1930s. Her films continue to be popular, particularly among young girls. She became a diplomat later in life. Shirley Jane Temple was born on April 23, 1928, in Santa Monica, California. Her father was George Francis Temple, a banker, and her mother was Gertrude Amelia Krieger, a housewife. Shirley had two brothers.
Shirley's acting career began when she was observed at her dance class by two directors. Her first job was in "Baby Burlesks," parodies of famous films of the day, but with all-children casts. After appearing in "Stand Up and Cheer," Shirley was signed to Fox Film Corporation in 1933. She stayed with Fox until 1940, becoming the studio's most lucrative actor. For four years straight, she ranked as the top-grossing box-office star in America. Shirley was known for her dancing skills as well as acting. In 1934 the song "On the Good Ship Lollipop" was made famous by Shirley in the movie "Bright Eyes." She also had another big hit with "Animal Crackers in my Soup" in the film "Curley Top" (1935). She even lent her talents to help such worthy causes as the Red Cross. Temple married actor John Agar in 1945, when she was 17, and they had one daughter, Linda Susan. Shirley was married to John for four years before they divorced. She then met the love of her life in Charles Black. They were married in 1950 and produced two children, Charlie Jr. and Lori. Shirley and Charles remained married until his death in 2005.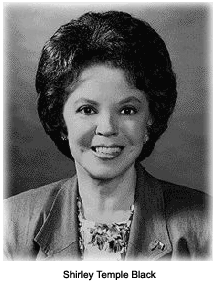 Shirley Temple Black became involved in Republican Party politics, unsuccessfully entering a congressional race in 1967 on a pro-war platform. She held several diplomatic posts and served as America's delegate to numerous international conferences and summits. She was appointed American ambassador to Ghana (1974-76). She became the first female chief of protocol of the United States in 1976, which put her in charge of all State Department ceremonies, visits, gifts to foreign leaders and coordination of protocol issues with all U.S. embassies and consulates. In 1989, Black was ambassador to Czechoslovakia and witnessed the Velvet Revolution. She later commented, "That was the best job I ever had." The year 1998 was big for Shirley Temple Black. She appeared on the cover of "People" magazine twice that year. The first instance was with the title "Picture Perfect," and the second was part of the magazine's special report, "Surviving Breast Cancer." She appeared at the 1998 Academy Awards and also received Kennedy Center honors. Black received honorary doctorates from Santa Clara University and Lehigh University, a fellowship from the College of Notre Dame, and a Chubb Fellowship from Yale University. The Screen Actors Guild announced in September 2005 that Shirley Temple Black, "...who captivated the world as no other child star has done before or since, then served her country as an eminent diplomat over more than three decades," would receive the guild's most prestigious honor: the Life Achievement Award for career achievement and humanitarian accomplishment. Shirley Temple Black was a consultant on the ABC Television Network production of "Child Star: The Shirley Temple Story," based on Part One of her autobiography. She now resides in Woodside, California.
---
For additional famous women, see
Important and Famous Women in America
.