Haji Mohammad Suharto
General Haji Mohammad Suharto (Soeharto)* was an Indonesian political and military leader. He was the second president of Indonesia, from 1967 to 1998. During Suharto's tenure, Indonesia emerged from the turbulent 1960s as a stronger regional power with a booming economy. Childhood and youth
Suharto was born on June 8, 1921, in the village of Kemusuk Argamulja in central Java, Indonesia, which was then under the control of the Dutch colonial authorities. He was the second son among 11 children whose father was a minor official. Suharto experienced a troubled childhood, having grown up with his parents separated before he was two. His chaotic youth was spent being reared separately by his parents and other relatives in neighboring villages.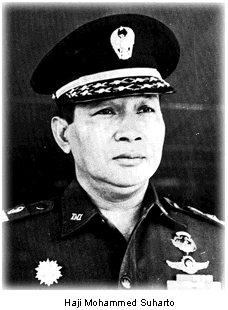 Early military career
Suharto achieved a basic education by attending the local Javanese schools. After holding jobs in the village bank and as a laborer, Suharto enlisted for a three-year contract as a sergeant in the Dutch colonial army in June 1940. In 1941, he applied to, and was accepted by, a Dutch military school at Gombong in Central Java. That year, the Dutch colonial government surrendered to Japanese occupation forces. During World War II, Suharto served in the Occupational Police Force, and then the Japanese-trained militia, Peta, achieving the rank of battalion commander in 1943. Suharto received military training under the Japanese occupational forces. At that time, he developed a strong sense of nationalism with a new worldview of Indonesia. Suharto had taken the Japanese view of a "Greater Japan" and translated it into his own Indonesia Raya (Great Indonesia). Suharto admired and embraced attributes he saw in the Japanese: discipline, order, ruthlessness, and progress. Near the end of Japanese occupation of Indonesia, Suharto became disillusioned with the Japanese, and joined anti-Japanese forces. After the Japanese unconditionally surrendered in 1945, ending the world war, Indonesia declared its independence in August. Suharto enlisted in the newly formed Indonesian Army, continuing his military career during the war for independence from the Dutch, who were trying to reestablish their colonial hold over Indonesia. By 1947, much of Java was back under Dutch control, including the city of Yogyakarta by the following year. As the commander of the Third Regiment, Suharto began to distinguish himself in military circles following his March 1, 1949 surprise attack on the Dutch, when troops under his command recaptured Yogyakarta. The city was held for only one day, but the action was widely seen as symbolic of continuing Indonesian resistance against Dutch forces. Later that year, the Dutch agreed to leave Indonesia, but retained Dutch New Guinea. Suharto was married in 1947 to Siti Hartinah. The couple produced six children. Rising through the ranks
Following independence, Suharto remained in the Indonesian National Army, stationed primarily on Java, although he did serve on the island of Sulawesi before returning to Central Java. Suharto rose steadily through the ranks. In the early 1950s, he commanded counterinsurgency forces against Muslim extremist groups and Dutch-backed rebels throughout Indonesia, with a posting in early 1953 to Solo as commander of Infantry Regiment 15. In 1957, he took command of the central Javanese army division. The late 1950s brought significant change to Suharto's life, fortune, and career. In 1957, he received a promotion to regional commander in the Diponegoro Division in Central Java, with the rank of full colonel, a position that lent itself to Suharto's engagement in business ventures. His success, however, drew the attention of the high command and made him the target of accusation and implication in smuggling and corruption. He was relieved of his command and ordered to the Army Staff and Command School in Bandung, West Java. Despite that setback, Suharto became a brigadier general in January 1960. Just two short years later, he became a major general and took command of the Diponegoro division. In 1960, Suharto was in command of the Army Strategic Reserve Command (Kostrad), a special military unit formed to recover West New Guinea in the unsuccessful Operation Mandala to drive the Dutch out. During the Indonesia-Malaysia confrontation, from 1962 to 1966, Suharto continued as commander of Kostrad. In 1963, as Indonesia edged toward economic and political disaster, he was put in charge of the army's strategic command, a special force kept on alert for national emergencies, based in Jakarta. By 1965, the armed forces split into two factions, one a radical left wing and the other a conservative right wing, with Suharto in the conservative camp. In October 1965, Suharto successfully suppressed a dissident coup d'état. After the botched coup, Suharto, then a senior general, led a counter-coup, then a military takeover in Jakarta, Indonesia's capital. Political power
In March 1966, Suharto successfully persuaded President Sukarno to authorize him to restore security and order. On March 11, Sukarno transferred supreme authority to Suharto, who quickly acted to introduce his "New Order." Suharto moved swiftly to purge communist elements from the government and military, banning the Communist Party and labor organizations, and tightening controls on the press. The confrontation with Malaysia, initiated by Sukarno, ended and Suharto reestablished relations with Western powers, the United States in particular, while ties with China were suspended. Suharto consolidated his power and became the final arbiter of all political decisions. On March 12, 1967, Suharto was installed as the acting president by the House of Assembly. He was elected full president by the parliament in 1968 and was reelected to successive five-year terms in 1973, 1978, 1983, 1988, 1993, and 1998. Building the economy
Suharto rekindled Indonesia's economy by breaking up state-owned monopolies, privatizing its natural resources, passing labor laws favorable to multinational corporations, enticing such institutions the World Bank to invest development capital in his country, and by encouraging Western companies in particular to invest in many of the mining and construction interests in Indonesia. As a result, a famine, brought on by failing rice supplies and Sukarno's reluctance to accept Western aid, was alleviated and the economy's stabilization was accomplished. Under Suharto's direction, Indonesia joined with Malaysia, Thailand, the Philippines, and Singapore to form a new regional and officially nonaligned power block, the Association of Southeast Asian Nations. Consolidating power To preserve order, security, and his control of the government, Suharto significantly amplified the funding and powers of the Indonesian political machine. Suharto produced two new intelligence agencies to deal with threats to the government. He also created the Bureau of Logistics, a food and support distribution agency to deliver commodities provided by the USAID organization. Those new entities were placed under regional military command, which was given a dual-purpose military defense force and civilian administration structure. During the summer of 1967, Suharto broke all political ties with Communist China and suppressed most Chinese-speaking news agencies. He brought all elements of the armed forces apparatus under his direct control. He solidified his political base by "convincing" the national assembly that it should agree to one third of its members being directly selected by his government. Suharto continued his consolidation by hand-picking political supporters as judicial and economic leaders, including the board of directors of each state-owned company. Indonesian hegemony
In 1969, Suharto, along with the United States and United Nations, worked out an agreement to hold a referendum on self-determination, in which participants could choose to remain part of the Netherlands, to integrate with the Republic of Indonesia, or to become independent, ending the longtime controversy over western New Guinea. The result was Indonesia's annexation of that land. In December 1975, after Portugal ended its colonial rule over East Timor, Suharto's forces invaded that land. Later, the government of East Timor, which was installed by Indonesia, requested the area be annexed to the country. Progress and turmoil Under the Suharto government, the number of Indonesians living in absolute poverty dropped from 60 percent to 14 percent between 1970 and 1990. The latter 1970s found Suharto and his government mired in student dissidence and accusations of corruption, resulting in political and social reforms at universities and censorship of newspapers. After the price of oil, Indonesia's main export, plummeted in the mid-1980s, Suharto furthered the economy by stressing the manufacturing and export sectors. Suharto diversified Indonesia's economy, which brought about substantial foreign investment, moving the country further away from its oil and agricultural dependence. Suharto's government made sweeping reforms in transportation, food production, health, and education, improving the standard of living for the citizens of Indonesia. The traditional urban centers of Indonesia saw rapid growth brought about through the economic success of Suharto's policies. Relying on this growth, Suharto expanded his nationalist view by implementing a program of population relocation from the overpopulated cities to sparsely populated rural regions of the archipelago, where natural resources were yet to be exploited. Fall from power
All through the 1990s, Suharto and his government faced turmoil on the political and economic fronts. Demonstrations against Suharto's human rights violations and financial misconduct became widespread, and caught the attention of such friendly governments as the United States and such international bodies as the World Bank and the International Monetary Fund. In the face of an Asian financial crisis, a plummeting economy, and international pressure, Suharto resigned as president of Indonesia on March 21, 1998. Despite his resignation, Suharto continued to be embroiled in legal proceedings through the early part of this century.
---
*Alternative spelling.