Anne Sullivan
Anne Sullivan Macy overcame a traumatic childhood to become a model for others who are disadvantaged by their physical disability, gender, or class. Her work with Helen Keller pioneered what is used today to educate blind, deaf-blind, and visually impaired children.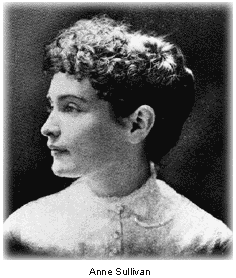 Early Life & Education
Anne Sullivan was born in April 1866, in Feeding Hills, Massachusetts, to poor Irish immigrant farmers. Anne was physically abused by her alcoholic father, and her mother suffered from tuberculosis. Anne was stricken with trachoma* at the age of five, which left her nearly blind. Her mother died two years later, and her father abandoned Anne and her brother Jimmie to an orphanage. Her brother died shortly after, leaving her alone.
Anne lived in the orphanage until Frank B. Sanborn, head of the Board of Charities, came to the orphanage to conduct an inspection. Near the end of the tour, Anne threw herself in front of Sanborn, pleading to be sent to a school for the blind. A short time later, she learned she would be sent to the Perkins Institute for the Blind in Boston.
Anne Meets Helen
After regaining her eyesight from a series of operations, and graduating as class valedictorian in 1886, Sullivan was offered the position of her life: to be Helen Keller's teacher.
When Sullivan arrived at Helen's home, she encountered a young, unruly child. Sullivan had to begin her teaching with lessons in obedience, followed by instruction in the manual and Braille alphabets. As Helen grew older, Sullivan attended classes with her and tutored her through the Perkins Institute, Cambridge School for Young Ladies, and Radcliffe College.
People who came in contact with them were amazed at Sullivan's ability to reach Keller, and the latter's heightened ability to grasp concepts that no deaf/blind students before her had ever attained.
Following Helen's education, Sullivan continued to assist her former student by accompanying her on her lecture tours and other travels. Anne married a young Harvard instructor, John Albert Macy, in 1905. In 1913, Sullivan and Keller began a 15-month lecture tour in the Northeast, in an effort to supplement their income from Keller's writing. It was then that John and Anne's marriage began to fail, and in May, John traveled alone to Europe. In 1914, he left the household for good. John Macy died in 1932 at the age of 55.
Sullivan and Keller were constantly in demand to give lectures and raise money for the American Foundation for the Blind. The pair attempted to produce a movie in 1918, "Deliverance," but it was unsuccessful. The success of their lecture series encouraged them to look for similar work. In early 1920 they seized an opportunity to perform on the vaudeville circuit.
Decline and Death
By 1922 Sullivan's eyesight began to fail and her health was poor. She had to quit performing. In 1929, her right eye was removed. She traveled to the Adirondacks to convalesce, accompanied by Keller and their secretary, Polly Thompson. Toward the end of her life she received recognition from Temple University, Educational Institute of Scotland, and Roosevelt Memorial Foundation, for her tireless commitment to Helen Keller.
In 1936, Sullivan's health went into irreversible decline. Her remaining eye, operated on in April, began to cause her pain. She was diagnosed with gastric pains and senility. Finally she collapsed and was taken to a hospital, suffering from a coronary thrombosis. Anne Sullivan died on October 20.
Sullivan's ashes were laid to rest in the National Cathedral in Washington, D.C. She was the first woman to be given the honor on her own merits. When Helen Keller died in 1968, her remains were cremated and laid to rest next to her lifelong teacher and companion.
In the fall of 2003, the late Anne Sullivan Macy was inducted into the National Women's Hall of Fame in Seneca Falls, New York.
---
*A contagious inflammation of the conjunctiva and cornea, characterized by granulations and scarring.
For additional famous women, see Important and Famous Women in America.